Surrounded by state and national forestlands in the Selkirk, Cabinet and Bitterroot mountain ranges, the Sandpoint area has countless roads and trails for hikers and mountain bikers. Listed below are five good hikes or rides on singletrack and jeep trails, but many more exist.

Bike enthusiasts will also find plenty of support at the following shops in Sandpoint. All can provide bikes, gear and local knowledge.
Bonner County Bicycles, 521 N. 4th Ave., 208-597-5339
Greasy Fingers Bikes 'n' Repair, 108 N. Third Ave., 208-255-4496
Outdoor Experience, 314 N. First Ave., 208-263-6028
Sandpoint Sports, 476930 Highway 95, Ponderay, 208-265-6163
Syringa Cyclery, 518 Oak St., 208-610-9990


The guidebooks, "Trails of the Wild Selkirks" and "Trails of the Wild Cabinets," by Dennis Nicholls, provide trail descriptions for trails in both the Selkirk and Cabinet Mountains surrounding Sandpoint. The Selkirk book indicates which of 170 trails are suitable for mountain biking and rates the level of difficulty. The Cabinets book includes an appendix identifying trails suitable for mountain biking; note that most rides in this range are for advanced riders. The guidebook "Legendary Lake Pend Oreille" offers 30 more trail descriptions for trails that lead to or have great views of Lake Pend Oreille. They are available in the Sandpoint General Store or at local book, bike and outdoor stores.
Also, check these stories on hiking and mountain biking from past editions of Sandpoint Magazine:
* Fat Tires and Life on Two Wheels
* Hiking the Southern Selkirks with an Artist
* Easy Hiking - Easy to get to, that is, but not necessarily easy to do
* 4 Days, 5 Friends on 2 Fat Tires Around the Big Lake
* Get Out There - 10 adventures within an hour of Sandpoint
* Wilder Walks - Miraculous summer: Seven months in the Selkirks
* Wild Walks - Lake hikes in the Cabinets
* Waterfall Hikes - High steppin' to waterfalls
* A '5-Bear Day' in the Cabinets
* To Sample the Beauty, Take a Hike
* Finding Treasure on the Great Divide
For trails that are around Lake Pend Oreille or have fantastic views of the lake, check the Lake Walks page.
For Forest Service trails listed by ranger district with links to trail descriptions, go to the Idaho Panhandle National Forest Trails page.

Here are six trails easily reached from Sandpoint:
Mineral Point Trail No. 82
Here's an easy ride or walk that provides a starting and ending spot in Garfield Bay along Lake Pend Oreille, with a swimming beach, marina and dining opportunities at the Captain's Table, or a stop during the ride at the fine, undeveloped Green Bay cobblestone beach. This route as suggested below is about 9 miles, mostly on back roads but including about 2.1 miles of single track on Mineral Point trail itself -- challenging but rideable by beginners, with outstanding views of Lake Pend Oreille and the Green Monarchs. The trail is popular with hikers so ride carefully.
Trail description:
From Sandpoint, drive six miles south on Highway 95 to Sagle, and turn east onto Sagle Road. Continue a bit more than six miles to the junction where Garfield Bay Road forks to the right and continue another roughly two miles to the waterfront village of Garfield Bay. There's a small park in Garfield Bay; to make this ride longer, we suggest parking there in Garfield Bay and starting your ride on the backroads there. From Garfield Bay Road, find Green Bay Cutoff Road, which proceeds north. The cutoff will quickly become a gravel road; go about .4 mile and turn right onto the Mineral Point Road No. 532 (next to the red firehouse) and ride 2.2 miles on Road 532, and turn right for 0.3 miles the Mineral Point trailhead. The trail will then take you on 2.1 miles of singletrack high along the lakeshore, dropping down to the Green Bay campground and beach, a great place to stop for a swim or to hang along the lake. To complete the loop, ride back up the steep access road from the campground back to Mineral Point Road, then back to Garfield Bay.
Trail particulars:
There is only about 400 feet of elevation gain and loss but you'll ride it up and down several times. Water is available at Green Bay. At the trailhead for Mineral Point Trail there is a connector trail to a 2.1-mile singletrack loop on Lost Lake Trail 81 that makes for a good and easy side trip to incorporate into this ride.
Trail map:
Click to see the map.

Gold Hill Trail 3
The Gold Hill Trail is one of the most popular for Sandpoint mountain bikers, a 3.7-mile singletrack that can be moderate or strenuous
–
depending whether you ride it up or down or both – through a forested setting to panoramic views of the lake, Sandpoint and the Selkirk Mountains. By adding in some miles on paved and gravel backroads you can ride this as an approximately 28-mile loop right from Sandpoint itself
–
or just bite off the up-and-back on the singletrack.
Trail description:
If you want to abandon your car altogether, start your ride in Sandpoint behind The Old Power House and get to the trailhead by riding 2.5 miles south past Dog Beach, across the car-free pedestrian Long Bridge and bike path to Bottle Bay Road, then turn east onto that quiet country road for 4.3 miles on the pavement until you get to the lower trailhead. Or, skip all that and drive to the lower trailhead. From the trailhead you'll ride up the 3.7-mile singletrack to the top, where the trail meets Forest Road 2642. You can make a loop out of this ride by continuing about six miles down Road 2642 to Sagle Road, then riding west six miles on Sagle Road to Sagle, where you can pick up the Sagle bike path for the six-mile ride back to Sandpoint. Or, some riders just drive to the upper trailhead at the top of Road 2642 for a (mostly) down-and-back ride.
Trail particulars:
With 1,200 feet of elevation change between the lower and upper trailheads, this is a strenuous ride for intermediate to advanced riders. Bring water.
Trail map:
Click to see the map.
Mickinnick Trail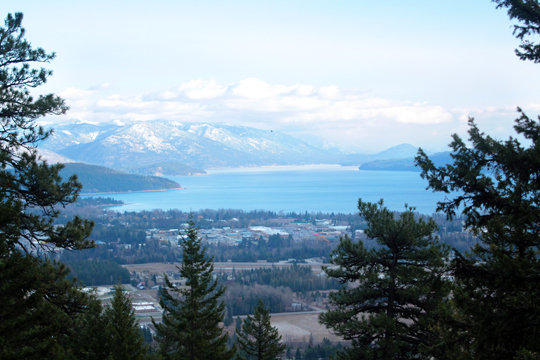 This challenging trail rises more than 2,000 feet in its length (the hike is 7 miles round trip) - that's a workout, especially on a warm summer day. The east-facing aspect of the trail makes it more user-friendly in the afternoon. The trail leads through open forest on a rocky hillside, and ends on a rocky knob commanding a view of Sandpoint, the Long Bridge, the Cabinet Mountains and Lake Pend Oreille.
Trail particulars
: To get to the trailhead from Sandpoint, take Highway 95 north 1.3 miles to Schweitzer Cutoff Road; turn left and go a half mile; turn right and go less than a mile to turn left on Schweitzer Mountain Road (at Schweitzer Sign); go one-half mile to Woodland Drive; turn left and go 0.7 miles. The trailhead parking, with pit toilet, water and map, is on the right.
Schweitzer Mountain trails
Schweitzer has a fine trail system to accommodate every level of rider and hiker. There are brutal climbs and technical rock descents, like the exhilarating Butt Slide Rock and Moffit's Edge. Intermediate rides for mortals exist too, mixing woods, ridges and crumbling granite on swooping, leisurely rides. And on almost all rides, you'll get those big, in-your-face views of Lake Pend Oreille and surrounding mountain ranges. Below are just a few ride options; check the trail map to see more. You'll also be able to get more local knowledge and a hard-copy map once you arrive at the mountain village, which is 11 miles from Sandpoint.
Trail descriptions for Upper Grr and Overland trails:
Start in the village plaza and tool past the Great Escape Quad lift on your way to the trailhead, following signs to Upper Grr (it's a growl, not a typo) and Overland trails. Because many of the mountain bike paths are nordic ski trails in winter, signage is frequent and reliable. Steer right onto Overland Trail to access a 4.5-mile loop that offers a number of side options that would be considered technical for mountain goats. A rolling road section brings you to Rolling Thunder, a quick but difficult section of singletrack. Wend your way through glades of alder and spruce to a gradual climb that then plunges you down to Picnic Point. Dismount here and breathe in the hackberry, rosehips and stunning lake views, then start back toward the village on Overland, skirting Bear Ridge and numerous game trails. Look for critters, especially during late spring and berry season. Deer, black bears, moose and cougars share the singletrack, and the names of adjoining trails are apt: Moose Trot, Bear Ridge and Cougar Gulch. You may also ponder the challenge of the nefarious Butt Slide Rock, an exposed granite slab that you may need a few attempts to master. Late summer riders should brake at Huckleberry Hill to pick the purple, tangy berries. Stay on Overland and push past the satellite dish on the 3.5-mile service road that leads back to the base area.
Trail particulars:
If you bike the whole mountain, from top to bottom, there's more than 2,400 feet of elevation gain. But biking Schweitzer provides access to a power assist, namely, the Great Escape quad chairlift. Running Friday-Sunday in summer, if you buy a ticket to haul your bike up on the chairlift to the top of Schweitzer peak you'll be able to hammer downhill loops until you've rattled yourself silly. Advanced riders can try Off The Top, a 3.5-mile downhill plunge that drops you into the lift line, or Moffit's Edge, a technical section of the NORBA downhill course. Known by locals as "Snakebite," Moffit's Edge slithers down glades and ski runs, traversing wide-open slopes, then diving back into deep woods in a testy mix of fall-line and off-camber side-hilling, culminating in a nice eight-foot rock drop. Yee-haw for advanced riders.
Trail map:
Click to see the map.
Strong Creek Trail No. 444
This trail leads from the town of Hope up an old jeep trail to the Auxor Basin and the old Auxor Mine in the Cabinet Mountains. It starts in deep cedar forest and climb up to a ridge affording incredible views down the south arm of Lake Pend Oreille. The trail is about seven miles to the top and is in good shape, but it's all uphill so this is a ride for folks who relish a workout. Near the top the trail crosses Trail 120, which contours high up on the Pend Oreille Divide and can provide alternate routes on occasional single track.
Trail description:
The trailhead is in the town of Hope, about 16 miles east of Sandpoint on Highway 200, and is not well marked. Turn north off Highway 200 onto Centennial Avenue next to Hope's Memorial Community Center. Take a left onto the old highway and go about one-quarter mile to the Post Office. Main Street, a narrow, one-lane paved road, veers right uphill in front of the Post Office. Follow it a couple of hundred yards and take a sharp right uphill toward the cemetery; continue past the cemetery on a dirt road beyond the small sign that says "Road closed 3/4 mile ahead" to the trailhead, which begins behind a locked gate. The trail, actually the old road to the mine, climbs steadily, through beautiful low forests and up switchbacks to gain the ridge with really fine lake views.
Trail particulars:
The riding is not technical but the elevation gain is 2,700 feet, so this is more strenuous than most beginners want to bite off. Water is available in Strong Creek and a couple small stream crossings along the first couple miles, but take water for higher up. Primitive camping is possible in the Auxor Basin or along the ridgeline. This trail is featured in the guidebook, "Trails of the Wild Cabinets," by Dennis Nicholls, available in the
Sandpoint General Store.
Trail map:
Click to see the map.

Johnson Cabin Trail
For mountain bikers who want to get 'way back into the mountains, the Johnson Cabin Trail to Granite Creek Trail ride is a beautiful intermediate-advanced trail in the Monarch Mountains above Lake Pend Oreille, with the requisite views and mountain scenery. But it is back there; the trailhead is a bit more than 40 miles from Sandpoint, accessed from the town of Clark Fork via the forest road known locally as the High Drive.
Trail description:
From Clark Fork, 25 miles east on Highway 200, follow Johnson Creek Road 16 miles to Trail 606. There, the ride begins with a steady three-mile climb up Dry Gulch with a steep 1.5-mile section before the trail meets Road 1066. Turn right two miles to Road 332. Turn right 3.5 miles on 332 to Road 2401, which is closed by a gate and is the trailhead for Trail 71. Follow Trail 71 onto the Granite Creek drainage to Road 278. Turn right on Road 278 back to Trail 606 where the whole trip began.
Trail particulars:
Lots of elevation gain and loss. Bring water. Get a good map and be prepared for backcountry contingencies, as you will be miles from help.