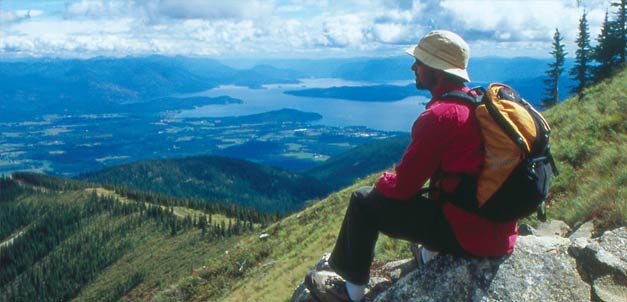 Photo by Woods Wheatcroft
Get out there:10 adventures within an hour* of Sandpoint

*or a little longer, if you dawdle
One of the wonderful things about Sandpoint is that we can go from zero to adventure quickly – whether by motorboat, foot, horseback, kayak, mountain bike, sailboat, airplane or by other means. In this story, we introduce readers to 10 great outdoor adventures, all within reach of town in an hour or less. Some of the most inveterate thrill seekers and fun hogs around share where they have been, how they got there and what they saw in the great outdoors – with just enough details so that you, too, can do the same.

Kayak the Clark Fork Delta
Minutes from Sandpoint: 59
Location: northeast end of Lake Pend Oreille at the mouth of the Clark Fork River
Slip on your spray skirt. Shimmy into your kayak. Slide into the water, and see ya later. When you embark on a paddling trip from the Johnson Creek boat launch, you enter a unique environment of winding channels, marshy backwaters, forested islands and abundant wildlife. The best way to explore the Clark Fork Delta – a riverine ecosystem – is in a kayak. This ecosystem formed over thousands of years as water flowing from the mighty Clark Fork River slackened and met with the waters of Lake Pend Oreille.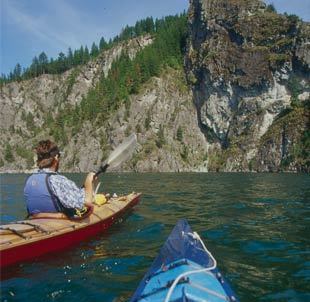 Photo by Woods Wheatcroft
On a lake as expansive and open as Pend Oreille, the Clark Fork Delta offers a more intimate experience than you might expect. Overhanging trees, looming cliff walls and circuitous meanders make you feel absorbed by the landscape – as a guest and not an intruder. The silence of your craft makes it easy to glide on the water unnoticed by wildlife. Deer will often mistake you for a floating log. Canada geese are more wary but will go about apparently undisturbed, if you keep your distance. You may arouse the attention of a moose enough to get a glance. Elk have been known to frequent some of the larger islands. It's tough to sneak up on the beavers, but they're good for a jolt as they smack the water with their tails to announce their presence.
The bird life in the delta is extraordinary. Ospreys are a common sight flying to and fro calling in their high-pitched screeches and shuttling fish from the water to the nest. Get too close to their nest, and you may find yourself backpaddling.
Heron rookeries are a unique experience that will definitely catch your attention. Many mating pairs will build their nests high in the canopy of a cottonwood grove. The raucous calling of the rookery makes a sound of a prehistoric nature.
Bald eagles are often seen harassing a raft of coots or being harassed by a murder of crows. The diversity of waterfowl, too vast to enumerate, creates a vibrant hum to the delta, as they erupt with a splash from the water and whir by, propelled like rockets.
If you don't lose yourself in observing the teeming wildlife, you will in the serenity of the languid waters. There are miles of interconnected waterways that lead on and on, and it is easy to get lost, so bring a map. With a little exploration and "bush-yaking," you can get to some isolated places that exude an untrammeled feeling. Leave them that way for those who follow and those who live there. If you are feeling a little claustrophobic, a paddle out to the big lake is not far. Take in a deep breath as you look out over the expanse of water and realize that you could just keep going, if you wanted to.
–Kevin Davis
How to reach the put-in
To get to the Johnson Creek boat launch, go west on Highway 200 to Clark Fork. Once in town, turn right after the Conoco gas station. Cross the Clark Fork River and turn right on Forest Service Road 278. Drive about 2.5 miles and look for the turnoff to the boat launch on the right, just before the cattle guard.
_______________________________________________________________________________

Sail Lake Pend Oreille
Minutes from Sandpoint: 45
Location: Garfield Bay across the central reach of the lake to the Monarch Mountains
Sailing Lake Pend Oreille near City Beach is great for an afternoon, but sailing to the Green Monarch Mountains can be a fantastic way to experience the heart of the lake and a distant mountain range to which few travel. The lake is deep, cold and sometimes unpredictable, but the rewards are bountiful – a powerful and steep, mountain-lined coast with peaceful coves and serene stone beaches.
One day last spring, we set off and pointed east toward the Monarchs from Garfield Bay with our small, no-frills 14-foot Pintail. While we knew we could make it there and back in a day, we aimed to stay overnight at one of many peaceful, backcountry campsites. We hoisted the mast, loaded the gear and embarked from the public boat launch. We brought along tents, sleeping bags, firewood, food and libations. As the saying goes, "Let the good times roll!"
We left our car and loved ones behind and started the crossing at 1 p.m. The lake was calm, almost too calm. It took 20 minutes to sail out of the bay with a final push from the Pintail's small motor to get us into the open water. But no luck; the calm continued. When there is no wind on a sailing adventure, there is only one thing to do – relax. We sprawled out on the small deck and benches and let the gentle breeze push us across the lake as we soaked up the sun's warming rays.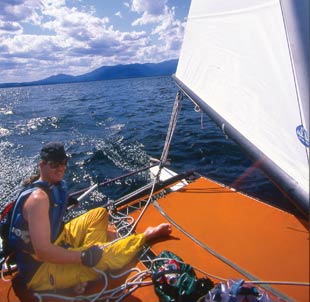 Photo by Woods Wheatcroft
Hours later, we reached the steep, abrupt face of the Monarchs, rising more than 2,500 feet above the lake. The Monarchs hold some of the least developed shoreline around the whole lake – miles and miles of it. Indian Point was one of the closest and significant points, so we aimed our boat there. It took five hours to cross the 4.5 miles.
Once you get close to the shoreline, spotting beaches that make good overnight destinations is easy. Most have an established fire pit and level areas for tents and bags.
We set up camp, cooked, partied and took in a mind-bending sunset to wrap up the evening. The next morning provided us with brisk winds. It took only an hour to cover the same distance back to Garfield Bay. Our hearts were racing as we sped back across the lake in a fraction of the time it took to get there.
–Chris Guibert
How to reach the put-in
Travel south on Highway 95 to Sagle Road. Turn left and go to Garfield Bay Road. Turn right and go to the bay's public boat launch.
_______________________________________________________________________________

Wakeboard or water-ski
from the big lake down the Pend Oreille River to Willow Bay
Minutes from Sandpoint: 0
Location: in Sandpoint on Lake Pend Oreille heading west down the Pend Oreille River
Thanks to the sheer size and depth of Lake Pend Oreille, there are numerous ideal locations for great wakeboarding. Depending on wind direction, weather and, of course, our mood, wakeboarders and water-skiers are faced with that overwhelming choice every time they go out.
For a quick "pull" after a day at work, you can stay close to the marina, be it in Sandpoint or Hope, with small coves and bays nearby. If the water is rippling, escape to one of numerous coves and find protected water. Make the adventure complete by taking time to jump from rope swings out by the Monarch Mountains or at Bottle Bay.
On those glorious days when no other responsibilities are calling, locals such as Matt Gillis heed the call of that sparkling lake for a full day of wakeboarding down the Pend Oreille River. Gillis, a college student, says his ideal day on the water begins near Sandpoint, as he and his friends head down the river along the southern shore. The smooth, glassy water and minimal boat traffic provide for optimal conditions.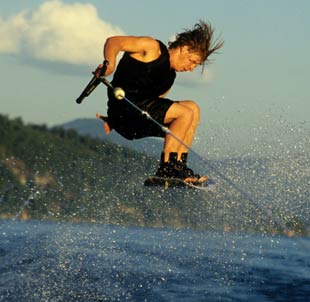 Photo by Doug Marshall / El Photo Grande
They'll go as far as 15 miles, maybe even 20 miles, downriver, pulling a wakeboarder. The shallow water allows 'boarders to see down to the bottom, and that makes for especially cool wakeboarding as they skim across the water, crossing the wake to and fro.
Along the way, they admire the beautiful riverfront, the foothills of the Selkirk Mountains and the wildlife. They take a break here and there, turn off the boat, listen to some music and jump into the water to cool down. Gillis says it's a rare day when they don't see four or five bald eagles circling around and dive-bombing for their lunch. Farther down, as they pass marshy inlets, they may even be lucky enough to see a moose wading around, quenching his thirst in the hot sun.
They know it's time to stop when they reach Willow Bay Resort and Campground. This out-of-the-way restaurant serves outstanding burgers on an outdoor deck – big enough to satisfy the appetites of Gillis and friends and prep them for the 15-mile return trip home.
If you want to make your adventure an overnighter, try the moorage at Willow Bay Marina or Riley Creek. In town, boaters can stay the night at Sandpoint Marina.
–Lisa Gerber
How to reach the put-in
Turn right off First Avenue onto Bridge Street and follow it to the boat launch at City Beach. Or follow Highway 2 west to Boyer Avenue. Turn left and take Boyer to Memorial Field/Lakeview Park, where there is a public boat launch.
_______________________________________________________________________________


Scuba dive Lake Pend Oreille
Minutes from Sandpoint: 30
Location: Talache Landing on the western shore of central Lake Pend Oreille
Unsuspectingly, I walked into AA Diving early one March morning, planning to simply ask owners Joe and Jill Foelsch a few questions about their business and get enough information to write an article. A few hours later, after trying on everything from wet suit booties to a mask, I left with plans set to dive in Lake Pend Oreille. Joe had convinced me that we could go diving in the lake this time of year; in fact, he dives year-round. Always up for adventure, and knowing I needed research material for this story, I had taken him up on his offer to go diving. We set a date to meet up later in March and take the plunge.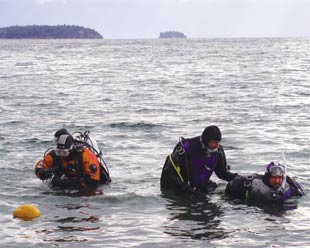 Photo by Jill Foelsch
After much preparation, including a safety briefing, waiver signing and gear loading, we were off. Destination: Talache Landing, southeast of town. Joe picked this place for several reasons, including good visibility and the possibility of a wall dive. That type of dive, being an advanced one, would only be attempted if Joe deemed me capable enough. Safety would be strictly adhered to from beginning to end. I got the feeling that we wouldn't be taking any unnecessary risks.
Now, I have been diving many times before but always in tropical, warm waters where you throw on a light (2- to 3-millimeter) wetsuit and you're ready to go. Not the case when diving in Lake Pend Oreille. After what seemed like hours – real time was about 30 minutes – I had my pounds of gear upon me and felt fairly sure that I could brave the 42-degree waters.
From the moment I put my head under water, the lake was transformed. Having spent more than 26 years – my whole life – living near Lake Pend Oreille, I was under the impression that I knew this body of water pretty well. But I had never seen it like this.
After swimming along at a reasonable 20- to 30-foot depth for a few minutes, we came to the edge of an abyss. Looking over the face of the wall, I was stunned by the cool blue light, the jagged rock formations and the eerie barrenness. Joe signaled to me, Do you want to go back or go farther?
"Farther," was my enthusiastic response. Before I knew it we were at 80 feet, and I was entranced. The depths seemed infinite; the visibility was surprisingly good; and there was nothing alive in sight. The whole effect was beautifully haunting. I had been transported.
Eventually, we had to surface, as I needed to warm up and get back to life in the real world. But I had been convinced. Diving in Lake Pend Oreille was an experience unlike any other, and I couldn't wait to do it again.
–Jenna Bowers
Resource: AA Diving, 123 S. 3rd Ave., Suite 5, Sandpoint. Phone (208) 263-3332 or look up AA-Diving.com for rentals, tours and certification.
How to reach the put-in
Drive south on Highway 95 and turn left on Sagle Road. Travel east and turn right on Talache Road and follow it to Talache Landing on Lake Pend Oreille.
_______________________________________________________________________________


River float The Priest
Minutes from Sandpoint: 45 to 58
Location: On the Priest River between Pend Oreille River and Priest Lake
While there are other rivers in Idaho that are notorious for their white-water adventures, the Priest River is often overlooked for both its white water and its scenic beauty.
Since 1999, I have been exploring its rapids and following in the path of the "river pigs," hearty lumbermen that took on the dangerous task of moving logs downriver – a method used until 1949.
My first float started by kayak just below Outlet Dam on Priest Lake, when I paddled into the Class III white-water rapids at Binarch Creek and floated down to the Dickensheet Campground.
This section is for kayakers with a solid Eskimo roll or expert canoeists who don't mind siphoning water out during late spring high flows. The run is fairly short, taking about an hour to complete, so most advanced boaters just run another shuttle for two or three runs on this section during a day.
Below the state-operated campground, the river takes on a meandering characteristic – where more than 14 major oxbows can be found. This three-hour float takes in Class II Chipmunk Rapids, cedar-lined banks and wildlife-watching opportunities. Summertime flows can be slow, so get on the river early if you want to take time to explore the surrounding countryside before taking out at White Tail Butte Landing. Some floaters continue downstream to the Big Creek access point – a spot that is hard to find and accessible only by four-wheel drive. Others go on to McAbee Falls.
McAbee Falls is the next major take-out/put-in for the Class III Eight-Mile Rapids and is accessed by taking Peninsula Road north from Highway 57. There are a few surf waves that develop just downstream of the bridge on West Side Road to warm up the paddling arms before going into the canyon.
Four more oxbows are found in this section before dropping into the boulder-strewn Eight-Mile Rapids – where the river pigs battled log jams and the water's speed accelerates into the canyon. The take-out for this section is at Saddlers Creek. Paddling the rest of the way out requires working those arms through some long stretches of slack water.
Saddlers Creek access point has a staircase to allow launching of kayaks and tubes, but rafters will have to be creative with a larger raft. This is a common launch point for inner tubers during July on this section, as they float from the Saddlers Creek put-in to the Priest River Campground at the river's mouth.
With more than 44 miles of shoreline between Priest Lake and the Pend Oreille River, the Priest offers something for everyone – white-water excitement in late spring or a more docile float on the river to delight your scenic senses. Get paddling!
–Brent Clark
Resources: Sandpoint Ranger District, (208) 263-5111, fs.fed.us/ipnf/sandpoint; Priest Lake Ranger District, (208) 443-2512, fs.fed.us/ipnf/priestlake; All About Adventures guided kayak tours, phone 866-GO-IDAHO, allaboutadventures.com/kayaking.htm. Life jackets required; canoes not advised.
How to reach the put-ins
To reach McAbee Falls-to-Eight-Mile Rapids section, from the city of Priest River, turn north onto Highway 57 and travel 3.5 miles to Peninsula Road. Take a right and follow the paved road 4.6 miles to the bridge and put-in. For Binarch Rapids put-in, go north on Highway 57 from the town of Priest River for 23.3 miles to a parking turnout on Highway 57 just south of the Outlet Dam on Priest Lake. The Dickensheet Campground put-in/take-out can be reached by following Dickensheet Road east of Highway 57; the turnoff is just past the Priest Lake Visitor Center.
_______________________________________________________________________________

Ride a horse on a full moon
Minutes from Sandpoint: 18
Location: Schweitzer Mountain Resort, 2 miles below the village
"By the light, by the light, by the light of the silvery moon … " It's hard for me not to sing on nights like this. I don't know all the words, and I suspect certain tone deafness, so I try to keep it to myself. But the quiet night with just a clip-clop rhythm and the bright light of the moon occasionally poking through the trees, as if it were a light beam following me, just seems to beg for a song.
There's not much steering to do, as the horse under me can see the trail much better than I can see the silhouette of the horse in front me. That's part of the thrill of trail riding on the night of a full moon – trusting in your senses, trusting in the 1,000-pound animal. Listening to the red-tailed hawk's alarming cry. Letting go of the habitual dependency on sight. With an imagination like mine, sight only serves as a trick. Each bush waving in the night air becomes a lumbering bear; the tall grass, a slinking mountain lion.
We are not hundreds of miles into the Frank Church Wilderness; we are just above the city lights of Sandpoint, watching one of the best full moon shows around. When we reach Picnic Point on Schweitzer, we pull out the cushions, spread out fruit and cheese, and wait for Luna to make her appearance. When it happens, it seems so fast – not like "bam" but like "ahwwwoooo."
Across the lake, the profile of the Cabinet Mountains sets the stage. The star of the show peaks through the curtains, sees her audience and then rises – her chest full, her magnitude magnificent. The crowd goes nuts. One night we cheered so loudly that she ducked through the clouds on her way up and came out again, even brighter than before, so we cheered louder. Then there was the full moon ride in which she didn't appear at all. I thought my fellow riders would be so disappointed, but, instead, we saw the most extraordinary display of lightning. It rode the blackened clouds in a charge across the sky and never did a drop of rain fall upon us.
–Laura White
Resources: At Schweitzer, Mountain Horse Adventures hosts full moon rides and 3-hour trail rides six days a week. Phone (208) 263-TROT (8768) or look up mountainhorseadventures.com, or call the Schweitzer Mountain Activity Center for reservations or trail information at (208) 255-3081.
Directions to the trailhead
Drive up Schweitzer Mountain Road 7 miles to the horse barn on the right and park there. Or continue to Schweitzer Village; park in the lot below the village.
Trails are marked for horses.
_______________________________________________________________________________
Bike Priest Lake's shore
Minutes from Sandpoint: 59
Location: Priest Lake near Nordman on the northwest end of the lake
It is early, and the summer's morning sunlight shines through my bedroom window, nudging me awake. Usually, I'd just roll over and ignore it, but I have a full day of mountain biking the trails along Priest Lake ahead of me. It's time to get rolling.
Priest Lake arguably offers the best intermediate riding in the area with its smooth and wide trails that roll through moderately hilly terrain in majestic, old-growth cedar forests. The trail hugs the shoreline of beautiful Priest Lake with the Selkirk Mountains in the background. The views, the trail, the beaches and a backpack full of good food all add up to one perfect day.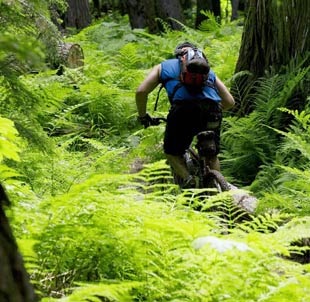 Photo by Chris Guibert
There are a few options to this ride. The Lakeshore Trail starts near Nordman and follows Priest Lake for 7 miles one way. The Navigation Trail starts where the Lakeshore Trail leaves off, at the Beaver Creek Campground, and continues about 9 miles farther out. The Upper Priest River Trail continues from there for an additional 20 miles and is more advanced. Riders can put together any combination of these trails depending on mileage desired. If two vehicles are available, there is the possibility of shuttling by leaving a vehicle at two different trailheads.
My family and I opted to start at the Lakeshore Trailhead and meander through the forest, stopping at a lakeside campground for a picnic and a swim. The trail will please a variety of riders but is especially ideal for families with children who have good athletic ability and some riding skills because it is not technically difficult. The occasional steep pitch may have them pushing their bikes in short sections. Many easy bridge crossings will keep them well-entertained, and the frequent beach stops provide a great swim and picnic break.
Once we arrived at the Beaver Creek Campground, we continued farther along the Thorofare between Priest and Upper Priest lakes. After getting a peek of the northern, remote Upper Priest Lake, we turned around and headed back.
–Lisa Gerber
Directions to the trailhead
Turn right out of Priest River on Highway 57 north to Priest Lake. In Coolin, bear left and follow signs to Nordman. Turn right in Nordman and follow signs to Reeder Bay. After the Reeder Bay Campground, follow the road another 3 miles to the parking lot for the trailhead No. 294, Lakeshore Trail, on the right.
_______________________________________________________________________________

Fish Alpine lakes
Minutes from Sandpoint: 59
Location: Two Mouth Lakes in the Selkirk Mountains west of Bonners Ferry
Outdoor adventure seekers: Dust off those internal frame backpacks, dig through several boxes to find those misplaced water filters and examine a Forest Service map for this adventure destination. If you like to fly fish, watch wildlife and camp near a high mountain lake, point your compass to Two Mouth Lakes, where you can also explore "Myrtle's Turtle."
There are many high-mountain trails within a 30-mile radius of Sandpoint, but after exploring several of them, I've found a personal favorite nestled in the Selkirk Mountains near Bonners Ferry. Located at just above 5,280 feet, this alpine cirque containing Two Mouth Lakes is the trip to put on your summer to-do list.
This trail offers a heart-pounding workout along with the scenic views, so hikers should be in shape. The U.S. Forest Service rates this trail as difficult; its elevation gain is 1,800 feet. The hike is approximately 5.5 miles long and has a 15-percent grade on the trail to the lakes, so bring along your healthy lungs and toned legs.
After a short but bumpy drive from Bonners Ferry, you will be in awe even before unloading your pack from the vehicle, especially if you have never explored the scenic beauty of the Myrtle Creek watershed. In its headwaters, an unnamed granite knob stands out – known to locals as Myrtle's Turtle, due to its obvious, arched shape. The summit is worth a side trip if you have enough energy left.
Pack along a collapsible, spin-casting rod and reel, or venture up the trail with your fly-fishing gear, to take a chance at catching a few of the elusive westslope cutthroat trout cruising the shallows or deep. I've caught a few of these trout planted by the Idaho Department of Fish and Game, but, as in many subalpine lakes, the trout don't get large due to the short feeding season. My friend was quite successful with a hopper pattern with a dropper nymph in the lower lake.
This is one of the Selkirk Mountains' hidden gems, so what are you waiting for? Finish packing, don't forget your map and compass, and get outside!
–Brent Clark
Resources: Bonners Ferry Ranger District, Highway 95 south in Bonners Ferry, (208) 267-5561. fs.fed.us/ipnf/bonnersferry
Directions to the trailhead
Drive north on Highway 95 to Bonners Ferry. Turn left on Riverside Road and follow it to the West Side Road No. 417; go right (north) to the Kootenai National Wildlife Refuge. Turn left on Myrtle Creek Road No. 633 and follow it about 12 miles to a wide spot in the road where an old access road takes off on the right. The Two Mouth Lakes trailhead and signs are found here.
_______________________________________________________________________________

Hike from Lunch Peak to points in the Cabinets
Minutes from Sandpoint: 59
Location: Lunch Peak atop the Cabinet Mountains east of Sandpoint
The moose in Lake Darling, whence Lightning Creek is born, had its head underwater, so I didn't know its gender until it surfaced, trailing waterweeds. For minutes, then, I watched her dip again and again into the lake.
There was something odd about the perspective, though. The lake was smaller than I recalled. Then she finally sensed me, and everything snapped into place. The hair on my neck rose as her small, bright eyes looked me over. The lake hadn't shrunk. She was the biggest moose I've ever seen, and I was glad she was far away.
I followed Forest Service Trail No. 52 past the lake and toward Trail 67, and then I found her tracks and her calf's, which made me nervous. A cow moose with a baby is more dangerous than a bull in rut. As I climbed toward the Lightning Creek/Pack River divide, I kept watch.
I didn't see the moose again, and that was probably fine by her, too. I did have a good and proper hike along the spectacular ridge that holds Trail 67. Bear grass, lupine, Indian paintbrush and white phlox bloom here, beside a well-defined track wending through hemlock and subalpine fir forest and across talus slopes made of broken mountains. To the east stretch Lightning Creek and the Scotchman Peaks; to the west lie Lake Pend Oreille, the Purcell Trench and the Selkirk Mountains.
I chose that day to climb a steep 1,500 feet from the lake to the ridge before turning south toward Lunch Peak. I returned to my beginning point via Trail 161, which follows Gordon Creek back to Lightning Creek. But, I could have just as easily (OK, more easily) driven to Lunch Peak and hiked Trail 67 without having to work so hard.
Not that Trail 67 is easy. It is relatively accessible, though, and offers lots of options for length and level of exertion. For beginning hikers of ages 10 and above, it's a great day hike of whatever length might be appropriate to the group. One moderate out-and-back trek is to Pend Oreille Peak, four miles one-way. There is no water available on the ridge, so hikers should carry plenty.
For experienced back-packers, Trail 67 connects with other trails to many places in the Cabinets, even as far as the Kootenai River, 25 miles from Lunch Peak. Remember, though, those miles are as the raven flies, not as the moose – or the trails – meander.
–Sandy Compton
Resources: Sandpoint Ranger District, Highway 2 in the Federal Building in Sandpoint, (208) 263-5111. fs.fed.us/ipnf/sandpoint. To reserve the Lunch Peak Lookout, contact ReserveUSA at 877-444-6777 or look up reserveusa.com.
Directions to the trailhead
Drive east on Highway 200 for 12 miles and turn left on Trestle Creek Road No. 275. Follow it northeast roughly 12 miles to Road 1091; turn left and follow it 4 miles to Lunch Peak. High clearance or four-wheel drive vehicles are recommended. Trail 67 begins just below Lunch Peak Lookout.
_______________________________________________________________________________

Fly the skies
Minutes from Sandpoint: 0
Location: Departing from Sandpoint Airport and flying over the Selkirk Crest, to the Clark Fork Delta
I'm on my first flight with Sandpoint Aviation, and I'm being offered a chance to pilot the plane. Others would say "No thanks," but I couldn't resist. Before I knew it, I was steering the plane down the Pack River Valley.
"Small adjustments," said Skim, my modest instructor and pilot, as he coached me.
It was exhilarating to know I was controlling the plane. I wasn't worried about crashing, as there are two steering wheels, and Slim could have quickly taken over, if need be. I felt like leaning out the window and screaming, "I'm flying! I'M FLYING!"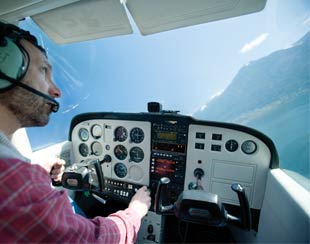 Photo by Chris Guibert
Sandpoint Aviation has been operating at the Sandpoint Airport for nearly 10 years. People have chartered flights to scout wildlife, check out real estate and even scatter ashes. The pilots are flexible and honor most requests if the weather is OK, using a 1976 Cessna 172 that holds three people plus the pilot. This model is great for both the scenic flights and lessons.
For those who get sucked into the romance of being a pilot – as I almost did – the requirement is 40 to 50 hours at $115 an hour to obtain a pilot's license (includes usage of the plane and Skim as instructor). That can be considered a small investment for a hobby that may last a lifetime. Skim, a.k.a. Steve Wilson, has been flying for more than 11 years and has six years of instructing under his belt. He is cool and calm, unlike the driver's education teachers of my youth.
But not everyone wants a license. Some just want to take in Sandpoint's beautiful scenery by air. Our flight started by circling around Bald Mountain and working our way north along the Selkirk Crest. We cruised by Schweitzer Mountain Resort and continued north to Chimney Rock to check out this spire of rock. Awesome!
Skim then let me take the wheel as we cruised above Pack River toward the lake. When we got lakeside, I let Skim take over so I could start shooting photos again. "Just open the window and start shooting," Skim said. I was in heaven.
Skim granted my every wish. "Can you do another pass around the delta?" I asked.
"No problem."
"Can you tilt the wing up for a better angle?"
"Sure."
Flying in a small plane is a completely different experience than an airline jet. Windows are all around, so the views are sweet. The passengers are much more in touch with their surroundings. You feel the wind currents and small updrafts. So grab the family or your sweetheart and fly that plane. You won't regret it!
–Chris Guibert
Resource: Sandpoint Aviation, (208) 263-9102, scenic flights, lessons, rentals and airport services.
Directions to the airport: Drive north on Boyer Avenue and turn left at Airport Way.
Directions to the airport
Drive north on Boyer Avenue and turn left at Airport Way.
_______________________________________________________________________________