BACKCOUNTRY SKIING
Selkirk Powder. Providing guided cat skiing, heli-skiing, backcountry skiing tours, and avalanche education courses. Located at Schweitzer. Open 7 days week.
DOWNHILL SKIING
Spend a full or half day skiing and snowboarding at Schweitzer Mountain Resort, located 11 miles from downtown Sandpoint. It's not hyperbole to say Schweitzer is the Inland Northwest's top ski resort; its size and numbers are bigger than any other ski mountain around: 10 chairlifts including one high-speed six-pack named Stella; three high-speed quads; two triple chairlifts; three double chairlifts; one T-Bar; and one conveyor lift. Top elevation 6,400 feet with 2,400 feet vertical; 2,900 skiable acres, 92 named runs; night skiing on weekends. The jaw-dropping views of Lake Pend Oreille and surrounding mountains is a bonus. Click to Schweitzer.com or phone 208-263-9555 or 800-831-8810; the snow phone is 208-263-9562; Activity Center phone is 208-255-3081.

Schweitzer is the star of area resorts, but here's a guide to other ski hills within a two-hour drive of Sandpoint:
Silver Mountain
85 miles southeast of Sandpoint at Kellogg, Idaho. Open Thursday-Monday and holidays. Serviced by a gondola with five chairs and one surface lift; top elevation 6,300 feet, 2,200 feet vertical, 1,600 skiable acres with 73 runs; tubing hill.

Mount Spokane
75 miles southwest of Sandpoint outside Mead, Wash. Open Wednesday-Sunday and holidays. Top elevation 5,889, 1,425 skiable acres, 2,000 vertical feet, 45 runs, five chairlifts.

Lookout Pass
110 miles from Sandpoint, 65 miles east of Coeur d'Alene straddling the Montana-Idaho state line. Open Thursday-Monday and holidays. Top elevation 5,650, 1,150 feet vertical, 540 acres, two chairlifts and one rope tow.

Turner Mountain
80 miles northeast of Sandpoint and 22 miles north of Libby, Mont., open Friday-Sunday and holidays. Top elevation, 5,952; One surface lift; 25 runs, 2,110 feet vertical.

49 Degrees North
98 miles northwest of Sandpoint, 10 miles from Chewelah, Wash., open Friday-Tuesday and holidays. Top elevation 5,774, vertical 1,851, 2,325 acres, 75 trails, five chairlifts a surface lift and the Nordic Center.

CROSS COUNTRY SKIING
The quickest route to groomed trails is Schweitzer, where you can kick and glide or skate on 32K of trails for a small fee (208-263-9555). Click to see the trail map. Round Lake State Park, located 10 miles out of Sandpoint, also has 3 miles of various groomed trails for diagonal stride (208-263-3489). Farragut State Park maintains more than 7 miles in its groomed trail system 25 miles south of Sandpoint on Lake Pend Oreille (208-683-2425). Priest Lake Golf Club and Nordic Center maintains a Nordic trail system that connects to Hill's Resort and Hannah Flats trails, totalling more than 40K of groomed trails (208-443-2525). Or tour the backcountry on National Forest lands; contact Sandpoint Ranger District (208-263-5111) or the Bonners Ferry Ranger District (208-267-5561) for maps and more information or look up the Idaho Panhandle National Forests website. Rental gear is available at Schweitzer (208-255-3070) or at the Alpine Shop at 213 Church (208-263-5157). For more on the joys of backcountry skiing, check the Schweitzer sidecountry ski story, from Sandpoint Magazine.
COMPETITIVE SKIING & BOARDING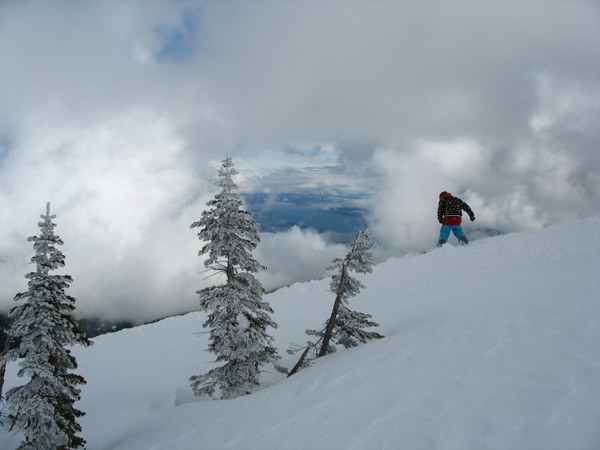 On our local mountain, the Independence Racing Team and Schweitzer Alpine Racing School (SARS) provide racing education and sponsored events throughout the season. All SARS club programs aim to teach mastery and life-long love of snow sports, as well as provide appropriate training to Junior Olympic-bound racers. Programs are offered for alpine skiing, snowboarding and Nordic skiing. Learn more at sars.net. The Independence Racing Team is a nonprofit organization designed to offer youth who might not otherwise have the means the ability to be involved in ski racing. Learn more at independenceracing.com.
ICE SKATING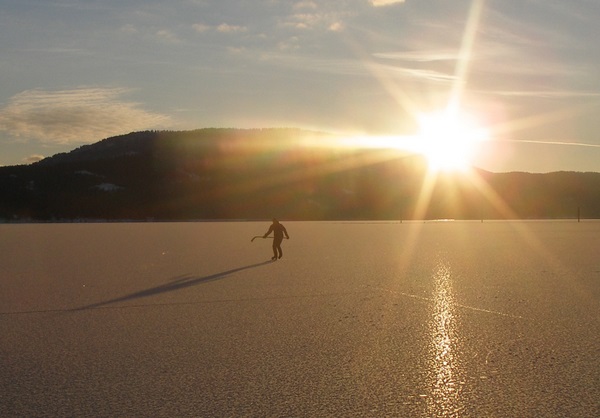 There's usually a small window of opportunity, but when the weather is right ice skating is great right downtown at Sandpoint City Beach or on Sand Creek below the Cedar Street Bridge, where the city recreation department will often keep the ice clear of snow. Local residents will also often keep the snow clear for skating at the south end of Third Avenue, where it terminates at the old pier in Lake Pend Oreille. Or for a skating afternoon go to Round Lake State Park, 12 miles south of Sandpoint, where there is often a bonfire blazing. Park staff maintain both regular and speed-skating rinks. To get there, drive 10 miles south on Highway 95, then west two miles on Dufort Road. 208-263-3489


SLEDDING
A fine sledding hill can be found at Round Lake State Park, with a 1,000-foot run to the lake (208-263-3489). Sledding is always at your own risk!


SNOWMOBILING
It's one of the most popular and fun ways to reach the wondrous wintry backcountry. Snowcat trails around Sandpoint and Priest Lake in the Selkirk Crest are renowned; for more information, contact Winter Riders at 208-263-1535, or Priest Lake Trails & Outdoor Recreation Association at 208-443-3309. For guided snowmobiling tours at Schweitzer, contact Selkirk Powder at 208-263-6959. Guests staying at Diamond T Ranch, 208-266-0490, located in Clark Fork are welcome to bring their sleds and take advantage of easy access to Forest Service trails in the Cabinet Mountains. Also, check out this snowmobiling story published in Sandpoint Magazine.


TUBING
Schweitzer has two lanes for fast action in an area called Hermits Hollow Tubing Center, open Fridays through Sundays (208-263-9555).


WINTER JAUNTS
The Pedestrian Long Bridge with its dazzling views of the lake and Selkirk Mountains is perfect for a brisk winter walk or bike ride; reach the bridge via the bike path at the south entrance of town. You can also try the bike path between Dover and Sandpoint, Travers Park on the 1900 block of West Pine Street, or City Beach downtown, where the city keeps bike paths plowed and open.


CAMPING
Round Lake State Park remains open during the winter season for hardy campers who want to bring their own water and use a latrine. While you're there, you can ice-fish, skate, sled, cross-country ski and enjoy a toasty bonfire. To get there, drive 10 miles south on U.S. Highway 95, then west two miles on Dufort Road. 208-263-3489

ATHLETIC CLUBS
If you want to take your sports indoors come winter, Litehouse YMCA, 1905 W. Pine St, has all the trimmings: 25-meter indoor pool, outdoor recreation area, racquetball, wallyball, basketball, weight training, stair machine, bikes and rowing machines, treadmill, aerobics, sauna and spa. Daily rates available. Phone 208-263-6633. Also, Natural Fitness at Superior and Ella has a complete line of cardiovascular, weight and circuit machines. Phone 208-263-0676. The Integrative Athlete, 506 Oak St., is a training facility specializing in functional movement and wholistic training (208-946-4855). Curves at 110 Tibbetts Ln. in Ponderay (208-255-1661) caters to women.