Main

Outdoors

Lake Guide

Golfing

Mountain Biking

Camp Grounds

Winter Sports

Things to Do

Arts & Entertainment
.

.

.
.

Weather and water temperatures – provided by the U.S. Navy at Bayview. See current weather, winds and water temperatures as measured by the Navy at their weather buoy off Maiden Rock.

.

Lake Pend Oreille Weather Cam – provided by the U.S. Navy at Bayview. See the current weather at the southern lake with this weather cam, updated every 10 minutes.

.
.

Paddling Routes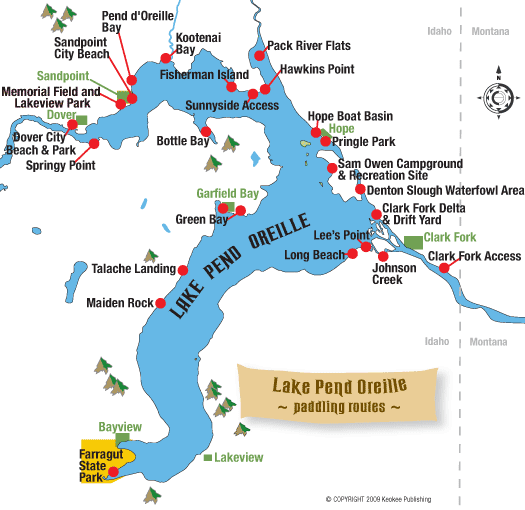 By Billie Jean Gerke, Chris Bessler and Jane Fritz, with portions excerpted from the book "Wilderness of Water: Legendary Lake Pend Oreille.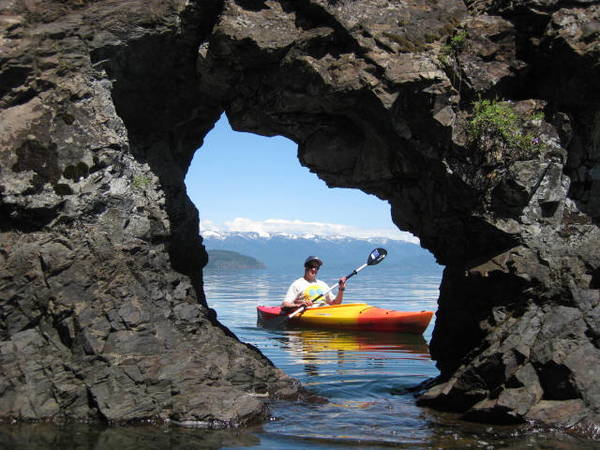 Paddling around the lake's shore in a kayak would require approximately 118,539 strokes with an oar to follow the 111 miles of shoreline. Barring the time and energy need to make a circumnavigation of the lake, there are plenty of dandy paddle routes that will allow you to experience its wildness, from its mountain heights to its watery depths, from its quiet coves to its broad expanses.


If you don't own your own canoe or kayak, rentals are available at a number of businesses around the lake. See the Boat Rentals & Service page for leads to marinas closest to the departure point you prefer, or check the Super Directory under Marinas & Boating Services. Full Spectrum Tours leads kayak tours on the lake and offers rentals. Click to go to Tour Guides & Outfitters in the Super Directory.

Below are some good lake routes for the paddler, listed in order from the south end of the lake and moving north and then east.
Eagle Boat Launch
Canoeists and kayakers can find easy access to the lake launching from Eagle Boat Launch, a large, modern facility at Farragut State Park located just south of Blackwell Point on the west side of Idlewilde Bay. Another launch site for paddle craft, at the very end of the lake, is Buttonhook Bay. This small, sheltered bay offers a serene, placid sojourn for paddlers who can carry their watercraft down the short trail to the docks. It's a two- to three-mile paddle one-way (two to four hours round-trip) to Steamboat Rock from either launch site. Mountain goats thrive at Bernard Peak near Echo Bay after being planted there in the early 1960s from Snow Peak in the North Fork of the Clearwater. Paddlers may skirt the shore where the point juts out into the lake to spot the white beasts in their precipitous home. You're quite likely to see at least some of the 30 or so that live on the cliffs. Spotting scopes are found across the lake at the Willow Day Use Area inside Farragut State Park.
Talache Landing
It's a popular put-in area for kayakers and canoeists coming from Sandpoint and Sagle. From the water, it's a short paddle to reach Forest Service public lakefront north of Mirror Creek (the original landing from which iron ore was shipped by barge) or south of Talache Beach, towards Maiden Rock and past several homes. It is also a convenient put-in for those paddlers who would like to try primitive camping on one of the colorful pebble public beaches in either direction.
Garfield Bay
A protected bay, Garfield Bay is well-suited to canoeing or kayaking. From here to Green Bay, the shoreline is rocky, but there are some nice stony beaches to enjoy swimming and picnicking. Launching from Garfield Bay it is a one- to three-mile one-way paddle to Green Bay, depending on where along the shoreline you land.
Long Bridge to Dover
Though not technically the lake, the water west of the Long Bridge to Dover is often considered Lake Pend Oreille. Boaters can depart from Memorial Field, Dover Bay or Springy Point to explore downriver. People in kayaks and canoes sometimes put in at Springy Point and paddle across the river to Dover or east and west along the southern riverbank. Paddlers may also depart from Dover Bay and explore its many bays and estuaries; the marina here rents canoes and kayaks.
Boyer Slough
Going northeast from Sandpoint City Beach by canoe or kayak, and crossing Pend d'Oreille Bay, it is two and a half miles one way to Boyer Slough. The mouth of the slough opens to the north out of Kootenai Bay between Ponder Point and Kootenai Point. As it is the shallowest part of the lake, it is best experienced at full pool. This is a fairly open expanse of water, and it can be rough if there's a strong south or west wind. Launch at Sandpoint City Beach or at the south end of Pend d'Oreille Bay's shoreline and paddle for up to four hours round trip.
Sunnyside Access & Hawkins Point
Sunnyside Access and Hawkins Point are suitable for launching small boats for fishing or paddling the Pack River Flats, or for paddling west around the peninsula to Fisherman Island.
Pack River Wildlife Management Area
Launching at the Pack River Flats, boaters can explore the Pack River Wildlife Management Area, designated as a no-wake zone. Explore downstream of Highway 200 to the railroad trestle, or go upstream from the highway into the delta, where only non-motorized craft are allowed.
Hope area
In the Hope area east of Sandpoint, paddlers can cross Ellisport Bay from the Hope Boat Basin or Pringle Park or launch from Sam Owen Campground to tour around several small islands including Warren, Cottage, Pearl and Memaloose. Memaloose was once an Indian burial ground and sacred site. The islands are private, so don't go ashore without permission.
Clark Fork Delta
The Clark Fork Delta is a paddler's paradise. There are sloughs, channels, islands and backwaters to explore where you literally can get lost. Launch sites are at Johnson Creek Access Area, Denton Slough or the Clark Fork Drift Yard boat launch, commonly used by fishermen and waterfowl hunters. There are three main channels of the Clark Fork River Delta – north fork, middle fork and south fork. If you explore the delta alone, you can rack up several miles of paddling.The delta is a wildlife paradise with numerous songbird and waterfowl species here, as well as heron, grebes, loons, ospreys and bald eagles. The far southern channel of the south fork of the river from the Johnson Creek boat launch is a favorite paddle route of many. The distance from the Johnson Creek launch site to Lee's Point and the lake, along either of the south fork channels, is less than two miles one way. From the navigation lights at Lee's Point near the mouth of the Clark Fork River, the shore below the Monarchs stretches across an area known as "Long Beach." Some people camp along this stretch managed by the Forest Service. Although the campsites are primitive, there are a couple of vault toilets.
Lower Clark Fork Water Trail
Some paddlers like to access Lake Pend Oreille via the Lower Clark Fork Water Trail, launching from Avista's Clark Fork Access Site. From here you can paddle downstream with the current all the way down this seven-mile stretch to Johnson Creek Access Area, the Clark Fork Drift Yard, or points farther west along the north shore of Lake Pend Oreille, which is best avoided until midsummer when currents slow down. Estimated paddling time is from two to five hours depending on the current and whether you choose to float downstream to a shuttle car at Johnson Creek Access Area or just west of the Clark Fork River bridge.