Main

Outdoors

Lake Guide

Golfing

Mountain Biking

Camp Grounds

Winter Sports

Things to Do

Arts & Entertainment
.

.

.
.

Weather and water temperatures – provided by the U.S. Navy at Bayview. See current weather, winds and water temperatures as measured by the Navy at their weather buoy off Maiden Rock.

.

Lake Pend Oreille Weather Cam – provided by the U.S. Navy at Bayview. See the current weather at the southern lake with this weather cam, updated every 10 minutes.

.
.

Lake Drives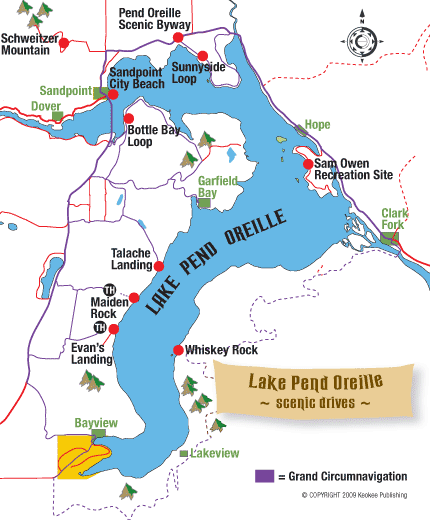 By Billie Jean Plaster, Chris Bessler and Jane Fritz, with portions excerpted from the book "Wilderness of Water: Legendary Lake Pend Oreille."
Enjoy the scenic Lake Pend Oreille ... by car!!
Lake Pend Oreille is not merely beautiful for those who are in boats on the water. There are many driving and biking tours that offer wonderful scenery and the opportunity to stop for walks along the shoreline or, from up in the mountains, expansive lake vistas.
Highway Tour with Big Views
An easy half-hour drive out of Sandpoint is simply east on Idaho State Highway 200 toward Clark Fork, which offers excellent views down both the west arm of the lake and the south arm `bout as far as the eye can see. This route is known as the Pend Oreille Scenic Byway in both Idaho and Montana, and there several pull-outs on the way to Hope where you can take in the view. A good destination would be to the Hope Peninsula and Sam Owen Park. To make campsite reservations, call 877-444-6777 or go online to www.recreation.gov. The campground manager/host is also available during the camping season by phoning 208-264-0209. Or go farther on to the Cabinet Gorge Hatchery, on the south side of the river southeast of Clark Fork, where tours are available during business hours. If you stay on the highway to the Montana line, it's a 33.4-mile drive.
Expansive Vistas from Schweitzer Mountain
Another easy half-hour jaunt from Sandpoint, offering a bird's-eye view, is up to Schweitzer Mountain Resort (208-263-9555), an easy 11 miles from city center. Drive north two miles on Highway 95 and turn left on the Schweitzer Cutoff Road. Turn right on North Boyer and follow the signs up the mountain nine miles on the paved Schweitzer Mountain road. At the village you can buy a ticket to ride the Great Escape Chair lift to the top of Schweitzer Peak, where you'll see sweeping mountain vistas and the outline of the northern end of the lake. You may even find some huckleberries; ask for directions to the best patches.
Sunnyside Loop
This is an excellent choice for those who want an easy loop ride with immediate lakeshore access, well-maintained dirt roads (despite a few potholes here and there) and great views of Lake Pend Oreille. Some of the best and sunniest gravel beaches in northern Idaho lie along this ride. They call it Sunnyside for a reason! From Sandpoint, drive (or bike) Idaho State Highway 200 east for approximately six miles. Turn right at the sign for Sunnyside-Oden Bay Road. Go along Sunnyside Road until it returns to Highway 200, where you turn left and return to where you started. Halfway down Sunnyside Road, you can stop and take a dip at Sunnyside Access and Hawkins Point.
Bottle Bay Loop
You can do it by car for sure, but if you are a cyclist, this is the quintessential paved ride in the Sandpoint area. It offers a fine road tour over asphalt with numerous options along the way for swimming, picnicking and sightseeing through open stretches of northern Idaho farmland. Begin in Sandpoint by crossing the Long Bridge (use the pedestrian side if you're on a bike). Turn left on Bottle Bay Road and follow its curves and hills to Sagle Road. Turn left and make a little jog to Garfield Bay Cutoff Road, to take a side trip to Garfield Bay, where there's a fine beach and campground along with restaurants and stores. Return to Sagle Road via Garfield Bay Road. Follow it through open pastures, hairpin turns and a few thrilling hill climbs back to U.S. Highway 95, turn right and return to Sandpoint. What an adventure!
The Full-Day Grand Circumnavigation
If you're in the mood for a full day of driving around Lake Pend Oreille's 111 miles of shoreline, you can do a grand loop tour. To undertake the loop driving tour, which ventures onto gravel Forest Service roads from Clark Fork to Bayview, it's a good idea to have a copy of the U.S. Forest Service map for the Kaniksu National Forest, available for $14 in the Sandpoint General Store or from the Sandpoint Ranger District at 1500 Highway 2, Sandpoint, ID 83864, phone 208-263-5111. Be sure to top off the tank before entering Forest Service lands and bring a spare tire – or two!

>Start your driving tour in Sandpoint, where the easiest and best lake access is a block from downtown at City Beach – surely one of the finest city parks anywhere. It's possible to explore to the north of the City Beach itself along a new shoreline trail that goes past the former site of what was once the largest sawmill in the world, Humbird Mill, in the early 1900s. Only scattered pilings attest to its history now. The Pend d'Oreille Bay Trail is a two-mile-long trail that begins just north of Sandpoint City Beach past Seasons at Sandpoint and extends to Black Rock in Ponderay.

>Continuing east past Ponderay and Kootenai, there is a public boat launch on the east side of Sunnyside Peninsula that is a good place to wet a line or launch a boat to explore around the Pack River Delta. Take the Sunnyside Road Loop from Idaho State Highway 200, which returns to the highway a few miles east, near The Idaho Club.

>Heading east and now also bearing south, next stop is the hillside community of Hope, where there is another boat launch and swimming off the docks below the Highway 200 overpass. A bit farther on at the Hope Peninsula is Sam Owen Campground and Recreation Site, a fine Forest Service camping and picnic site with cobblestone beach, boat launch and the usual splendid views.

Now it is on to the Denton Slough Waterfowl Area, part of the Lake Pend Oreille and Clark Fork Wildlife Management Areas, is a breeding area for western grebes, ospreys and heron. The turnout off the highway at the west end of the slough is up the bank from the water and has interpretive signs describing the wildlife and waterfowl that can be found on the slough.

Clark Fork River Delta, rich in wildlife, is best accessed from either the Clark Fork Delta and Drift Yard on the north side of the river or at the Johnson Creek Access Area on the south side, a few miles west of the town of Clark Fork. There you'll cross the river and begin traveling west. Johnson Creek is a great place to launch a boat for an exploration of the channels and sloughs that make up the delta. Here also you can cruise the shores below the magnificent Monarch Mountains, which plunge abruptly into the deepest waters of the lake with scattered vest-pocket beaches reachable only by water.

To drive this southeast shore of Lake Pend Oreille, motorists must take to the High Drive, signed as Forest Road 278. Don't undertake this 30-plus mile drive on often-rough gravel roads without a forest map. You'll be high above the lake, which can be sighted at only a few points, most specifically including the Johnson Point Vista, high above the lake six miles from the Clark Fork bridge. You can reach the lake at three public access points, the Forest Service campground at Whiskey Rock Bay, and county docks and beaches at Cedar Creek and the small resort village of Lakeview.

You'll depart the High Drive at the southern tip of the lake, where a pair of the finest lake accoutrements lie: the lake community of Bayview, and sprawling Farragut State Park (208-683-2425) next door. Bayview has restaurants, resorts and other amenities with in-your-face lake and mountain beauty. Farragut is the largest and most popular park on the lake, with excellent facilities for camping, hiking, biking, swimming and fishing.

Heading north up the lake's western shore, there are only a few public access points reached by land. One is Evan's Landing, accessed by a 2-mile-long trail found on East Ridge Road off Little Blacktail Road. Another is Maiden Rock, reached by a 2-mile trail at the end of Butler Creek Road, about five miles from Highway 95. There is a bit of public beach at Talache Landing, and farther north is Garfield Bay, with public areas, a large marina (208-263-9595), camping and restaurant. Just four miles north as the crow flies is also Bottle Bay with similar facilities.

About five miles across the lake is Sandpoint. Coming around Contest Point, you arrive at the Long Bridge, which tehnically crosses the Pend Oreille River, and back to Sandpoint. Phew, what a shoreline!