Our Summer Sweeps contest is CLOSED now!
Sorry if you missed it. Every Tuesday in July and August, 2017 we gave away a pretty fine prize ... just for fun! We're talking tickets to Silverwood, dining certificates for fine Sandpoint restaurants, tickets to the Festival at Sandpoint shows. Just for the record, here's what we gave away each week this summer!
July 4: Two Silverwood tickets. Winner: Tamara Hitt.
July 11: Two Silverwood tickets. Winner: Kanista Nuxoll.
July 18: $50 for fine food and beer at MickDuff's Brewing Company. Winner: Jay Bickel.
July 25: Set of three terrific guidebooks from Keokee Books: Trails of the Wild Cabinets, Trails of the Wild Selkirks and Legendary Lake Pend Oreille. Winner: Carl Preston.
Aug 1: Two Festival at Sandpoint tickets to Pink Martini. Winner: Suzann Smith.
Aug 8: Two Festival at Sandpoint tickets to Iration/The Wailers. Winner: Melissa Downs.
Aug 15: $50 in dining at Ivano's Ristorante. Winner: Lisa Saldana.
Aug 25: Two Silverwood tickets. Winner: Jordan Palmer.
Aug 29: $50 in dining at Jalapeño's Mexican Restaurant. Winner: Marie Walton.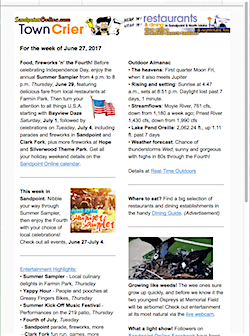 If you missed the contest ... never fear. The Summer Sweeps giveaways ended August 29. But we'll be back with another giveaway, by and by. We promise! Watch Sandpoint Online and the Town Crier for notice of future contests. Meantime, here are the contest rules ... when next we get it going. Cheers!
Contest rules. It's FREE to enter, of course! One entry per person per week, please. You must be 18 or older to win. Drawing will be held each Tuesday morning in July and August. Winners will be notified by email each Tuesday.
Each entrant receives a free subscription to the Town Crier, Sandpoint Online's free weekly newsletter of upcoming events, news, outdoor happenings and more, that emails out every Tuesday. If you don't already get the Town Crier ... you should! Click to see a sample or sign up now. If you don't like the Town Crier, you can unsubscribe at any time with one click.
And here's an important PS:
We will never share any entrant's email address with any third party. Period.