---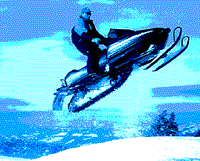 A Go-Cat Mother Lode!
by Billie Jean Plaster
Copyright 1996 © Sandpoint Magazine
The snowmobiler who discovers Priest Lake in winter must feel like a miner who taps a vein of gold. With more than 400 miles of groomed trails, thousands of acres of open back country and jaw-dropping views everywhere, the area is rich for snowcatters.
Priest Lake is an easily accessible jumping off point for the powder that blankets the Selkirk mountains.
What's more, "We haven't been found out yet," says Kevin Mackaben, one of the owners of Indian Creek Rentals. He says riders who visit midweek "probably won't see anyone all day." On the weekends, you might cross paths with only a dozen or so other snowcatters.
Although the trail system can be accessed from anywhere around the lake, the best access into the backcountry is found at the north end of the lake. There, trails send you directly into the heart of snowmobiling country.
Bob Davis, the chairman of the West Bonner County Groomer Committee, says the area's assets are "the number of trails, variety of terrain and accessibility into 'play areas'." But he concludes that, "Scenery is the main attraction."
Some of the best viewpoints are from Horton Ridge, Sundance Mountain or Gleason, according to Craig Hill, who is a member of the groomer committee and has been sledding these parts for 25 years. But the possibilities are endless, he says. "Most of the groomed trails lead you to good views."
Even though the area is remote, visitors can enjoy all the amenities at trail-side resorts around the lake. These full-service accommodations cater to snowmobilers and even have lodging packages that include cat rental: Elkins or Grandview Resort at Reeder Bay just east of Nordman; or Hill's Resort at Luby Bay a few miles south of Nordman.
For day trips, good places to park and ride are:
· Nordman Store on Highway 57 at Nordman. The store has a parking area for snowmobilers, gas and supplies.
· Priest Lake State Park on the east side of the lake. The park has winter camping and free day entrance. Groomed trails lead out of the park into the trail system.
Trail maps produced by the association cost only $1 and are available at many locations around the lake.
For more information, call Bob Davis at Elkins Resort at 208/443-2432, or call the Priest Lake Chamber of Commerce at 208/443-3191.