Alpine Skiing and Snowboarding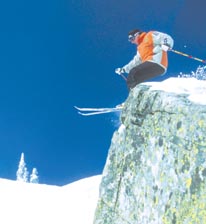 If downhill skiing and snowboarding is an unofficial religion during the winter, then Schweitzer is Mecca. It boasts 2,500 acres of terrain, 59 trails, two open bowls and plenty of playground that's off the beaten path but still in-bounds.
Schweitzer is mostly comprised of intermediate and advanced terrain, with a smattering of expert terrain. Schweitzer Bowl offers steep chutes that look down onto scenic Lake Pend Oreille, while the Outback Bowl features sparsely treed headwalls and some of the resort's steeper chutes. Both bowls also have ample intermediate terrain, perfect for people who prefer long groomers to dial in their form and soak up the scenery.
"I've been here for so long, and I never tire of the terrain," says John Pucci, the mountain's longtime Ski Patrol director who has been skiing Schweitzer ever since it opened in 1963.
"And it's not congested with a lot of people. We can still get around and enjoy the mountain. It's not overrun by a lot of skiers and snowboarders," he adds.
Schweitzer has also been developing more of its beginner terrain to broaden its appeal with new skiers or people who are a little rusty. The introduction of shaped skis also makes it easier for hesitant skiers because turns can be initiated more quickly and with less exertion. Shaped skis, which can be rented or bought from most any outdoor sports store, also open up more of the mountain to skiers leery about bogging down in deep snow on off-piste terrain.
But perhaps one of the most anticipated aspects of the coming season is the Northwest Territory. When Schweitzer installed its six-person, high-speed lift, Stella, it pushed back the resort boundary in the Outback Bowl to open up an area known to locals as "Wine and Cheese." However, thin snow cover last season meant its potential was never fully realized. Stella's Run and Springboard, two intermediate runs, were open sporadically, but conditions never ripened enough to give full access to the glades that make up Phineas' Forest.
Other regional resorts within striking distance of Sandpoint include Silver Mountain near Kellogg, and 49 Degrees North, a small resort outside Chewelah, Wash. Though Silver has tons of tree skiing, its strengths lie in its lengthy groomed runs. It is set up like European resorts: A gondola instead of a road gets you to the area. Centennial Trail, the area's longest run, is 2.5 miles long and enables skiers to step on the gas. If gladed skiing is your bag, check out 49 Degrees North, which has wide swaths of lightly forested skiing.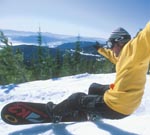 As for snowboarding, one word sums up snow in the Inland Northwest: plush. Situated so close to the Continental Divide, the region gets a nice mix of wetter Pacific Northwest weather and the drier weather found east of the divide. The result is a solid base topped with snow that straddles the line between fluffy and firm. Soft enough to send up huge sheets of snow, but firm enough to keep you from hitting rock bottom.
Intermediate riders in the mood for a long cruiser that offers stunning views of Lake Pend Oreille should check out Schweitzer's Great Divide, and then pick up Vagabond to either Chair 6 or Stella. Cathedral Aisle or Zip Down are also safe bets.
But if you're looking for fresh lines and interesting terrain, some of best riding is in between Schweitzer's runs. The varied topography of the resort gives riders ample opportunity to find jackpots of spindrift and wind-protected, gladed riding. If snow or weather conditions are hammering one part of the resort, there are plenty of other places to explore.
"One of the things I love about Schweitzer is that you can always find powder," says Sara McTavish, a snowboarder who works at Groundzero, a 'board shop in Sandpoint. "It can be a week (after it dumps), but you can still find powder."
Silver's Warder Peak glades and 49's Boothill also offer interesting glades that won't cause you to be jailed in by thick trees or alder.
For those trying to get the hang of 'boarding, Schweitzer's Happy Trails run – also sporting an epic view of the lake – and a new never-ever beginner's handle tow provide a place for people to learn how to link their turns together. Step-in boots and bindings can help beginners get the feel of 'boarding because of added responsiveness on the toe-to-heel transitions that get riders down the hill under control.
Each of the three resorts has terrain parks and half-pipes, though Schweitzer's is the most lovingly cared for. Specialized grooming equipment operated by the same people who ride the park keeps things from getting stale or too dangerous. Handrails, tabletops and rollers are meticulously built and maintained. Schweitzer's park and pipe are also lit and wired for sound.
New to Schweitzer this winter will be the "Hidden Logs" course. Constructed of de-limbed treetops gathered this summer, the log park will be set up on the left in the terrain park and operate sort of like a golf course, says Teague Mullen, the park's manager.
"There's going to be a front nine and a back nine. A par three would be a 50-50, while a board slide would be a birdy," Mullen says.
Cross-Country Skiing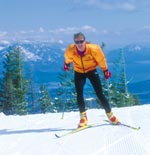 "The possibilities are endless," says skier Margaret Williams, referring to the miles of track-set and groomed trails that wend around the outskirts of Schweitzer. Since picking up the sport in 1987, Williams has developed an affinity for skate-style skiing, a more powerful and rhythmic variation on traditional cross-country skiing that etches V patterns into the slope.
"Part of it's the solitude and having fresh corduroy all to yourself. It's the best workout you can have, and it's fast and fun," says Williams.
Several area state parks also have groomed trails set aside for cross-country skiers. Groomed trails can also be found where snowmobiles tread, if you don't mind sharing the road. Jana and Royal Shields, a Sagle couple who have been skiing almost 30 years, use snowmobiles to carry them to trails deep inside northern Idaho's backcountry.
"We snowmobile and we do backcountry skiing, but there's not many that do both," says Jana. "We like getting out in nature, to get away from the crowds where it's quiet and untracked."
The Shieldses have used their sleds to shorten their approaches to Bald Mountain and Trestle Creek Drainage destinations such as 6,414-foot Lunch Peak or intimate Lake Darling. Dozens of fire lookout stations on peaks in northern Idaho make great layovers while touring the backcountry.
This is not the sort of terrain in which you would want to take your old skinny skis with the three-pin bindings. The advent of shorter, wider skis have made cross-country skiing less of a chore in deep snow.
"They're not as fast, but when you get off the trail they're much better than traditional skis," says Royal, who rarely skis on groomed trails these days. "There's so many more options in North Idaho."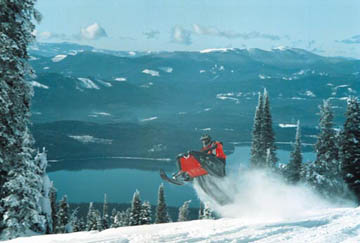 Photo by Tom Holman

Snowmobiling opens up winter as a season to enjoy the great outdoors for many, who may or may not ski or snowboard, while still drawing families and friends together in recreation and camaraderie. It is also a sport, enthusiasts say, that lets you go just about anywhere in wintertime. And with several mountain ranges and millions of acres of public lands in northern Idaho, the potential for exploration seems limitless.
"Snowmobiling opens up so much area and things to do in the winter time," said Priest Lake resident Trent Presley, an avid sledder in that region for the past eight years. "You get to go out and do something in an area you'd never get to see otherwise, that you can't get to any other way." As manager of Cavanaugh Bay Resort, which caters to snowmobilers, and a member of the Priest Lake Grooming Association, he devotes much of his time during the season to this sport. With 400 miles of groomed trails around Priest Lake and all the open backcountry to be accessed via those trails, he revels in the "diversity in riding."
Snowmobiling is one of the largest recreational industries now in terms of growth, Presley says. Part of the sport's popularity is due to the evolution of the machines, adds Sagle resident Bill Bennett, who has been sledding these parts since 1969 and has witnessed the changes firsthand. "The sleds have evolved to a point where they're a pleasure to ride," Bennett said.
Today's machines have longer, better suspension systems for a comfortable ride; more powerful engines for aggressive climbing; disc brakes for quicker stops; rider-comfort features such as heated handgrips, taller windshields and improved hood designs to break the wind; and wider, deeper track designs. Those designs, with paddles up to 2 inches thick, allow snowmobiles to glide across deep snow, and even stop and start again, generally without getting stuck. These improvements especially benefit backcountry sledders who tackle open bowls and steep slopes in ascending the 7,000-foot-plus peaks that are found in the Selkirks, Cabinets and Purcell mountains of North Idaho.
"I enjoy the fact that I can go to a different area each time," Bennett said, "and go to the top of a different mountain. When you snowmobile, you have the freedom to go just about anywhere."
One of the most important skills for a snowmobiler, Bennett says, is the ability to "read the terrain" – that is sizing up a mountain and plotting a course to climb it. Some agility is required, too, when shifting from side to side to balance and direct the sled. When climbing the side of a hill, for example, you need to keep your weight on the uphill side.
"You also need to be aware of the potential for avalanches," he said, while cautioning sledders to carry rescue equipment – shovels, probes and transceivers.
Other ardent snowmobilers in the area, Royal Shields, and his wife, Jana, explore hundreds of miles of territory each year on their snowmobiles. In the process, they use their sleds as a way to partake in other sports – skiing and camping – in the snow-scaped backcountry. Using two machines, they leave one below and ride the other to the top, breaking trail as they go. Then they ski down that trail to the snowmobile parked below. For longer, multi-day rides, they pack camping gear and stay in the mountains.
"The beauty of them (snowmobiles) is that we can get out and and go where we want to go and you never see anybody," Royal said. That solitude and the sheer beauty of snow-covered, mountain landscapes inspires them – and so many other snowmobiling aficionados – to venture out practically every weekend of the season.
Snowshoeing
Quite simply, if you can walk, you can snowshoe. And if you snowshoe, you can go just about anywhere in winter, no matter how deep the snow piles up. Better yet, you can maintain control of your direction and speed, unlike those dang skinny skis.
"All it is, is walking," says Jan Griffitts, a local marketing consultant who finds exercise a daily necessity. She bought a good pair of snowshoes with cleats and easy-to-use bindings about five years ago so she could stay physically active in winter.
Another advantage over cross-country skiing, she says, is that you get to take in more scenery and spot more wildlife, since you don't have to watch the trail as intently. If you wear a belt, you can loop it through your snowshoes to carry them if walking becomes necessary.
Snowshoeing is indeed much safer and requires less equipment, according to Marc De La Vergne, co-owner of Outdoor Experience. In fact, you can get away with just snowshoes on flat terrain, although retractable poles (shortened on ascent, lengthened on descent) are recommended on slopes. Today's snowshoes are light and compact, made of aluminum tubing, molded plastic and even carbon-fiber.
"I recommend certain types of boots with a rubber insulated top and bottom or fabric-and-leather insulated boots," De La Vergne said. "Clothing is important. Dress like a cross-country skier." That means clothing should be breathable and worn in layers. Waterproof shells and gators are pluses.
There are three basic techniques for traversing hills, according to a February 2001 report published on AmazingOutdoors.com: climbing, descending and edging. Ted Brewer writes, "When you ascend a slope, drive the front of your snowshoe into the slope with a good, swift kick. Then press down with the rest of the shoe, so the snow compacts into a nice, level step. As you descend, bend your knees slightly and lean back so that your weight centers on the heel cleat." Edging is accomplished by driving the side of your lower snowshoe into the slope and getting a good grip with the cleats, the report continues, then stepping up with the higher snowshoe, stomping down to engage the cleat.
"I tell people to get on, and in 10 minutes you'll know how," Griffitts said.
Ice Skating
When conditions are just right, you can skate just like the Dutch did on their famed canals – on Sand Creek from the edge of the lake through town, under the Cedar Street Bridge and beyond. Otherwise, try the city-maintained area at City Beach near the boat launch ramps; Round Lake, where the state park maintains an area; or Hidden Lakes Golf Resort, which has a natural pond near the new clubhouse.
Sleigh Rides
Two outfits will take you for a ride across the frozen tundra behind horse-drawn sleighs: Mountain Horse Adventures at Schweitzer, (208) 263-TROT or 1-800-831-8810; and Western Pleasure Guest Ranch on Upper Gold Creek Road, 16 miles northeast of Sandpoint, (208) 263-9066. The ranch's 2.5-mile loop through the woods takes about 35 to 45 minutes and is capped off with hot chocolate, coffee and popcorn in the lodge by the river-rock fireplace. Janice and Roley Schoonover keep handy two teams of draft horses that can pull up to 12 adults in a big wagon; a team of Fjords to pull a sleigh that fits six to eight people; and a single horse that pulls a couple in a romantic cutter sleigh. Reservations are required. At Schweitzer, meantime, Mountain Horse Adventures pulls out the small sleigh for couples or the larger sleigh for groups by reservation in the evenings between 3 p.m. and 6 p.m. These après-ski rides last just under an hour, traverse through the woods below Schweitzer Village and are followed by hot chocolate and a bonfire outside the barn.
Sledding and Tubing
A little vertical drop and a simple sled or inner tube can go a long ways toward fun. Try the sledding hill at Round Lake State Park, where the rangers close one of the roads into the park, making a track that runs about 200 feet down to the lake. Or, especially for small children, try out the hill at the boat launch ramp in Sandpoint's Lakeview Park.
Wildlife Viewing
Except for the wildlife that hibernate, winter can be a great time to watch wildlife, especially early mornings or late afternoons. Some of the best areas are right in town, such as City Beach or the Long Bridge, where you can often see bald eagles perched in trees looking for prey. Your best chances to see big game such as elk, moose, white-tailed deer, or even mountain goats are by hanging out at Kootenai National Wildlife Refuge, McArthur Wildlife Management Area or Farragut State Park (the only place to see the goats). Also watch for elusive coyotes and the even more-rare-to-spot cats, such as bobcats and mountain lions. If you feel like taking a longer drive, go east of Sandpoint about 60 miles on Highway 200 and look for herds of bighorn sheep in Montana.
This winter, resist the temptation to go into hibernation. You don't have to "kill your TV," as the bumper sticker says. Just don't turn it on as much. Instead, strap on sticks, boards, snowshoes or ice skates. Hop a sled, or take a sleigh ride. It's a big winter wonderland out there. Get out, breathe in the crisp air and live a little.