Some years ago, a postcard called "Sandpoint at Night" was on sales racks around town. It was all black – not a light to be seen. While that's something of an exaggeration, it's true that many Sandpoint folks are more likely to be found at home – maybe preparing their gear for a day in the outdoors – than partying 'til dawn.
There are exceptions. Movie showings start as late as 9:30 p.m. Bands take the stages at local clubs about 9 p.m. Friday and Saturday nights and play until closing. Dances at the City Forum continue until midnight or later. But no, the lights won't outshine the big city any time soon.
So, what's on for winter evenings?
The Panida Theater, 300 N. First (263-9191), is the prime spot for a variety of entertainment on weekends and sometimes weeknights: movies old and new, live theater and the Pend Oreille Arts Council Performance Series (see page 4 in the Visitor Guide).
Another prime spot is Eichardt's (263-4005) on Cedar Street, which has hosted a Monday-night open blues jam for years. Singer-songwriter Charlie Packard will be onstage Wednesday evenings (Tuesdays and Wednesdays are smoke-free nights). Weekends and some weeknights – eclectic is the theme – you may hear blues, bluegrass, jazz, other singer-songwriters or reggae.
Just a couple doors up on Cedar, the Pend Oreille Brewing Co. (263-7837) is another comfortable place to spend an evening. Plans were not yet final at this writing, but the town's only brew pub – where up to eight of its latest microbrews are on tap – plans to present live music on occasion.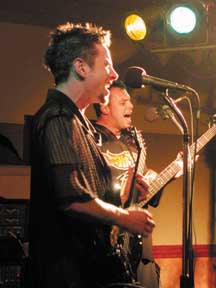 Illusion 33 performs at the City Forum

On a quieter note, "Five Minutes of Fame" is an opportunity for people to share their poetry and prose on the second Wednesday of each month from 6:30 p.m. to 8 p.m. at Di Luna's, 207 Cedar St. The five minutes is per poem, restaurant owner Karen Forsyth says, and kids as well as adults may read their work. Dinner is available.
Musicians, dancers, poets and other performers, as well as visual artists, are invited to take part in an open mike night on the last Friday of each month at one of Sandpoint's newest venues, the North Idaho Arts Center (265-4148). NIAC, which recently relocated to 1201 Michigan, offers a place for classes, performances and participatory entertainment in many kinds of arts.
On the first Saturday of each month, Community Hall on First Avenue is lively with New England-style barn dances, all with live music and a caller who teaches the dances (683-3912). Dancing starts at 7:30 p.m.
After their first dance in January 2001 drew 150 people, local ballroom dancers formed a chapter of the U.S. Amateur Ballroom Dancers Association (265-9541). The group is in full swing with lessons, workshops, dance practice opportunities and just plain dances – foxtrot, swing, rumba, lindy hop, tango and more.
Winter brings its own set of activities centered around the ski and 'board season. From November through March, parties sponsored by Blue Sky Broadcasting will liven up one Wednesday evening a month (263-2179). Each is hosted by a different establishment, with fun and prizes from 5 p.m. on. Some of the restaurants will open satellite operations at Schweitzer, including Wine Sellers, which will host wine tastings in its new space at the White Pine Lodge.
Jazz lovers packed the Beachhouse Restaurant at the Edgewater Resort last winter to hear Arnie Carothers and his band as well as vocalist Amanda Jantzen and keyboard player Kenny Harkins. (Harkins played for nine years with Frank Sinatra.) The popular Sunday jazz-and-dinner evenings resumed in mid-October and will continue at four- to six-week intervals through the winter. Reservations are needed (255-4947).
All year-round, a major sector of Sandpoint's nightlife is based on the energy of community organizations that sponsor benefit dances, auctions and other creative fundraising activities. The City Forum (on Third behind Pend Oreille Brewing) has rapidly become a popular location for these events that are good times for good causes.
School sports events – especially high-school volleyball, football and basketball home games on weekends – merit mention as nightlife entertainment. They draw large, enthusiastic audiences at Memorial Field and the high schools as parents, friends and community fans pack stands to cheer for the home teams.
Music jams, art openings, sports, poetry readings, book discussions, dance classes from Irish to square, theater productions, concerts, auctions and more – it's hard to keep up! Sandpoint's nightlife serves up activities to suit almost any taste.