Information, news and resources on the COVID-19 coronavirus response in Sandpoint, Idaho, and Bonner County, Idaho. Links are provided to relevant information on local, state and national websites and news sources including local Sandpoint-area newspapers.

Coronavirus news & resources
Local news, announcements and actions concerning the coronavirus.
Local and regional vaccination clinics and providers 6/14/2021
Idaho has now opened COVID-19 vaccine appointments for children ages 12-15, which now along with the entire population age 16 and older are all eligible to get the COVID-19 vaccination. Many pharmacies are now taking walk-in appointments, or you may schedule an appointment in advance. The State of Idaho has a pre-registration system where everyone can sign up to get a vaccination from local or nearby providers. Click for info and to register.

Panhandle Health District provides vaccine information for the five North Idaho counties, as well as hosts clinics in each county to receive shots. Additionally, PHD has announced it will send mobile vaccine teams to businesses or organizations, so long as they have a group of 20 or more to vaccinate.
Also in Bonner County, vaccinations are available at these providers:
Sandpoint Super Drug, phone 208-263-1408 to enter their queue
Kaniksu Health Services, click to the KHS website for queue info
Safeway pharmacies, click to Safeway vaccine booking
Family Health Center, phone 208-263-1435 or click to FHC website
White Cross Pharmacy, phone 208-263-9080 to enter queue
Walmart Pharmacy, call 208-265-4490 or check website
Current county and state vaccination counts 6/14/2021
The Idaho COVID-19 dashboard on Monday reported a total 697,801 people in Idaho have received vaccinations. In Bonner County, the state reported that 15,035 people have been vaccinated with either first or all shots, comprising 38% of the county population. Of the total vaccinated statewide to date, 69,976 people have received their first dose in the two-dose series, and 627,825 people are fully vaccinated with either the two-dose or single-dose vaccines.
Current local and regional coronavirus case reports 6/14/2021 @ 5:15 p.m.
There were five new cases of the COVID-19 virus confirmed in Bonner County since Saturday, among 49 new cases overall in the five North Idaho counties with no additional deaths, the Panhandle Health District reported Monday. The total COVID cases reported to date in the five counties covered by the health district are 25,000, of which 240 are considered active. There have been 307 total fatalities in the five-county region, with 1,339 hospitalizations and 27 currently hospitalized. Case statistics by county in the health district are as follows:
Bonner County: 3,346 total cases, 22 active | 43 deaths
Boundary County: 829 total cases, 7 active | 11 deaths
Kootenai County: 18,892 total cases, 189 active | 209 deaths
Shoshone County: 1,177 total cases, 17 active | 34 deaths
Benewah County: 703 total cases, 5 active | 10 deaths
The health district provides assessments of each county's risk levels to provide guidance for business and school district operations. On Tuesday, Bonner Benewah and Boundary counties remained at yellow, or minimal risk; Kootenai and Shoshone counties were assessed as orange, or moderate risk. Click for risk level criteria. For Panhandle Health District's latest news releases, click to its News page or Facebook @PanhandleHealth.
Current Idaho statewide case reports 6/14/2021 @ 5:20 p.m.
On Monday Idaho state reported there were 146 new confirmed and probable virus cases statewide, for a total of 193,743 cases to date. There were no new deaths reported, leaving the total deaths statewide at 2,116. The state reported a total 787,968 Idahoans have been tested for the virus to date. Of the total confirmed cases around the state, 113,328 are estimated recovered. There have been 8,704 cases hospitalized to date, with 1,467 admissions to ICU. Of the total confirmed cases to date, 11,992 are classified as asymptomatic.
Canadian border closure extended to at least June 21 5/20/2021
Canada and the United States extended the closure of their land border to non-essential travel until at least June 21. The border has now been closed for more than a year, since March 21, 2020, with the closure extended monthly. Click for story from USA Today. Essential travel, including certain workers and transportation of goods, is still allowed to cross the border. Air travel between the countries is permitted, but all persons entering Canada via air are required to have had a test within three days of departure, and then again on arrival. The land border closures stop all non-essential travel through the two Idaho border crossing stations at Porthill and Eastport, 60 miles north of Sandpoint.
Personal health resources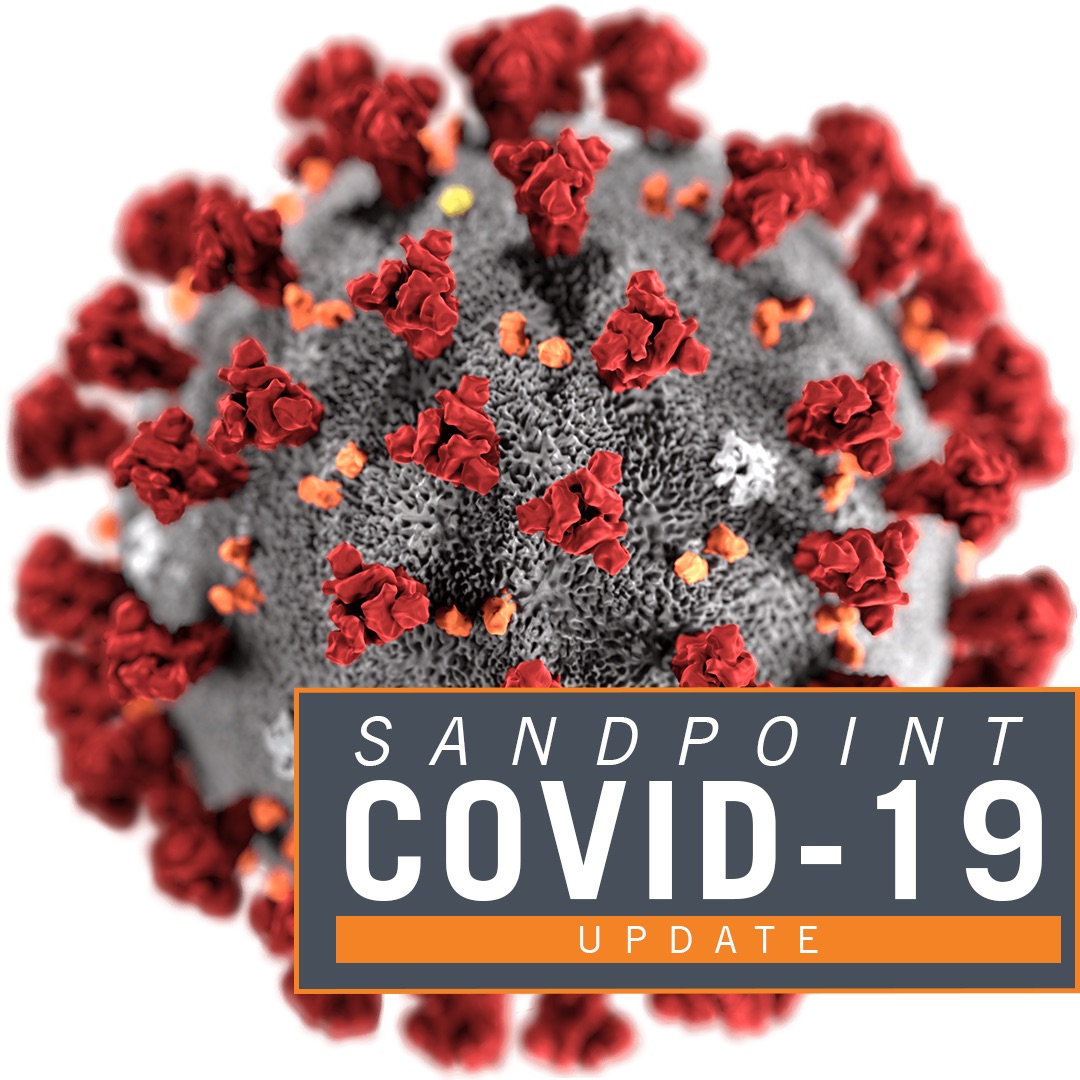 If you believe you may have the coronavirus, the Panhandle Health District has a hotline with operators to discuss symptoms and potentially provide a referral for testing. The PHD COVID-19 Hotline is 877-415-5225.
Links to help manage personal and family health:
Free food resources for local families and residents
Here are food resources for those impacted by the coronavirus outbreak.
Expanded student meals. The Lake Pend Oreille School District provides free breakfast and lunch on weekdays, to those 18 years and under regardless of household income utilizing federal funding from the USDA. Details and applications at the district website, LPOSD.org.
Bonner Community Food Bank continues services but click to Food Bank website to check any changes in operations.
Free weekly meals. Everyone is welcome to take part in these free meals provided each week by churches and businesses:

North Summit Church provide free meals to families in need. Pick up Mon-Fri 4-6 p.m. at 201 N. Division St, or Sagle Community of Christ Church, 950 Sagle Rd. (208) 263-4818
Hoot Owl Cafe, Highway 200 in Ponderay, serves free dinners to go Mondays, 4-7 p.m. Just swing by.
Agape Cafe hosted by the Seventh Day Adventist Church serves free lunch Tuesday 11 a.m.-1:30 p.m. at 221 S. Division (Church of God). (208) 263-3648
United Methodist Church, 711 Main St, offers free to-go dinners Thursdays 4-6 p.m. No need to call ahead.
St. Joseph Catholic Church, 601 S. Lincoln in Sandpoint, has free packaged to-go meals Fridays 4-6 pm. No need to call ahead. Enter at side door.

Other businesses and service groups are offering free food and meals. Go to Sandpoint Community Resource Center for current info and daily schedules.
Help for businesses from SBA, state, Bonner EDC 3/26/2021
The U.S. Government has enacted multiple programs to assist businesses financially impacted by the COVID-19 pandemic, including the Paycheck Protection Program, Shatter Venues Grants and more. The State of Idaho also has assistance programs for Idaho companies, while locally the Bonner County Economic Development Corporation can provide guidance. Click links for more details.
'Support Local' listings of business operations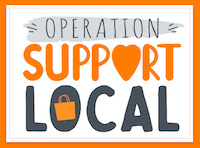 Sandpoint's restaurants, shops, services, and churches have re-opened! With the state progressing through the governor's Idaho Rebounds stages to ensure safe re-opening of economic and social activities, most Sandpoint businesses have opened their doors. Click to the Support Local business directory to find info on hours and operations. Provided by the Sandpoint Chamber and Sandpoint Online. All businesses are invited to add their information with the form on the listings page.
Links to city, county COVID-19 info sites 3/26/2021
Both the City of Sandpoint and Bonner County governments have modified operations during the pandemic; use the links below for current informaiton. The Bonner County Emergency Operations Center is collecting and managing information regarding local COVID-19. Click to email Bonner County EOC or call 208-255-6901. Here are links for COVID-19 information from Bonner County and City of Sandpoint:
Free public Internet hot spot activated downtown 3/27/2020
Ting, in conjunction with the City of Sandpoint and Matchwood Brewing, has activated a free drive-up hot spot for wi-fi Internet in the city parking lot directly east of Matchwood at 503 Oak Street. The free Internet is available 6 a.m.-10 p.m. Click for more information and map.
Innovia Foundation provides grants to community groups 3/18/2021
The Innovia Foundation has has provided multiple rounds of grants from its COVID-10 Community Response and Recovery Funds during the course of the pandemic. Innovia in March 2021 announced its latest round of grants to 14 nonprofit organizations serving Bonner and Boundary counties, totally more than $129,00. In Innovia's entire two-state region, several dozen major funding partners including the Equinox Foundation of Sandpoint, have contributed several million dollars to the fund.
Contribute your computing power to find a cure 4/7/2020
Want to chip in on the computing power to stop the COVID-19 virus? You can help scientists solve world problems - like a cure for COVID - by adding your computer to a global network for research. See more at World Community Grid; locally you may email Roger at [email protected] to learn more.
Idaho state parks remain open, but operations are reduced 3/26/2021
Idaho's 30 state parks are open for day use and camping, but the Idaho Department of Parks and Recreation urges visitors to follow COVID-19 precautions. Read more at Idaho Parks.