Information, news and resources on the COVID-19 coronavirus response in Sandpoint, Idaho, and Bonner County, Idaho. Links are provided to relevant information on local, state and national websites and news sources including local Sandpoint-area newspapers.

Coronavirus news & resources
Local news, announcements and actions concerning the coronavirus.
Relief bill enacted, provides $2 trillion for citizens, small businesses 3/27/2020
Congress passed, and the president today signed, a $2.2 trillion relief bill dubbed the CARES Act, to provide economic stimulus and aid to citizens. It expands unemployment benefits, will send direct payments of up to $1,200 to individuals, and provides federally guaranteed loans to small businesses.
Current state and regional coronavirus case reports 3/28/2020 @ 5:15 p.m.
Panhandle Health District on Saturday reported five new cases of COVID-19 in Kootenai County in addition to the 11 yesterday, bringing the total there to 16. No coronavirus cases are reported thus far in Bonner or Boundary counties. Click for the PHD March 27 news release. Saturday Idaho state reported a total of 261 cases statewide, a 13.5% increase from the 230 cases reported the previous day. The bulk of cases are in Blaine (114) and Ada (88) counties, with 22 in Canyon County. A total 4,282 people have been tested now in Idaho, up from 3,572 Friday. A fifth Idaho death, in Ada County, was reported Saturday. (The Idaho Statesman also reports documented statewide cases from Idaho's seven public health districts.) As of 4:25 p.m. Saturday, Washington state reported 4,310 cases of COVID-9, up from 3,723 Thursday, with 189 deaths, up from 175; there were 108 cases in Spokane County, an increase of 22, with its first two deaths. A total of 54,896 have tested negative in Washington.
Free public Internet hot spot activated downtown 3/27/2020
Ting, in conjunction with the City of Sandpoint and Matchwood Brewing, has activated a free drive-up hot spot for wi-fi Internet in the city parking lot directly east of Matchwood at 503 Oak Street. The free Internet is available 6 a.m.-10 p.m. Click for more information and map.
How to volunteer your help during the COVID-19 outbreak 3/27/2020
Groups and individuals are organizing various efforts to help meet needs in our community. Can you volunteer? Here are places to start:
Idaho governor issues stay-at-home orders 3/25/2020
Idaho Gov. Brad Little is ordering Idahoans to stay home, in the effort to prevent the spread of the coronavirus. The order will last for 21 days. Essential activities, like going to grocery stores or picking up food from restaurants, still are allowed. Outdoor exercise near home is, too.
SBA loans and help for businesses from state, Chamber, City, EDC 3/27/2020
The U.S. Government on March 27 enacted the Coronavirus Aid, Relief and Economic Security Act, aka the CARES Act, a $2 trillion economic stimulus bill to assist businesses financially impacted as a result of the COVID-19 pandemic. The Small Business Administration is providing Paycheck Protection Program loans for staffing and payroll expenses, as well as Economic Injury Disaster Loans. Locally, the Greater Sandpoint Chamber of Commerce, City of Sandpoint and Bonner County EDC are taking steps to help businesses impacted by the coronavirus.
Personal health resources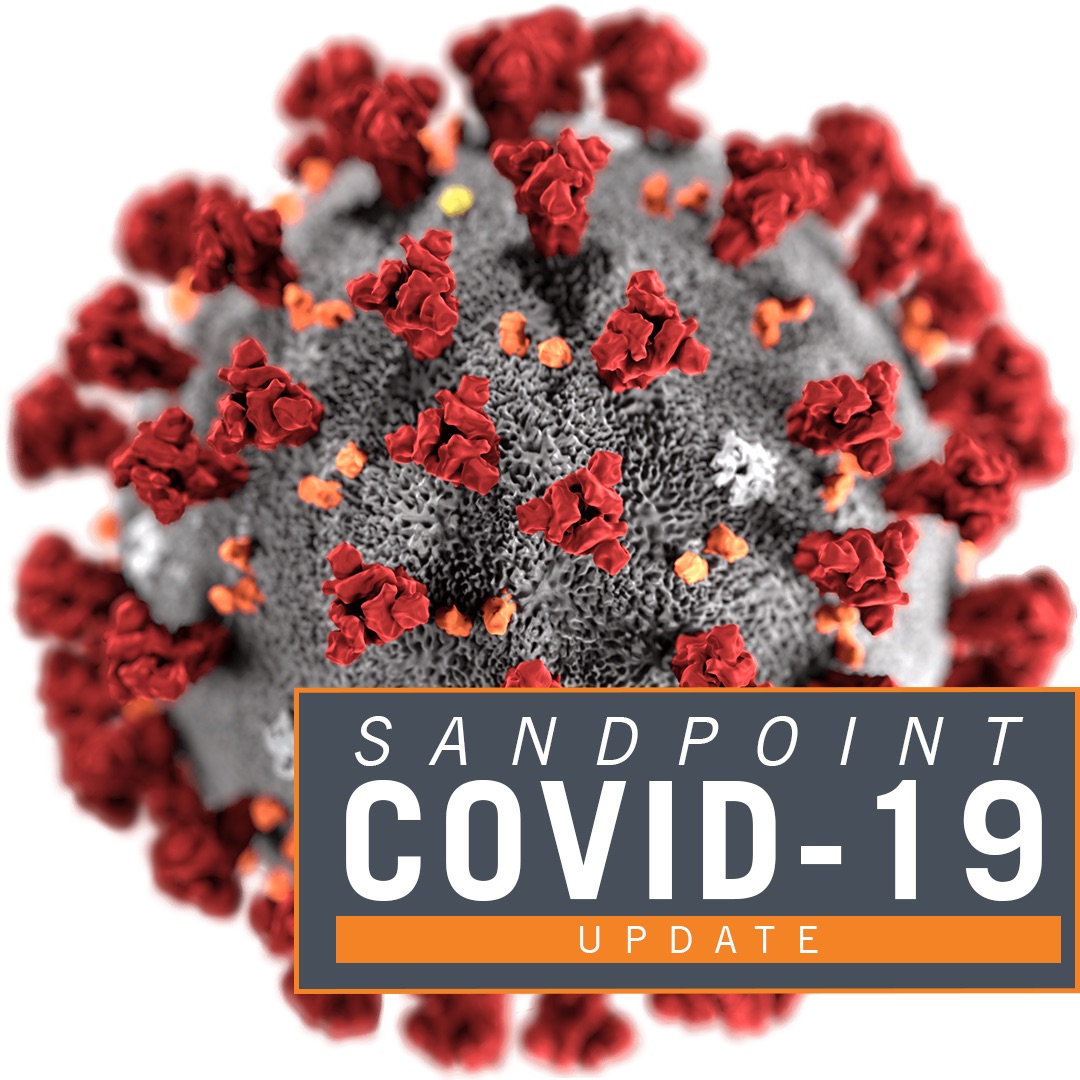 If you believe you may have symptoms of the coronavirus, the Panhandle Health District has a hotline with operators to discuss your symptoms and potentially provide a referral for testing. The PHD COVID-19 Informational Hotline is 877-415-5225.
Links to help manage personal and family health:
Current information from county and city; links to info sites 3/23/2020
Bonner County and the City of Sandpoint have declared a state of emergency due to the coronavirus outbreak. Following are current information releases from City and County.
Free food provided for local students and residents 3/28/2020
hile schools are closed, to aid families who rely on the school lunch program the Lake Pend Oreille School District provides FREE sack lunches on school days, to those 18 years and under at the following three sites. The youth themselves must be physically present to pick up a sack lunch, by federal law.
- Clark Fork Jr./Sr. High School 11 am- 1 pm PST
- Kootenai Elementary School 11 am-1 pm PST
- Farmin Stidwell Elementary School 11 am- 1 pm PST
- Southside Elementary School 11 am- 1 pm PST
Additionally, the Pack River Store is making free sack lunches each day for porch pickup at the store. Pickup at other locations available on set days; see more on Pack River Store Facebook.
Other businesses and service groups are offering free food and meals. Go to Sandpoint Community Resource Center for schedule.
The Bonner Community Food Bank continues but check its changes in operations.
Announced changes to operations, local closures 3/24/2020
Announcements from agencies, groups and businesses. Click links to read details.
Innovia Foundation fund launched to assist community groups 3/26/2020
The Innovia Foundation has launched a COVID-19 Community Response Fund to provide grants and deploy resources to community organizations in North Idaho.
Secretary of State urges absentee voting for May 10 primary 3/24/2020
Idaho's Secretary of State is asking everyone to vote absentee in the May 19, 2020, primary election in order to maintain social distancing and inhibit spread of the virus. Click to download absentee ballot request form. For complete election information, go to Election Central.
Idaho state parks remain open, but operations are reduced 3/25/2020
Visitor centers at Idaho state parks closed March 19, and camping was ordered suspended as of March 27. However, parks remain open for day use. All activities, group events and cabin rentals are discontinued. Visitor centers will stay closed through April, possibly longer. Read more at Idaho Parks.
President closes border with Canada; Mexican border to close as well 3/18/2020
In another coronavirus development with particular local impact: The Trump administration today closed the border with Canada to all non-essential travel, which will close the Porthill and Eastport border crossing stations. The administration is likely to close the border with Mexico. Story from PBS Newshour.