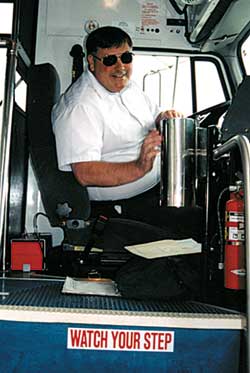 NICE just keeps getting nicer
It is hard to believe that seven short years ago the era of public transportation in North Idaho began with an old van and volunteer labor.
Thanks to the vision and persistence of Executive Director Aaron Knight, North Idaho Community Express (NICE) currently boasts an annual operating budget of more than $650,000 with 33 vehicles and 24 full-time employees.
For a transportation system that now serves the five northern counties in Idaho, growth has not come easily, especially when it comes to funding.
Federal grants and contracts with local welfare agencies have enabled the non-profit, privately owned transportation company to make it through tight financial times. Ridership has also steadily increased along with revenues from fares.
"Last year we provided more than 150,000 rides over half a million miles," said NICE communications director Dick Wolff. Typical riders include those commuting to and from work or shopping, and students attending the North Idaho College campus.
Transportation for those with special needs is also an important focus of NICE. Both curb-to-curb service vehicles and inter-city buses are equipped with lifts for handicap accessibility.
"Our service to the elderly and the elderly at risk is something that we are proud of," said Wolff.
With a home office in Coeur d'Alene and satellite offices in Sandpoint, at the corner of Fifth and Church, and Wardner, NICE is easily accessible to North Idahoans.
NICE's ride down the highway of success was recently given the green light after a study sponsored by the Federal Transit Administration. Their study found that NICE delivered an economic impact of more than $1.6 million to the region in fiscal 1996.
Plans to expand are in the works. NICE signed a first-of-a-kind agreement last September with the Spokane Transit Authority to expand its territory by connecting with the Spokane system.
Knight hopes this will bring the current system closer to forming a regional public transportation authority (RPTA), something voters would have to approve sometime in the future. If approved, NICE would be absorbed into the newly formed RPTA.
For more information on route schedules and rates, call 263-7287 in Sandpoint or 664-9769 in Coeur d'Alene.
– Ben Silverman