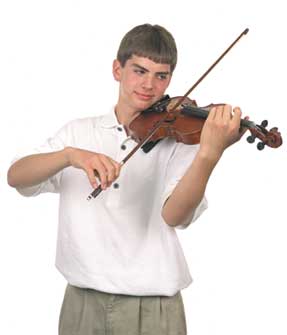 He's Jason Moody, violin virtuoso
There is an old saying, "It is too bad that youth is wasted on the young." However, Jason Moody, at age 16, is not wasting a minute.
Moody's musical studies began at age 5 and for six years was instructed on violin by Carolyn Hatch of the Fiddlers Hatchery in Sandpoint. For the past four years his talent has been nurtured by Spokane Symphony concertmaster Kelly Farris.
One thing is certain. Moody doesn't fiddle around when it comes to acquiring awards. Since 1995 he has won numerous regional and local competitions. One recent nationwide competition propelled Moody into the national spotlight when he was chosen as the first young artist to appear on National Public Radio's new program "From The Top"
The program features talented young classical and jazz musicians from across the country. Moody's performance was broadcast twice in July 1998 on KPBX, Spokane's NPR affiliate.
Moody's local fame was also given a boost later in the summer when he cut short his studies at the prestigious Interlochen Arts Camp in Michigan to perform as guest violinist with the Spokane Symphony Orchestra at The Festival at Sandpoint.
"It was fun," Moody said. "This was the first time I've been backed by a professional orchestra."
Moody's performance of Ernest Chausson's "Poeme" was conducted by Maestro Gunther Schuller.
As if his charmed musical life isn't enough, Moody, who is a junior at Sandpoint High School, maintains a 4.0 GPA, sings for concert choir and runs on the cross-country track team. For fun, he backpacks, skis, fly fishes, plays soccer, mountain bikes and roller blades.
Youth is definitely not wasted on this youngster.
– Ben Silverman