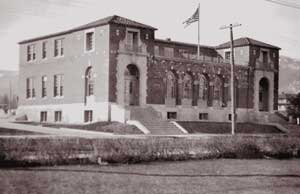 The Library Building when it was the Post Office
Historic buildings to open new chapters in their history
Two of our oldest, most beautiful buildings will soon open new chapters in their rich history books. The building at 419 N. Second has housed the East Bonner County Library for over 30 years, but will be looking for different occupants when a new library is opened. And the former Sandpoint High School at Euclid and Pine, is likely to undergo a major renovation soon, according to owner Brent Baker.
The library building, a familiar Sandpoint landmark with its Spanish colonial revival style, was originally a federal building. Congress initially appropriated $40,000 for the project in 1914. World War I and the subsequent recession put plans on hold, however, and by the time the project was revived in 1927, the cost had nearly doubled to $73,300. Opening in March 1928, it housed the Post Office, Forest Service and other government offices. In 1967, it was adapted for the library, which will open a new building by 2000.
Another landmark, the old Sandpoint High School that later served as the Ninth Grade Center, was closed a dozen years ago after being a school for more than 50 years. Baker bought it in 1994 to keep it from being torn down. Back in 1923, Spokane architectural firm Whitehouse and Price designed the large brick school with terra cotta trim around the entries. The three-story building includes a 500-seat auditorium on the third floor. Baker is talking with two possible investors and local officials who are interested in converting the building into a multi-use facility with space for various arts, education and community groups. The silent rooms now stripped of their hardwood floors may again be filled.
– Nancy Renk