Artist Rome Stuckart poses with a feline friend; the backdrop is one of her large-format paintings of a forest canopy. From this body of work, she won the Guggenheim.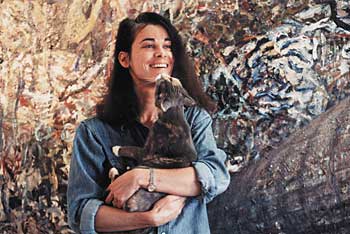 Guggenheim award recipient explores the inner landscape
Rome Stuckart returned in 1987 to the Pacific Northwest after a decade of schooling, teaching and traveling. Because she had attended Gonzaga in both Spokane, Wash., and Florence, Italy, she knew well what the Northwest could serve up to her. Upon combing the familiar and forgotten environs of the dense forests around her new home in Hope, Idaho, the vision of her new work materialized. The external forest could also be her internal landscape.
The resulting paintings were typically 5-foot-by-6-foot canvases with heavy layers of oil paint illuminating her emotional context in the deep canopy of the forest. Shadows became dappled ground, echoing a likeness to a Pendleton blanket.
The body of work created from walks in the woods has won notice. In 1992, both the Idaho Commission on the Arts and The Guggenheim Foundation awarded Stuckart fellowships. It is rare for a painter so young (under 40) who's female and from the West to be given this most prestigious award for visual art. She is the first and only Idaho recipient of a Guggenheim award.
"My painting are initiated by a feeling akin to knowing something on the tip of my tongue – a teasing just beyond me," Stuckart has said.
Stuckart's work, both old and new, is rarely available for Idaho residents to see. That's unfortunate, since it is their experience and their culture that she chronicles. There is a quiet move afoot to purchase a piece from the Guggenheim Award series and display it for its historic and cultural connection to this area. The recent works of Rome Stuckart will be shown this February in her old school town, Spokane, at Lorinda Knight Gallery, 523 West Sprague, 509 838-3740.
– Kally Thurman