Schweitzer by Board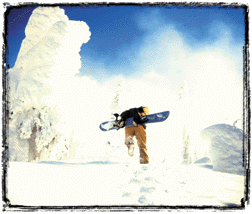 The quest for sweet, sweet powder can take you to Siberia, and beyond. But for those who ride, that's no exile.
By David Kilmer
Yowser. What a morning. A foot of fresh and the quad rushes you toward the first run of the day. At the top of the mountain a delicious dilemma awaits: Do you take the trees? Hit monster air? Cruise a groomer to warm up, or jump straight into the biggest bowl you've seen?
That's the beauty of Schweitzer on a snowboard. It's all here. Steeps. Trees. Chutes. Massive bowls. It's God's giant playground, and you're a kid again.
"This whole place is just SO good," local Matt Splat says breathlessly. "You can get your fill of all-mountain riding in one run. You can get your steep, deep, powder-filled, treed-up, machin' ride and finish it off through the terrain park."
You'll see Matt – actually, Splatt is just his nom de ski, but it's the name he answers to on the mountain when you get to Schweitzer this winter. He'll be the guy who shows up early after a big storm. He'll be the guy laying tracks down a steep face. He loves the tall, tight trees of the South Bowl. He loves Pucci Chute, a secret spot on the North Bowl with big timber and big air. He loves Chute the Moon, where winds pile up mounds of sweet, sweet powder.
Matt Splat spent 75 days on the snow last winter, and that wasn't nearly enough. He's here because the mountain is here. Like many of his friends, he traveled across the country – from San Diego, in his case – to Schweitzer to see if the stories he'd heard were true.
Stories about killer terrain. No crowds. Wide-open spaces and 2,400 vertical. Easy to get just about anywhere on a snowboard.
It's all true. Ask Rich Marriott, meteorologist for Seattle's King-5 TV. He discovered Schweitzer in the '70s. He retired his skis for good three years ago, and on a snowboard he's fallen in love with the place all over again.
"There's good vertical and quality snow, without having to fight the crowds," he says.
If you want to know where it's dumping, just ask Rich: He's got an inside track on the weather. When he sees one of those big storms out of Canada heading toward Schweitzer with bucketloads of powder, well, somebody else'll have to do the weather that weekend. He's gone in search of snow and sunshine. It's only a 7-hour drive from his home in Seattle. After a day of riding through his favorite untracked glades, he likes to retire to the hot tub slopeside at the Green Gables Lodge.
At Schweitzer, all the runs lead back to the bottom of the lifts. On a snowboard that's cause for joy.
"The mountain is very board-friendly," says Caroline Halley, a member of the Schweitzer management team who happily discovered snowboarding last season.
"It's one nice long ride. No traversing, all riding."
She lets another thing slip out. The rumor's true. Schweitzer will have a new half-pipe groomer this season. Something about expanding the terrain park. More spines, more hits, a half-pipe, quarter-pipe.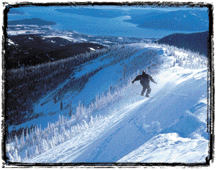 That means Teague Mullen will be busy. He's the one that keeps the terrain park looking good. He also competes in extreme snowboard events around the country. He chooses to ride at Schweitzer.
"It's wide open, pretty big and not a lot of people," says Teague, who took 10th place last season in the U.S. Extreme Snowboarding Championships in his hometown of Crested Butte, Colo.
If you're lucky enough to spend a day on the mountain with Teague, he'll take you to some pretty cool places. One of the things he loves is tree rides on little snow-loaded pines. Teague says you'll find good tree rides on Quicksilver, Big Blue and Little Blue.
If intermediate tree riding is more your taste, Schweitzer excels. You haven't lived until you've taken some leisurely turns through the wide-spaced trunks of an old-growth hemlock forest.
Variety is the word here. Huge variety.
"There's everything from beginner terrain to things that'll put your stomach in your throat," says Corey Greve of the Alpine Shop located at Schweitzer's Village.
Local riders agree. For a sampling of all the best Schweitzer has to offer, head to the North Bowl on a run called Siberia. You'll find steep, trees and plenty of air.
It's one of Shawn Taylor's favorites. Siberia shelters tasty snowdrifts, packed between timber just tight enough that it doesn't get visited by the masses.
"It might snow Monday, and you're still getting fresh tracks on Friday," says Shawn, who owns Ground Zero snowboard shop. One thing he's found is he doesn't have any trouble getting snowboard reps to visit.
"They all tell us it's the best they've seen," he says.
Schweitzer snowboarders find big air all over the mountain. The terrain is dotted with rocks that make ideal launch sites. The South Bowl has legendary cornices and chutes that have been measured as steep as 45 degrees.
"There's good air to be had," says Corey.
In the other bowl, you'll find a heart-in-your-throat 30-foot drop called The Elevator. And elsewhere, a legendary spot named Banana Chute, where you start your jump into space from the tip of the banana.
"I've seen a few guys go off it," says Matt. "It's just huge."
If you're looking for the locals after an epic afternoon, they'll be in Taps or one of the pubs in downtown Sandpoint, throwing back microbrews and relishing the day.
"This is the best place," says Matt. "I love it here."
David Kilmer is a boarder and journalist who lives in Post Falls, Idaho.