An artwalk all your own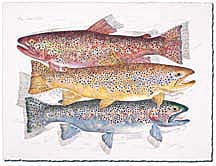 One art lover discovers a new way to see art
By Kally Thurman
For my assignment — creating a self-toured artwalk along First Avenue — I turned to the book Art Objects by Jeanette Winterson. In my lifetime, I have looked at thousands of paintings, but with Winterson's book, I discovered that my ability to see changed. Reflection, color and light led me to a new relationship to art, and in particular visual art.
From the pages of my "confidant's" book, I followed her lead and chose to seek out original artwork, only because reproductions don't reveal the luminescence of light reflecting on and through pigment. Rather, prints show what the printing press can and cannot do.
My art tour began by turning the corner at First and Cedar, and with my art antennae extended, the first blare hit me at Sandpoint Bagel Co. Inside, I saw large-format, vintage photographs by Ross Hall that do more than decorate the walls of this eatery; rather, they frame the time and place. This is a great example of art in everyday life.
Only a few doors down the street, I entered Ward Tollbom's business, Hen's Tooth Studio. Inside the studio can be found quintessential Idaho wildlife studies. The mystery of a master amazes me — the dry-brush technique that can press the composed hawk to two dimensions without losing luminescence. Did that bird just move? Ward depicts the fowl of the area in authentic repose.
In Hen's Tooth you will find other authentic Idaho visual literaries. Alderson Magee keeps vivid a centuries-old technique of scratchboard. Some of his originals are available, and in the genuine tradition of prints that his craft offers, the public can purchase affordable and approachable art.
Moving into this century and to the craft of offset printing, the genuine poster can actually be found in Hen's Tooth Studio. Ward showcases what very few pieces local artist Eileen Klatt has allowed into print. The originals are watercolor and, in their transfer to print, little has been lost.
Farther down the street, Lyman Gallery has a new location. Light was particularly good in the new white space where I discovered more of The Ross Hall Collection.
Ross Hall worked in the Northwest for decades, leaving a legacy of photography that is conserved and purveyed by his son, Dann Hall. Only ghosts could tell a better story than a Ross Hall photograph.
Other original work in the Lyman gallery included significantly under-priced wood turnings by Ron Grant that mix high-handed technology and design to create this fundamental tool — the wooden vessel. It is both contemporary and ancient. With Stephen Lyman's color photographs, the detail of texture and electric contrast were a breath away, thanks to the shutter. The photographs have a direct path to the realism of Lyman's graphic work.
Crossing First Street to Blue Corn, I found a small space chuck full of some of the best finds. Brenda Evans boldly hand-tints photographs. I like the enigma. I had to probe these works before I figured out the technique. Are they prints or paintings? Neither and both, perhaps. Also in Blue Corn are fine examples of the true native art from this continent. Baskets from Hupa, Hopi, Tlingit and Mission tribes wait in clusters. The Navajo rugs are both contemporary and antique.
At The Old Power House, you'll find a permanent display of Ross Hall photographs in addition to The Pend Oreille Arts Council-sponsored exhibition space that changes monthly and features local artists. A flyer near the front door directs you to the revolving exhibition sprinkled liberally on the ground floor and balcony.
Returning to First Street, I found the Hallans Gallery. Closed, of course. The sign on the door continues to amuse me. Go find the joke, and if you really want to collect a Ross Hall, make an appointment. Also check out Dann's modern experimental color work and his mother's work. Hazel Hall colors and even mis-colors a photograph for graphic impact.
Two galleries operate in a collective, community spirit, Art Works and Northwest Artisans. In both domains are some profound beauty makers. Art Works has a stupendous display of the finest weavings by Katherine Regier of Trout Creek, Mont., that combines silk and wool in meticulous gradations of color and texture.
At the back of Gunning's Alley, Ellen Klein's Selkirk Gallery has built a strong reputation for accomplished artists of the region. Mark and Linda Heisel carve native granite; ask to see their portfolios since much of their work is far too large to find its way into this small, but potent, exhibition space. As I chatted with Ellen, I was captured by an envelope-sized painting hung behind room dividers. I lost the conversation with Ellen as Winterson reminded me of what she calls the "privileged moment." My eyes could not leave.
Finally, here, I found my magic. My tired eyes fell on three small pieces. Rare to find such small paintings that held so much. It was the energy of stroke — the land so well-known and loved. Passion recorded. I'm going to build a kinship to one of Josh Elliot's paintings soon. This young, local artist has something big to say to me. It's no peep show, but love.
As you make your own artwalk, you will recognize the moment that captivates you. Resist the art-at-a-trot format, and stop in the moment of serenity that art and nature can give you. Oddly, I suggest you begin the tour by reading a dozen pages of Art Objects: "… art is the paradox of active surrender. I have to work for art if I want art to work on me."
Kally Thurman is an art dealer who lives in Hope, Idaho.