Ben Stein, Actor and Writer
By Susan Drinkard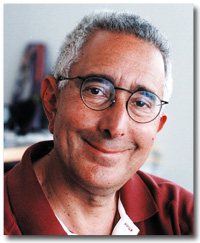 Most days, Ben Stein is on television. His self-described wacky smile and monotone voice have proved very valuable for the 52-year-old Hollywood actor. He has been in dozens of national commercials. (Recently you've seen him in Clear Eyes advertisements.) Among many roles through the years, you might recall him playing the monotonous teacher on Wonder Years, and you probably saw him in Ferris Bueller's Day Off. But that was a long time ago. Ben Stein is becoming a household name ­ if you have a satellite dish ­ with the advent of his new show, Win Ben Stein's Money. It's a comedic game show on five days a week, where contestants match intellects with Ben on questions ranging from astronomy to zoology. If the finalist answers more questions correctly, Ben loses $5,000 from his paycheck. So far, Ben has won about 41 out of 65, lost 16, and tied eight. His show airs on Comedy Central, available by satellite.
Ben grew up in the Washington D.C. suburb of Silver Spring, Maryland, and on to college at Columbia in New York, and then to law school at Yale, where he studied economics and film. In his 20s he became a speech writer for President Richard Nixon, a man Ben remembers as "incredibly wonderful." Ben was also a speech writer for President Gerald Ford.
But now he's a busy TV personality, as well as a prolific writer. This interview was compiled from telephone conversations and e-mail letters to him at his Hollywood Hills home, where he lives with 10-year-old son, Tommy, and his wife, Alexandra, a lawyer for Paramount Pictures. When he has time, he likes to come to Sandpoint, where he might stay at the Edgewater Resort or a lakeside rental. Skiing is not his favorite activity, but in the summertime you might see him on a bicycle. He loves Sandpoint. Ben also mentioned his appreciation for the chicken fried steak at Meyer's Fine Family Dining in Bonners Ferry. "It's a dish I'd heard of, and never had."
Q. How did a speech writer for presidents become a Hollywood actor?
A. I was at first a lawyer, and I did not like being a lawyer. I was lucky enough to become a speech writer for Richard Nixon. In my work I met a man who was a very famous writer named William Safire. I met his old friend who was an executive at Warner Brothers, and through that fellow I got my first screen writing job. I met a fellow at Warner Brothers through that job, and that fellow introduced me to yet another fellow who was a casting person who just loved my voice and thought I was hilarious. He put me in the movies. But as that fellow often says, 'I put a million people in small parts and none of them go anywhere, but you went somewhere because you have talent.' I have talent at playing myself. I don't have a very broad range, but at playing myself I am a wizard. It's more than fun; it's the best job on Earth.
Where did you hear about Sandpoint?
I heard about it from a fellow named Mark Storey who is a very successful commercial director who had used me in a number of commercials. We got to be friends, and he told me about Lake Pend Oreille. He told me about his house in Hope, and I went up to see it. I saw Sandpoint on my way to Hope, and I loved it.
So how long have you been coming here?
Either five or six years.
Why don't you buy a house here?
Because a nice house in Sandpoint is about $500,000 or $400,000. It's not a trivial sum to me at all and when you think that I would only be occupying it at most four to six weeks of the year, that's a lot of money to spend.
Do you know a lot of actors in Hollywood?
I know a lot of important high officials of studios, agents, lawyers ­ I know Seinfeld, a very hard-working, extremely careful guy. And Jim Carey is cautious and works hard to give his best performance BilI Murray is smart and careful In Sandpoint I'm pals with Mark Fuhrman. Mark is a famous person. We were together recently at Hill's Resort in Priest Lake, and I said jokingly to someone there, 'You better give us good service. All the famous people in North Idaho are here.' It was just a joke.
What's the most rewarding thing about your show, Win Ben Stein's Money?
Well, probably the most rewarding thing about it is that it's on TV five days a week, so my father, who lives in Washington D.C., can see me five days a week.
How do you know so much trivia?
I know a lot of facts ­ not trivia, important stuff ­ because I read a lot and have a good memory and always have.
Everybody I talk to seems to know you personally. How do you know so many people here?
I don't work when I'm there, so I'm out and about meeting people all day long. And I'm very friendly; I talk to just about everybody I meet. I've often thought I could be mayor of Sandpoint, but I wouldn't want the job. It's much too difficult Politics is a thankless occupation; I have no interest in it at all.
What is your impression of Sandpoint?
It's beautiful, beautiful, and at its best it seems like a fairy tale place. The worst thing is that too many people die young in Sandpoint People in Sandpoint generally are too careless about their health, which is why too many people die on the road, too many die in accidents, and not enough get enough medical care, so that by middle age, too many people have died. I'm also floored by how hard the ordinary person has to work to make a living in Sandpoint. It's a big, big problem.
You said you used to write a lot about politics. Are you writing about much of anything now?
I write every day. I just finished the first set of revisions of my book about me and my son, much of which is set in Sandpoint ­ in fact, probably most of it. That's coming out from Simon and Schuster next June. I write my diary for American Spectator. I write a column for an on-line magazine about Hollywood I'm writing a piece on the effects of El Niño on southern California. I have a huge amount of stuff that I write about: Hollywood, Sandpoint, fatherhood, finance.
So what do you see ahead for Ben Stein?
Ben Stein, at this moment, just likes to live day by day, having the pleasure of being around his son and his wife. She and my son are the guiding stars of my life. In terms of my career, such as it is, I've almost finished this book I'm writing about me and Tommy. I'm also writing a book about my 20+ years in Hollywood. Then I'm trying very hard to get a humorous talk show, and we're making a little bit of progress on that. And we're trying to get a sit com Here's how I'd like to live my life: I'd like to have a big chunk of time with my son, racing wave runners on Lake Pend Oreille. I'd like to have a big chunk of time just lying in bed with my wife, reading books. I'd like to have a big chunk of time in front of the camera. I'd say that's pretty much the perfect life. ·
Susan Drinkard teaches and writes locally, but has no game show.
---
Next Feature