---

Craig Mearns just wants to share some good, cold fun!
by Michael Delucchi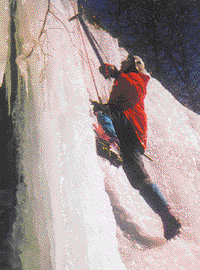 Copyright 1996 © Sandpoint Magazine. Photo Courtesy of Craig Mearns.
There's nothing like cruisin' the slopes of Schweitzer on skis or a snowboard. But other winter fun awaits anyone who wants to grab some ice-picks and a couple crampons and go ice-climbing with Craig Mearns.
Mearns is the director of Granite's Edge, a local climbing school that offers a unique alternative to "normal" winter activities.
"Ice climbing is a great winter activity that's different from the norm," Mearns said. He reasons that, with Schweitzer attracting more than 150,000 skiers each winter, there's sure to be some mountain users that would like to try something new.
Mearns has been a climbing instructor for the last six years. During the summer season, April through October, Mearns leads various rock-climbing programs, from beginner sessions to advanced, guided excursions.
But when the thermometer drops, water seeping or flowing down many rock faces in North Idaho soon becomes large ice-flows. That's when Mearns switches gears.
Ice climbing is not as slippery as it may seem. In fact, experienced rock climbers may find this icy alternative to be somewhat easier than clinging to a vertical granite slab with rubber shoes and chalky fingertips. Most ice-flows are from 50 feet to 80 feet in height and are slightly sloped, not vertical.
"It's almost like climbing a ladder," Mearns explained. Climbers use long-handled ice picks to grip the ice with their hands, and steel-spiked crampons on their feet. These devices allow the climber to cling to sheer ice with ease. Climbers are clipped into a safety rope and held on belay by a partner, so if they slip, they won't fall. Meticulous safety techniques are utilized in all of Mearns' classes.
The attractions of the sport vary significantly from person to person, Mearns said. For some, a climb may simply provide heart-pumping exhilaration. Others find the experience emotionally or spiritually rewarding.
Most sessions take place alongside the Pend Oreille River near Laclede, where the ice-formations are big and spectacular. But for this winter, Mearns has been working to create an ice wall on Schweitzer Mountain to use for classes. The project was not confirmed as of October, but Mearns was hopeful the artificial ice flow would come to fruition this season.
"It will bring a whole new meaning to cold weather fun," he promised. - Michael Delucchi
Contact Granite's Edge at 208/264-8007.