Ubiquitous yoga
In Sandpoint, a whole lot of posing is going on
By Haley Sorbel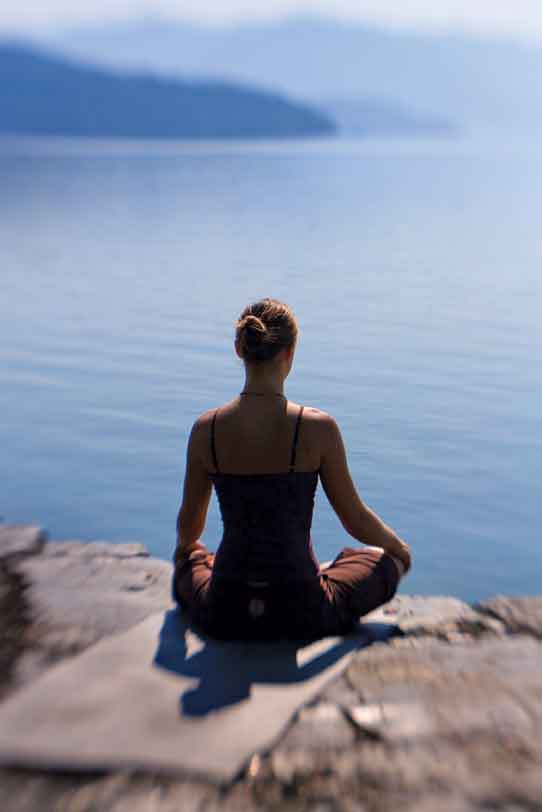 Yoga is good for the body and the mind, as Abby Corriveau, co-owner of The Integrative Athlete, demonstrates in this meditative pose on Lake Pend Oreille (Photo by Marsha Lutz)
Like many, my perception of yoga had been manipulated by beautifully illustrated calendars and magazines that lead us to believe that to do yoga, one must be able to wrap their arms around their body six times, hold their ears with their toes and levitate. They must also wear a lot of white linen.
My journey would teach me that nothing could be further from the truth. Initially, my interest started when I was told that yoga is incredible training for rock climbing. That was later fueled by an observation my physical therapist made. She told me I had the flexibility of a 70-year-old woman – at 23. Hence, my yoga journey began.
While yoga can be traced back at least 5,000 years, its specific origins are vague. Yoga's evolution as a system of exercise for attaining bodily or mental control and well-being continues as it spreads around the world. With so many schools of thought, hundreds of poses and ways to entwine those poses, and with the spiritual, physical and mental components, yoga encompasses a journey that could take a lifetime to master. Considered both an exercise and a philosophy, the power of yoga has been seen time and again throughout its history. Today it has gone from ancient ritual and spiritual force to Hollywood trend, day spa activity, and finally, back to the mat.
That's where we find it in Sandpoint.
At least 11 yoga studios exist in Sandpoint, while Coeur d'Alene only has two, despite its much greater population. So what is it about this small town that not only attracts but sustains more than 10 yoga studios?
It was written best by editor Darlene Dibble in the local yoga newsletter, Yoga Threads (http://www.yogathreads.org): "Those of us who live in the Northwest live here because of the natural beauty that surrounds us. It opens the doorway to our hearts. When we come this close to nature, we very often experience our own true nature. We become alive, vibrate with creative energy and can live in peace, harmony and into our raison d'être."
Twisted Root Yoga owner/instructor Julia Quinn shares this perspective: "Why are there so many restaurants in town? Everyone has their favorite spot, favorite menu. Yoga is the same."
Linda Ries, of the Yoga Studio, one of the founding Sandpoint studios, appreciates this aspect as well. "It gives me the freedom to teach what it is that yoga means to me."
The Yoga Studio offers a variety of classes, including a unique class that weaves in Christian scripture.
This illustrates that not only is each studio beautifully different, but, to each person in that studio, yoga means something different.
"You get from yoga what you want, what you need in that moment," said Ries.
Some would say yoga is like therapy. Quinn refers to the mat as a "mini lab."
"It's a place we can study reactions and study ourselves, then bring awareness outside the yoga room," she said.
Twisted Root rests in a quiet, remodeled studio space and contains a "shoes off" tea room, complemented by an adjoining physical therapy office run by her husband.
Quinn focuses on Vinyasa flow yoga. She says in life, changes or transitions are often the biggest challenge. If you master the transitions in yoga, then you can carry them over into your life.
Twisted Root also offers a yoga book club, and Quinn is hoping to grow the yoga community by offering therapeutic yoga workshops, wellness programs and retreats.
Abby Corriveau, co-owner of The Integrative Athlete, says yoga is about respecting yourself and your body – honoring where you are in your practice. She says yoga also adheres to non-violence, and that injuries and discomforts may be your greatest teacher.
Corriveau avoids mirrors in her studio.
"We want to promote inner awareness. Mirrors are a distraction," she says. "We need to learn how to feel the pose, and remember that every body is different. So many people are so disconnected from their bodies that they can't even feel how to straighten their backs."
The Integrative Athlete has found a niche by offering a studio that combines three complementary Eastern practices: Ashtanga yoga, kettlebell training and jujitsu.
Corriveau, with her business partner and fiancé Danny Clark, added yoga to their studio mainly to promote injury prevention, improve range of motion and calm anxieties, a key element for those competing in martial arts.
The Integrative Athlete recently moved to a new location on Oak Street, offering amenities including child care, locker rooms and massage therapy while maintaining a mirror-free studio.
Peter Mico, of Downtown Yoga, a serene, naturally lit First Avenue studio, says yoga is about "going inside."
"It makes you ultimately more grounded," Mico says. "We forget to live in the moment. In yoga, it's just you, on the mat, breathing."
Mico contrasts his classes by integrating humor, a refreshing change from what can often be a serious, quiet practice.
"Humor softens the brain," he says. "It allows more absorption. Once that happens, you can ease into the pose and it releases tension."
Downtown Yoga also offers partner, prenatal and "mommy-and-me" yoga, as well as dance classes.
Sandpoint Hot Yoga specializes in Bikram yoga, which is ideally practiced in a room of 102 degrees with 40 percent humidity. The same 26 postures repeated throughout the series can be found in any Bikram studio throughout the world.
Masochism?
"It's actually one of the most beginner forms of yoga," says instructor Kerri Kuntz. She cites benefits of heat: the ability to go deeper into poses because muscles are warm and relaxed, thus preventing injury as well as boosting heart rates; increasing circulation; promoting natural detoxification through sweat; and stimulating focus and concentration through each pose.
"It really just intensifies the whole experience," Kuntz said, adding that everyone gets to their own level on their own terms, and consistent practice is key.
"It's the most unselfish thing you can do," she says. "You become through yoga, more patient, giving, compassionate."
Lindy Lewis, who offers classes at Natural Fitness as well as one-on-one sessions in homes, has infused yoga into Pilates to create, what she calls, Piloga.
"Pilates is rigid and precise," she says. "The yoga component brings in intentional stretching, leading to a strengthening and lengthening practice."
Lewis came to yoga and Pilates after being diagnosed with multiple sclerosis five years ago. Faced with a situation that would put many people in a state of defeat, Lewis instead took it to the mat.
"MS was a gift to me," she says. "It made me choose my health. In my mind, I feel that I've left my diseased body behind."
At every studio, a breathing success story, such as Lewis, stands in the room.
Nearly all yoga studios give back to the community by either offering an open class or giving donations to a worthy local cause.
Sandpoint's most recent community treat took place last August when local studios came together to create an unforgettable experience. Mico knew that musician Michael Franti was a yoga practitioner, and he was scheduled to perform at the 2010 Festival at Sandpoint – sparking an idea. Mico invited Debbie Dippre, one of Sandpoint's original yoga pioneers, to host the event. An invitation was extended to Franti, but no one knew if he would be able to make it.
"Not only did he come," said Tamara Verby, the festival's accounts manager, "he actually led yoga for the first 15 minutes!"
Mico added: "Michael led the opening meditation. When he walked out from his bus, over to where we were, it was beautiful. Birds were chirping, drums were beating. It was a magical day."
More than 200 people turned out for the event, raising nearly $2,000 to benefit the Festival at Sandpoint's educational mission, as well as Franti's Stay Human project.
"I was just hoping for maybe 100 people," Mico said.
Dyno Wahl, the festival's executive director, said there is talk about hosting a yoga event again next year; she hopes to hold it on a Saturday so more people can attend.
"This really showed that there is a true yoga community here," said Mico, naming off the many local studios that participated. "Within your own studio, you don't realize how big the culture is, but then to see all the studios come together, and the different types of yoga and talented instructors, it's really inspiring."
And what about the rest of the country?
"America is fertile soil for yoga," said Mico. "It's poised and ready to go."
As for me, I had embarked on a walkabout through Sandpoint's yoga studios on the premise that I would push my physical limits, learn a thing or two, and prove that physical therapist wrong.
In the end, I learned that the importance of proving someone wrong was far outweighed by the importance of proving something to myself. First, I would actually be happy with the flexibility of a 70-year-old yoga practitioner. Second, to find a sense of community, sometimes all one has to do is take the time to breathe.