Chasing Chasse

Schweitzer's new leader hails from Attitash
- By Lisa Gerber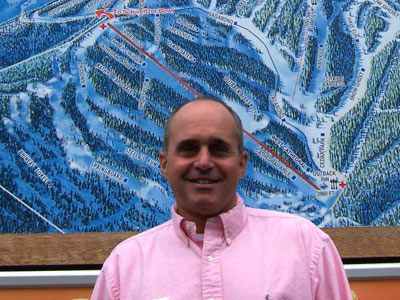 CEO Tom Chasse plans to "sample the product" at Schweitzer regularly
"I've been here two weeks, and already I know we've made the right decision," said Schweitzer's new president and chief executive officer, Tom Chasse (pronounced like the word chassis), about the decision he and his family made to move from their home of 29 years in North Conway, N.H., to Sandpoint.
One sunny day in late August, a road-weary Chasse drove up the Schweitzer Mountain Road at the end of his long drive from the East Coast and was greeted by an impromptu welcoming committee that gathered upon seeing his vehicle with the "Attitash" stickers on it.
"I've since removed those stickers," said Chasse. Then he added, "But I left the 'Yankees Suck' sticker on there."
Chasse had been president and managing director of Attitash in New Hampshire for eight years. Originally from Lynn, Mass., he's been skiing all but the first two years of his life. His wife, Donna, two daughters Jenna and Amanda, and son Brennen are all excited about the change.
"My wife and I have always talked about moving out West," said Chasse. A series of events took place that caused the Chasse family to realize that life is certainly fleeting. Donna had a bout with cancer and has been free cancer-free for two years. In March 2006, Tom's father passed away, and then a good friend passed away.
It was then that talk became action.
Tom and Donna heard about the available position at Schweitzer, so they came out in June. "It felt right," he said. The scenery, the lake, the friendly people – this town has it all, they decided.
Tom has been involved in the ski industry in various capacities for 26 years. His aspirations to become a professional ski racer were unfortunately dashed in a ski accident in 1976, ironically, at Attitash. That's when he got into ski instruction and found a new passion. He became involved in the Professional Ski Areas Association as an examiner for the Eastern Division.
During ski season, you won't likely find Tom sitting behind his desk. He is more likely to be outside "sampling the product," as they say in the industry, or interacting with guests and employees and getting to know how the resort works and feels during busy and slow times.
In baseball season, if the Red Sox are playing, he will more likely be at the Chimney Rock Grill. And if you go, you might want to think about cheering for the right team.