Gibson leaves legacy of care behind

Brought skiing, cancer care together
- By Sandy Compton

Heather Gibson, avid skier, rower, lover of life and wife of ski patroller Greg Gibson, died Aug. 8, 2006, of complications from her eight-year battle with cancer. She would be quick to point out that it wasn't cancer that got her but something else her weakened immune system couldn't handle. Before she left, though, she made sure anyone going through the same fight has lots of help – and help on a local basis.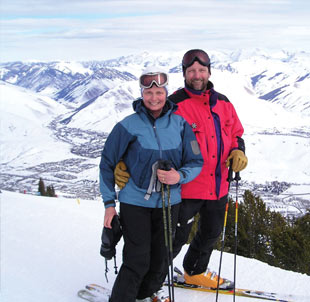 Heather and Greg Gibson

Heather's House, the location for Community Cancer Services (CCS) on Cedar in Sandpoint, is one of several critical accomplishments that came of Gibson's desire to make cancer care more available.
CCS Executive Director Lisa Porter said: "Heather had a certain vision of what she wanted this to be. The focus now is to support cancer patients and their families."
After being diagnosed with cancer in 1999, Gibson worked endlessly to make life better for herself and others who suffered. Her decision to focus on local programs came after she realized there was not much help available in town. She and fellow cancer sufferer Sharon Bezecny spent a lot of time on the road to Coeur d'Alene for chemotherapy treatments.
"Don't say 'tireless effort,' when you talk about Heather," Bezecny says. "There's no such thing. Heather got tired, but she kept doing it. She persisted."
Her persistence is paying off. Porter listed the programs at Heather's House. "Road to Recovery" provides drivers and travel vouchers for getting patients to treatments. "Look Good, Feel Better" is designed to help patients overcome the effect of cancer on their looks. Laney's Library, named for cancer victim Laney Deem, provides literature to help patients and families learn about the disease and better cope. The center also hosts two cancer support groups and offers one-on-one counseling and post-mastectomy fitting. Porter also hopes to add a nutrition and exercise program as well as yoga classes.
It was Gibson who inspired and helped organize the first Cancer Care Challenge ski event at Schweitzer in 2000 to raise money for a local center. It has become an important annual event. Even in the "no-snow" year of 2004-05, the Challenge raised thousands.
Cancer fund-raisers are not the only things Gibson organized. She was a founding member of the legendary Schweitzer ski group, "Powder Pigs." Originally made up of five women, their Wednesday ski days became sacrosanct. Fellow Pig Marie Warren says: "Heather was a social person, the Emily Post of Sandpoint. She loved getting people together, for whatever reason."
If there were a picture beside the word "indomitable" in the dictionary, it would be of a smallish woman with a turned-up nose, freckles, a brave grin and curly, auburn hair. Her name was Heather.