They've got business in their blood
The generations of Sandpoint businesses: Part II
- By Marianna Love

Continuing a series begun in the Summer 2005 Sandpoint Magazine, this is the second installment that honors longtime, local business owners who have earned their entrepreneurial stripes through hard work, consistent service, flexibility and dedication to their community. These family-owned businesses continue to prosper and help drive Sandpoint's economy.
The first story began with the longest-running businesses and continues with the next few in line: the Merwins, who have served home and hardware needs; the Clarks, who have supplied fuel; the Aavedals, who have supplied outdoor clothing and sporting goods; and the Rench family, whose inventory has ranged from pharmaceutical and medical products to gifts. Meet these folks who make businesses family affairs.
Merwins (1945):
Sandpoint Postmaster Lee Merwin exchanged mail for nails when he established Belwood-Merwin's Hardware with partner Chet Belwood, Ernie Belwood's father, on North First Avenue in 1945. Merwin soon bought him out and changed the name to Merwin's Hardware. The store was first located in the middle of the block between Main and Cedar but later moved to the Main Street corner. In 1981, Lee's son Terry moved the business to its present site on Third Avenue in the former Bargain Supply building. Since the late 1990s, Terry has gradually stepped back to make way for his son Grant, who now runs the store. Terry works two or three days a week in the back office.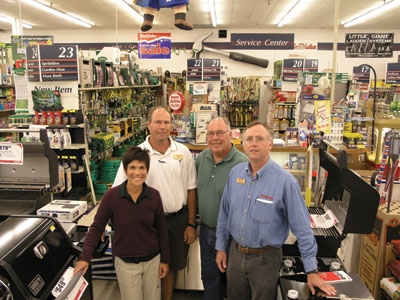 Above: From left, Jennifer, Grant and Terry Martin join Ray Yaw Jr., store manager, in this shot inside the present-day Merwin's Hardware.
"I find enough to keep myself not very busy," quipped Terry, who is proud of the job Grant is doing. "We're going to stand right behind him."
Grant, age 43, and his wife, Jennifer, have taken on the challenge as the advent of box stores like Kmart, Wal-Mart and Home Depot have caused "momentary blips" in their sales. Merwin's strategy involves quick response to community needs. Terry cited the store's ability to supply the 2005 Festival with several dozen chairs on short notice when the box stores had already sold their season's quota.
"We have to embrace what has happened in the past and change for the new needs of our customers," said Grant, who views keeping long-term employees as another challenge his dad and grandfather didn't face. Nonetheless, having made it past the store's 60th anniversary, the Merwins proudly boast that three generations of the Yaw family (Ray Sr., Ray Jr. and Doug) have provided consistency and quality work on their staff.
Quick Fact: That continuously bubbling white pedestal fountain, always a favorite at Merwin's on First and Main, went home with Terry when the store moved to its present location. "We had lots of people walk in one door, take a drink and walk out the other," Terry recalls. "We also had lots of kids who liked to put their fingers on there and get it to spray."
Clarks (1948):
Dave "Buck" Clark and his wife, Elaine, of Clark Oil Co. remember occasional days when Buck would leave home at 4 a.m. to deliver his Union 76 products and bulk fuel to a power-line construction site on the High Drive south of Clark Fork.
"I'd try to be back by noon to get my afternoon customers taken care of," Buck said. "Those were long days." The couple, married nearly 60 years, also spent evenings at their kitchen table preparing monthly bills to mail to customers, who have included farmers, loggers, the school district, heavy construction companies, etc. Nowadays, computers take care of most of that.
Since Buck purchased the original bulk plant at 5th and Alder from Patton and Anderson Motor Co. in 1948, his family company has diversified significantly. Clarks later moved their original operation to 5th and Larch. They have also opened another bulk plant in Coeur d'Alene and now operate three convenience stores in Athol, Post Falls and Sandpoint (Waterfront Express Conoco). In 2004, Coleman Oil Co. of Lewiston purchased both bulk plants. Buck's youngest son, Jeff, still manages the Sandpoint facility that retains the Clark name.
Family members have played an important role in Clark Oil's success. Sons Curt, Chris and Jeff, along with Jeff's wife, Pam, have participated in the business, as have "every one of the grandkids," according to Elaine.
Quick Facts: In 1963, the going rate for Clark's products included super gasoline at 25.4 cents per gallon, regular at 20.9, diesel at 18.3 and heating oil at 19.8. In August 2005, prices included super gasoline at $2.79.9 per gallon, regular at $2.59.7, diesel at $2.89.9 and heating oil at $2.50.9 per gallon.
Aavedals (1966):

When the opportunity of running a ski shop at Schweitzer Basin came knocking in 1966, Bob Aavedal opened the door. He's kept it open ever since. Today Alpine Boat and Ski Shop is downtown on 213 Church and retains a ski shop at Schweitzer Mountain Resort.
"Even on days when Schweitzer's down from bad weather, we keep the shop open," says 67-year-old Aavedal, who thrives on consistency and long-term, dedicated employees.
He and his wife, Linda, have seen the shop grow from a small room in Schweitzer's original lodge to a profitable business at the resort and in downtown Sandpoint. Aavedals co-owned the Alpine Shop with local businessman Terry Merwin until the mid-'90s, when Aavedals bought out Merwin's interest.
The Alpine Shop Schweitzer venue has moved three times – to the original lodge's brown-bag room, to the Mill Building and finally to its current 2,600-square-foot condo-retail location in the Lazier Building.
"It's the only private building up there and will probably remain so," Bob says. For a few years in the '90s, the Aavedals also ran a successful gift shop called Annie's in the Green Gables Hotel.
Meanwhile, the downtown store on Church Street, purchased in 1971 from Beaner Johnson, has narrowed its focus from when it originally encompassed The Basin, Beaner's Marina and Schweitzer Ski Haus. The shop features ski wear, equipment and ski repairs.
"In 1977, we decided to get rid of the chain saws and motorcycles," Bob says. Rather than large boats, Alpine's current marine business concentrates on canoes and kayaks, along with boat repair and storage.
Quick Fact: After a nearly 40-year run of enjoying the opportunities and people associated with an outdoor-oriented business, Bob and Linda want to follow their own recreational pursuits. They're selling the Alpine Shop. "I want to spend more time in my RV," Bob says.
Renches (1967):
Deanna Rench Harris has gone full circle in her career. As a teen, Deanna worked the cash register at her parents' pharmacy. Now, at 46, she's the owner and operator of Sharon's Hallmark. Harris, a Washington State University graduate and Schweitzer Mountain Resort management team member for 23 years, is buying the business from her mother.
"One day last summer … I was thinking about what I was going to do when I grew up," she said. "I realized that I'd only worked one place my entire adult life, so I talked to Mom about the possibility of the store and her retiring." That transition began June 1, 2005.
Don and Sharon Rench purchased Bi-Rite Drugs in 1967, at 306 N. First, the same location as the current Hallmark store. Don worked in Washington as a druggist and pharmaceutical representative while waiting for a business to come available. He had inquired about the Sandpoint drug store, but the former owner had stuffed Don's letter away in a pigeon-hole desk. Six months later, when the owner died, his lawyer found the letter and contacted Don.
While Don ran the pharmacy, Sharon did the books. Their children, Deanna, Gary and Susan, helped while growing up. The Renches also briefly owned the Shoe Shack next door. After selling that business in 1984, they bought the Hallmark store from Pat Davis, renaming it Sharon's Hallmark. They also co-owned B and D Medical, which Gary Rench helped manage until starting his own Sandcreek Medical Supply.
After Don's death in 1988, Sharon combined the stores but eventually closed the pharmacy. Sharon's Hallmark features gifts and Hallmark products, selected at market in Seattle or Atlanta by Sharon, Deanna and longtime manager, Tina Carter.
"Downtown has definitely changed from my days as a Bi-Rite girl," Deanna says. "Not as many people do their day-to-day shopping downtown."
Quick Fact: Sharon Rench is enjoying her freedom but still checks in weekly and continues to go to market.