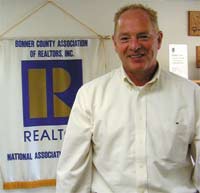 Photo by BillieJean Plaster

Selecting a real estate agent
Advice for buyers and sellers alike

By Trish Gannon

If you are looking for a real estate agent in Bonner County, think capital letters. That's because a realtor is someone who sells real estate, but a Realtor (capital "R") is a real estate agent who is a member of the National Association of Realtors. Locally, that means they are also members of the Idaho Association of Realtors and the Bonner County Association of Realtors, which has a membership of 186 active agents and brokers.

"Realtors are bound by a code of ethics," said Allan Hagelthorn, executive director of the Bonner County Association of Realtors (BCAR). "That means there's recourse if there is a violation of that code. By joining (the association), there's a tremendous amount of guidance, education and certification they receive." He laughed and added, "This puts Realtors a step above used car salesmen."

Realtor, by the way, is a registered trademark, and the National Association of Realtors (NAR) happens to be the world's largest professional trade organization. In order to become a Realtor, agents must be licensed by the state in which they practice their profession. Before that license is issued, minimum standards for education, examinations and experience must be met. In Idaho, the Idaho Real Estate License Law and Rules, as of July 2002, is 67 pages long and is a document with which all Realtors must be familiar.

The agent you deal with depends on the type of real estate transaction you are pursuing – buying or selling. All agents, however, are bound by certain legal obligations, namely, to keep a client's information confidential; to obey the client's lawful instructions; to report to the client anything that might be useful; and to account for any money involved in the agreement, ensuring your escrow deposit doesn't disappear before the sales agreement is finalized.

When selling property, both the seller of the property and the agent listing that property sign a legal agreement called a "listing agreement." Upon signing that agreement, the agent is legally obligated to the seller.

For those looking to buy property, it is worthwhile to consider working with a single agent to represent you. A buyer's agent represents you and not the seller of the property, and that can make a difference when it comes time to negotiate. According to Realtor.org, the NAR's official website, a buyer's agent can help by: determining your buying power; assisting you in determining all available potential properties which might be of interest to you; providing objective information about a property you are interested in; helping with negotiation, including the inclusion or exclusion of repairs, equipment and/or furnishings; providing due diligence during inspections and assisting you in finding qualified, responsible professionals; and helping you understand different financing options.

Here is an example: A buyer is looking at a house for sale and sincerely wants to buy it. He signs an offer of $100,000, aware that other offers are being made. The buyer tells the Realtor: "I really want this property. I'll go as high as $125,000 if I have to." If that Realtor is the seller's agent, he or she is legally obligated to share the prospective buyer's comment with the seller. That same comment when made to a buyer's agent who represents the prospective buyer would, by law, be kept confidential.

There is a persistent misconception among first-time buyers that they can "get a better deal" by contacting the listing agent of a property directly. "People with experience know the commission price doesn't change no matter how many agents are involved," Hagelthorn said. There is no cost for representation by a Realtor: All Realtor's commissions are paid out of the seller's share of the sales price of a home.
Surf the Internet and you'll discover dozens of websites suggesting that, when looking for a Realtor to represent your interests, whether buying or selling, there are a few questions to ask. First, check to see if your Realtor works full-time or part-time. Although many part-time agents do an excellent job, it is more likely that a full-time agent will be more aware of the local market; what's available, reasonable pricing, and any local rules and regulations that may have bearing on your interests.

This advice is less important in an area like Bonner County, Hagelthorn says: "It really depends on the agent. You have to look at why they're working part-time. [It] doesn't mean they're not going to put the same amount of effort into either selling your home or helping you find the home you want to buy."

Second, understand exactly what your agent is willing to provide. If you are looking for rural property, make sure your agent has a vehicle capable of taking you to the far outreaches of the property and the willingness to do so. If you're selling, understand exactly how your Realtor will advertise your property and interest buyers in a showing.

The best way to obtain an agent is to talk with your friends and neighbors and ask for recommendations. "If you live in the area, this is the best way to find representation," said Hagelthorn. "It's especially good for sellers – because you get firsthand information about an agent."

Don't be afraid to interview agents, whether you're buying or selling. A home transaction is often a person's largest financial investment – inevitably an emotional process. As with a doctor or an attorney, real estate agents become privy to confidential information, making the personal relationship paramount.

"Does the agent listen to what you're telling him or her?" Hagelthorn asks. "If you find yourself spending the day looking at property you find totally unsuitable, it's time to find another agent. Interviewing agents is the best way to find the one who will work best with you. It's just like buying a car. Do your homework. You really are buying an agent."

Remember, too, that the busiest agent in town isn't always the best choice – or the most experienced. "A large agency generally has more resources to offer," Hagelthorn said. "On the other hand, a smaller agency may give more personal service. What matters is you talk to the agent and find someone you're comfortable with."

Although BCAR does not maintain a website, Hagelthorn says, "We can give anyone a list of companies in the area," and that list can be the starting point.

The commitment between agent and client goes both ways; a signed contract between the two means an agent has agreed to expend considerable time, energy and money with no guarantee of getting paid. In return, clients receive knowledgeable representation in what might be the most complex legal transaction they ever participate in – buying or selling a home.
---
Marketwatch: The tide's turned – a seller's market again
Property sales for the first half of 2003 in Bonner County turned out to be as hot as the area's record-setting summer temperatures. At the end of August, 563 listings had closed for the year at an average sales price of $165,282. This includes listings in all categories and represents more than a quarter of the 2,158 total listings in the Bonner/Boundary County Multiple Listing Service (MLS). Average days on the market for all categories was 192.
This represents a steady gain when compared to the same time period in previous years. As of August 2002, total sales were 442, and that was itself an increase over August 2001, with 385 sales. Residential property in just the Sandpoint area, including an active market at Schweitzer, revealed 252 properties sold with an average sales price of $147,000. In August 2002, that average sales price was $129,000.
"The market is very, very hot right now," said Allan Hagelthorn, executive director of the Bonner County Association of Realtors (BCAR). "In part, that's due to low interest rates and the attractiveness of our area for investment purchases." He says sales in 2002 of property at Schweitzer Mountain, along with waterfront property sales, were higher this year due to "investment" purchases. "My personal feeling is that a lot of people re-directed their money out of the stock market and into real estate," he said.
Hagelthorn points out that the figures for average days on market are "somewhat misleading. It's all supply and demand, and we have very little waterfront available. The high-dollar properties were selling very fast, but rural property, especially that with trailers, are not selling very well." In part, he says those sales are slow due to "banks not funding those properties due to the high foreclosure rate."
For the 15 "areas" tracked by the Idaho Association of Realtors, Bonner/Boundary counties' sales action in the single-family residential category for 2003 placed it right in the middle of the list – eighth overall in terms of units sold. Average sales price in that category, at $167,786, however, was the second highest in the state, surpassed only by the Sun Valley/Ketchum area which had an average sales price of $524,209. The Ada County/Boise/Meridian area came in third, with an average sales price of $167,433.
According to the Idaho Association of Realtors, this represents a steady increase in the average sales price for residential property in the Panhandle. In August 2002, average sales price was $159,772, up from the July 2001 average of $122,665. Again, Hagelthorn attributes this, in part, due to sales on the mountain. "A lot of property sold on the mountain this year," he said. "January (which is traditionally slow) was one of our highest (sales) months ever experienced."
With strong sales activity eliminating the amount of property available for sale, Hagelthorn says the area "right now is a seller's market. There's not enough inventory out there for people to buy."