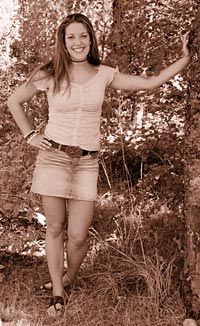 Photos by Susan Drinnkard
Shari Short

Feature Interview with the Singer-Songwriter
On the log wall of his bedroom in Bonners Ferry, my nephew has nailed an autographed poster of an alluring young woman with long blondish hair wearing black jeans and toting a guitar. She looks aloof, like a rock star. My nephew knows her as Shari, his running partner, one of Butch and Donna Short's daughters. But many others know her as a talented musician who writes her own songs and who tours and plays with Air Supply, the soft rock group primarily known for love songs played constantly on the radio in the 1980s. Shari Short may be northern Idaho's most famous teenager.
At the 2002 Festival at Sandpoint, Short opened for Air Supply with four of her own songs. "I was born just a few blocks from here," she told the crowd, and if a person can glow, well, that's how it looked. She played enthusiastically, her vocals strong and clear, offering big smiles. In person Shari seems much the same – spirited, even bubbly.
At age 17, Shari has an impressive résumé. Three years ago she was named Miss Teen Idaho. Early in 2002 her CD "I'm Living" was released and another was scheduled for release in the fall. She's playing in the big leagues now, going to parties with the likes of Robin Williams and Russell Crowe. Even though it seems like she has skipped the little and middle leagues, Short is still a North Idaho girl who wants to stay connected to her family, her friends and her hometown.
Q. How does a teenager in Bonners Ferry connect with seasoned performers like Air Supply?
I went down to do Miss Teen Idaho (2000), thinking it was going to be a talent competition. I brought my guitar. It totally ended up being a swimsuit competition. I had already paid money to go. My parents said, "Get a swimsuit and go up there." I was 14 and all these girls were 18 and 19. I thought I would do my best and show them what I had. I ended up winning the title. It was so exciting, fun, but only a few months later my director quit on me because of some family problems. I went down to Utah to get ready for the national pageant. The director of that pageant was actually Graham Russell's wife, Jodi, who used to be Miss Illinois. She heard me play and she said, "Oh my gosh, my husband has to hear you." I met him, and the next day we started in the studio on my first album.
Q. What happened next?
We started recording the first album and getting the photos and CDs right. Then I started opening for Air Supply and doing some little shows here and there. Then they asked me to join Air Supply and now I tour with them.
Q. Have you traveled overseas with them?
I'll be going to Brazil with them soon. I was supposed to go to Japan Sept. 14 of last year, but it got cancelled after Sept. 11.
| | |
| --- | --- |
| | |
| Sheri Short at the 2002 Festival at Sandpoint | |
Q. When reviews are written about your music, who do they say you sound like?
There was one person who said I sounded like Sheryl Crow, Jewel and Alanis mixed, but mostly they say it's unique, and I enjoy that because I want to be unique.
Q. When did you start writing songs?
I started songwriting after my friend committed suicide. I had done little things before that, but it was then that I was forced to grow up and go inside myself. I knew then what I was supposed to do. During school days I tour around different schools and talk about the suicide rejection issue. I go into schools as a teenager, like everyone else, but I get to be with them on a personal level. There will be people who come up afterward who are crying and telling me they've been through the same thing. I love touring with Air Supply, but if I didn't have the name Air Supply behind me, I wouldn't be able to get on with these school tours. I'm traveling to big schools with packed-out gymnasiums, and it's just me and a guitar. It's kind of scary because they're my peers. I have to break through that and be kind of one-on-one with them.
Q. They can really hear the message from you.
Exactly. There were a lot of motivational speakers coming to our school, but at the same time some of these people were like 30 or 32, and I would feel like they really didn't know. If a student came in that was my age and talked about personal experiences, you can kind of relate, and it's the best thing.
Q. So what do you do about school?
I take some correspondence and I do it through the alternative school in Bonners, but I am almost done.
Q. Your mom says you didn't get your singing voice from her. Where did you get your singing voice?
My dad's side. My dad played the guitar when we were growing up. We were always sung to sleep. My grandparents sing in church.
Q. Is there one thing that has surprised you or that is very different from how you thought it would be?
You think it's always going to be so much fun having a show every night, but you wake up at 4:30 in the morning to catch a flight, and you get there just in time for sound check. You think it will be all fun and games, but you do get tired. I know I'm young, but a lack of sleep catches up with me.
Q. How do you psyche yourself up before a concert?
Two hours before (a show) they start giving me my countdown, and it makes me even more nervous but no matter what, my nervousness turns into adrenaline. I psyche myself up by playing backstage, jumping up and down, lifting weights to pump up my legs, burning incense and candles to get my space ready.
Q. What do you do with all that energy after a show?
We do the "meet and greet" thing. Sometimes we go bowling or something because I'm so hyper.
Q. Do you think some people have been envious of you?
I think there are some people who don't want me to step outside that box. Everyone's uncomfortable when you do. I used to get upset when I got hate letters in my locker. I got to the point where I didn't care, and I decided I would not be changing who I am.
Q. Those might be the same people who'll say, "I knew Shari Short. In fact, we used to exchange letters in our lockers." Do you aspire to be a big star?
I'd love to win a Grammy, honestly. On the same note I want to continue to do the school tours. I can't describe how it is to be there … when people will come up to you and say "You made me realize I need to watch what I say because you never know when it's really going to hurt someone, and that will be the thing that makes them snap."
Q. Do you have college plans?
I try not to make a back-up plan because that's creating failure. I'm going to get up there, win my Grammy. I have to have a positive outlook.
– Susan Drinkard