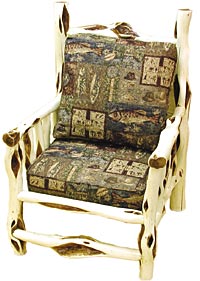 Diamond willow chair by Dan Mimmack
Rustic, Northwest art form found in functional pieces

Furniture stores can be art galleries, a point proven as soon as you walk in the doors of Northwest Handmade, Misty Mountain Furniture or Eklektos Gallery in downtown Sandpoint. A floor lamp with intricate carvings of wildlife in the base; a log bed frame made from lodgepole pine; a coffee table with an original painting on top. All are examples of one-of-a-kind furniture built by artisans from around the region and Canada.
"People look at it as usable art," says Pam Mimmack, one of the owners of Northwest Handmade and an artist herself. Similarly, Chris Park, co-owner of Misty Mountain Furniture at Fifth and Cedar, says, "Furniture has to be practical. We fill a niche, not high-end art furniture, but more practical than that."
Pam makes all of their store's lampshades by hand, and her husband, Dan, builds log beds, dressers, dining sets, living room furniture and accessories. Besides designing the furniture, he pays attention to the grains and markings, placing them with an artist's eye to create a visual piece of art.
Likewise, the owners of Misty Mountain Furniture, Park and John Edwards, are both craftsmen, but Park focuses on furniture design, while his partner does cabinetry. "It's really a passion for John and I to do artistic pieces, especially when you get customers who appreciate us," Park says. "It's so fun to see the excitement when the customer gets the piece. Our best reward is seeing those people light up." Besides their own furniture designs – Stone Creek and Mountain Hewn lines – they carry about two dozen artists' works, everything from fused-glass lamps to bentwood birch nightstands.
Pam said back when they were working full-time and doing woodworking on the side, "We made a decision that if we ever had a store, that we would support other artists." Indeed, they opened Northwest Handmade on First Avenue in 1995 and now carry goods from about 90 artists, many of whose sole means of living is their artwork in the context of furniture.
How do they choose artists to carry? "We look for something that is unique that no one else has in the area, and it's a quality of workmanship we're looking for," Pam said. As she points out pieces throughout the store, she shares a story about each artist as if she knows all of them personally.
Perhaps the ones she knows most intimately, besides Dan, are her own children. Owners of Sticks and Stones, Laurie and Greg Huston are a sister-brother team that builds lamps and twig furniture, in addition to woodburning art on furniture. They also create beautiful mosaic mirrors framed with small, flat rocks collected from the shores of Lake Pend Oreille along the Monarch Mountains. Pam has a hard time keeping the popular items in stock. "Things tend to sell more if you're putting your heart and soul into it, if you love what you're doing," Greg said.
Another Sandpoint artist working with rock is Thomas Ward, who calls his business Skipping Stones Studio. He builds table and floor lamps that have angular rock bases and stems made of smooth, colorful rocks stacked up in delightful formation. "My inspiration is wind, water and earth," Ward said. "What really inspires me is trying to bring nature back in touch closer to people," especially for city dwellers, who now make up more than half the world's population. Another way he brings "nature inside the house" is through natural rock cabinet drawer pulls.
Carla Palmese is a painter, but you don't necessarily see her art framed on canvas. Her original paintings dress up hand-built coffee tables, sofa tables, room screens and game tables – with the game board painted on. "So you can have art in your furniture, and it's original," Pam said, as she pointed to Palmese's various pieces.
| | |
| --- | --- |
| | |
| Armoire designed by Chris Park | |
Palmese's partner is Bob Strahan; a retired tree faller, who builds the furniture on which she paints. "I spent 40 years cutting down trees, and now I nail them back together," he says. Palmese adds, "Primarily my work is in the fine arts, but more and more people want functional art, so I give them both in one." She paints originals in Western, wildlife and scenic themes. Around here, moose, horses and local landscapes are quite popular.

Sam Blom is a carver who lives in Twin Falls and whose works appear at Northwest Handmade. Using a section of a log that is gnarled and has a prominent burl, Blom creates animal-themed tables and floor lamps with images of squirrels, horses, bears or fish carved out of wood. The lamp with squirrels has a tabletop in the middle with a map of Idaho inlaid in wood.

At Misty Mountain, the showroom inside their newly renovated building, Cedar Street Station, emphasizes the "bread-and-butter" designs by Park – beds, tables and chairs – mostly built by the seven employees who work in the on-site shop. The rustic railings constructed of peeled poles – some with burls – inside the showroom were built on commission by Tom Brunner. He also built the oversized chair, a tourist novelty, placed outside the building. The showroom also features more furniture plus sculptures, paintings, lamps, chandeliers, mirrors and more by other artisans.

One of them is Dean Spence, of Golden, British Columbia, who specializes in the old Adirondack-style furniture that originated in upstate New York. "Certain people are true artists, and Dean is," Park said. His rustic, bent birchwood furniture is "a manifestation of my love for the woods," according to the artist's statement. "Building from natural forms means that all of outdoors is my palette, and I have the happy job of tromping through the bush searching for my raw materials."

Park calls these artisans "resourceful" people. "A lot of them use the materials they can get outside in their backyard, whether it's birch or alder or antlers or rocks or rawhide," Park says. "They're taking what's available to them, and through their energies and hard work, they can turn it into something artistic and, thereby, sellable."

One of the store's 12 employees is a tile artist, Liz Zimmerman, whose original designs are inlaid in Park's tables, a combination that's been "very successful," according to Park. Ferns, oak leaves, fish and other sketches are fired onto the decorative tiles.

Both Northwest Handmade and Misty Mountain Furniture sell their proprietary furniture online. Look up www.customlogcreations.com and www.misty-mountain.net.

Eklektos' primary business is interior design, but it also has a delightful showroom at Church and Fifth with furnishings by artists such as Reidar Wahl, who uses the age-old technique of mortise-and-tenon. "What's really nice about Reidar is that he's not only a furniture artist, but he does beautiful finishes," said Celeste Kilmartin, co-owner of Eklektos. "He uses overglazes and antiquing. He just has it down." She points out a red hutch, called a "cowboy cabinet" and a large well-worn coffee table made of reclaimed wood, both by Wahl.

Another artist carried here is Christine Smith of Sproule Creek Twig Furniture in Nelson, British Columbia. Her furniture is "nicer than the norm" as the tabletops, backs and seats are constructed out of old oak wine barrels, beautifully combined with willow and birch. "Her furniture holds up, unlike other twig furniture that tends to fall apart," Kilmartin said.

Next Kilmartin directs attention to an entry table with a top made of slate and glass mosaic inlay framed by an iron edge. The wooden legs are square cedar posts, and rebar spans the space between them near the bottom. "As unusual as it is, it probably gets more attention than anything else in the store," she said. The artist, Tim Thomas, also does benches in the same vein.

Furniture, it seems, has come full circle as modern artists imitate rustic pioneer furnishings handmade out of necessity.


– Billie Jean Plaster