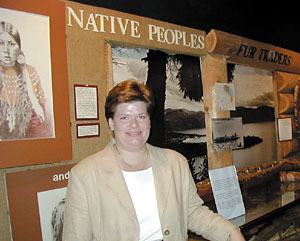 Ann Furguson (Photo by Billie Jean Plaster)
Museum a stroll through the past
To take an enlightening stroll through the past, visit the Bonner County Historical Society Museum in Lakeview Park in Sandpoint. There, the main display rooms are full of artifacts beginning with the Kalispel Tribe and progressing through years of exploration, the steamboat and railroad eras, timber barons and the formative years of Bonner County.
Outside, landmarks include a caboose complete with track, ties and signal pole; a waterwheel from Hoodoo Creek; a cabin of hewn logs with a hand-split cedar shake roof; an air raid siren from World War II; and the anchor from The Coyote, a historic steamboat that ran on Lake Pend Oreille.
The museum is also home to a collection of research materials that include personal histories, microfilm of newspapers and maps dating back to the 1890s, and thousands of photographic images.
The museum recently added 5,000 photos from the Bonner County Daily Bee and accepted the Chuck Peterson Collection from the Peterson family of Hope. Peterson, who died in 1998, spent a lifetime collecting and making over 17,000 photos of early to recent history.
The Society, comprised of 150-plus members and blessed with dedicated volunteers, is 30 years old this year. Museum Curator Ann Ferguson and receptionist Karlyn Brown are the only employees. Today, the Society faces a rather pleasant dilemma: what to do with all that has been collected over the years.
The answer may be in six acres at Kootenai that was recently gifted to the organization. Ferguson hopes to see a new museum there with room for the number of large objects that are stored elsewhere, as well as the plethora of artifacts piled in the back rooms of the current building.
"We see this building becoming a research facility," Ferguson says, with great hope, "and the main museum being at Kootenai."
The museum is open for research Tuesdays and Thursdays, with volunteers on hand to help from 11 a.m. to 3 p.m. or by appointment. Hours are Tuesday through Saturday from 10 a.m. to 4 p.m. Call (208) 263-2344 for more information.
– Sandy Compton