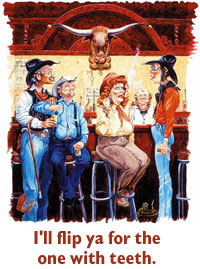 A Boots Reynolds' original cowboy cartoon.
Tons of T-shirts, our town has
For a small town, Sandpoint makes a big statement – even in the field of personalized T-shirts.
It doesn't get any more local or homespun than cowboy artist Boots Reynolds. And now, fans of his country wisdom can take his award-winning art off the wall and put it on their chests. Stop in at The Texas Connection or visit www.sagebrushes.com for a complete selection.
The discriminating T-shirt connoisseur is wearing Eichardt's Pub & Grill's "Putting the fun back in dysfunctional" design this year. Find it in long or short sleeves, v-necks, crew necks or even a soccer shirt and a sweatshirt.
Bearweare Graphics taps the local mentality with their "Sandpoint – a nice little drinking town with a serious skiing problem." In summer, of course, it's a hiking problem we have with a T-shirt to match.
Jalapeños, a popular Mexican restaurant, offers a tee featuring dancing chili peppers and the admonition, "Help stomp out gringo food."
Other popular area businesses, including Ivano's, Groundzero, Finan McDonald and Romeo's Pizza, sell shirts emblazoned with their logos, while businesses like All Smiles, The Thread Mill, Alpine Shop, Bearweare and Snow River sell a variety of Sandpoint tees. Slightly out of town, Schweitzer Mountain Resort and Hidden Lakes Golf Resort (the moose is loose) also sell a variety of personalized shirts.
If that's not enough to choose from, there's any number of events – Festival at Sandpoint, Long Bridge Swim, Lake-to-Forest Triathlon, Selkirk Classic and Lost in the '50s to name a few – that hawk shirts or give them away as part of registration fees.
T-shirts are perhaps the top souvenirs, a fact not overlooked by area businesses and special events.
– Trish Gannon