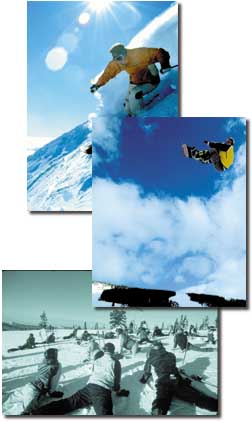 Top, Bob Legasa carves a turn. Middle, a rider gets big air. Bottom, the Freeride campers stretch to warm up. Photos by Doug Marshall / El Photo Grande

Last Page
Sharing the art of freestyle


By Keith Kinnaird
Nothing whets a skier's or snowboarder's appetite more than watching someone rip down a narrow, rock-lined gully or float gracefully over a gap jump. Funny how that appetite can sometimes subside when it's you standing over the precipice or contemplating a Volkswagen bus-sized jump.
But Bob Legasa and friends are here to help. Legasa, a former member of the U.S. Freestyle Ski Team, founded the Freeride Institute at Schweitzer Mountain last winter and enlisted the help of top-caliber athletes to coach skiers and 'boarders on carving up the steeps and executing stomp landings in the Groundzero Terrain Park. These "Michael Jordans of skiing and snowboarding" impart their students with confidence and help ensure that they don't have to file a claim on their health insurance policies in the process.
"With terrain parks being introduced all over and seeing some of the injuries, these kids need to know up from down and the proper technique," says Legasa. "They see things on TV and wing it. It doesn't work that way."
Legasa cites the emergence of free-riding as its own discipline as another motivating factor. "Racing is still popular, but free-riding is taking over because it's inviting to a lot more people. It's a way to express yourself via skiing or snowboarding."
Free-riding blends traditional skiing and snowboarding with elements of freestyle to form a hybrid that celebrates creativity and individual style. Instead of edging down groomed trails, free-riders thread through dense trees to get at powder caches or rock drops. They also plot elaborate trick routines through terrain parks, half-pipes and mogul fields.
The free-ride ethic has a happy home in the Inland Northwest, thanks to Schweitzer, Silver Mountain and 49 Degrees North, each boasting the diverse collections of terrain necessary for the all-mountain experience.
Legasa, a 40-year-old Hayden Lake resident, was on the U.S. Freestyle Team from 1984-85, then toured professionally with Volvo, putting on displays in Europe, South America, Canada and elsewhere. He has an interior design business in Coeur d'Alene and can be seen dispensing skiing tips on Spokane's KREM-2 TV. He says he'll always be involved with skiing.
"It's something I love to do. I'll be doing things that revolve around skiing until I'm 60 and maybe even when I'm older," says Legasa.
Last year's celebrity coaches at the Freeride Institute included World Extreme Skiing Champion Chris Davenport and X-Games Big Air Champion Janet Matthews. For the 2001 camp, Legasa has lined up ski-film ace Josh Loubek and skiers and riders from the Oakley Air Force, a formidable team representing the well-known sports optics company.
Joining them will be local upstart Matt Gillis, former national freestyle champion Dan Herby, snowboard film star Jeff Yates and pro rider Mark Stegall, among others.
Last year's Freeride Institute attracted 30 skiers and 'boarders of various ages and skill levels, including some parents who wanted to share the experience with their children while building on their own skills. This year's clinic is set for Dec. 28-30 and has a planned enrollment of 35.
Institute participants will be divided into smaller working groups, depending on skill and desired area of focus. Some might head off to the mountain's upper reaches to work on moves in steep terrain, while others perfect maneuvers in the Terrain Park or its half-pipe.
Along with a personalized approach, coaches will be videotaping and a media tent will be set up in the Terrain Park so they can critique their charges' handiwork, making it easier for participants to build on their strengths and dismantle their weaknesses.
"One of the key things we're teaching is the use of mechanics of riding or skiing that allow them to stay in a basic athletic stance the whole time," says Stegall, who has been coaching for seven years and riding professionally for even longer. "We're teaching them to be more efficient, powerful and balanced."
While education is obviously a chief component of the Freeride Institute, fun is the focus – for both coaches and students. Gillis, a 17-year-old skier who spent the summer in Argentina performing aerial stunts for crowds, says it is gratifying to see skiers and snowboarders develop their talent and style.
"It's great – especially when you know they're having a good time with it and improving," Gillis said. "It's really good to see."
Korah Quinn is one such success story. The 15-year-old Sandpoint skier found the Freeride Institute's coaches and format so encouraging that she tried a 360 – something she had never attempted.
"It's the first time I had the guts to try it," Quinn said. "I landed one, and that was on the third day. It was so relieving. Josh Loubek was at the bottom of the jump and he kept going, 'I knew you could do it.' "