Literature at home in Sandpoint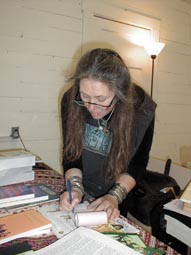 Publisher Christine Holbert, completes a book sale at the Writers of the Lost Horse conference last May


Painters, sculptors, musicians, writers and actors – all have felt at home in Sandpoint, a town long known as an arts haven. And now writers are more at home than ever because of one publisher, her press and a well-received round of literary events. Christine Holbert, publisher of Lost Horse Press, came to town in the spring of 2001 and brought the literary world with her.
A national literary press, Lost Horse has published such notable area writers as Spokane's Scott Poole, Eastern Washington University's Christopher Howell, and Lewis and Clark professor Dennis Heald.
"Primarily, Lost Horse Press is a small press committed to publishing poetry, fiction and creative nonfiction titles of high literary merit," Holbert said, "with an emphasis on elegant presentation that complements the text."
When Holbert moved to Sandpoint, she saw no reason to leave literature behind. As the organizer of Spokane's spectacularly successful literary arts festival, Get Lit!, Holbert is experienced at organizing book-oriented events. By September 2001, she had already organized three such events, all staged locally at the Oden Community Hall on Sunnyside Road. Her first annual conference, Writers of the Lost Horse, on May 4-6, featured literary giants Marvin Bell, one of America's most celebrated poets, and William Kittredge, former professor at the University of Montana and a regular contributor to such diverse publications as Newsweek and The Atlantic Monthly. With the pot-bellied stove crackling and the mournful sound of passing trains in the background, they and other writers read to a responsive audience on Friday night, just one part of the weekend-long conference.
By late summer the focus was on Idaho's women writers, as Holbert pulled together folks for Mother Lode I and II, two afternoons of readings, musical entertainment and potluck feasts. Kim Barnes and Claire Davis, along with local author Marianne Love (Pocket Girdles and Postcards from Potato(e) Land), read at the first program. The second event featured Joy Passanante, the associate director of creative writing at the University of Idaho, and poet Andrea Werblin, whom Publishers Weekly describes as "vivid and sympathetic ... (in) recognizably Gen-X sensibilities."
Through her press, meantime, Holbert promotes the types of books that are often ignored by conglomerate publishers in the series, "The Lost Horse Northwest Poetry Series for Emerging Writers." Holbert says such books are "so much in danger of vanishing into obscurity in what has become the age of chain stores and mass appeal food, movies, books and art."
Holbert chose Sandpoint as the home for Lost Horse Press for several reasons, some self-serving ("Who wouldn't want to live by this lake?") and others meant to serve the community, students and local writers.
"Landscape is a significant component of the literature of the Northwest," she said. "What better place than the dramatic setting of Lake Pend Oreille and the surrounding mountains to showcase the cutting-edge Northwest literature that so profoundly emphasizes landscape?"
And Holbert is far from through. Next spring, she will coordinate the second annual Writers of the Lost Horse conference and initiate a regular series of readings.

– Trish Gannon