As the aviation industry experiences a pilot shortage, a group in Sandpoint hopes to curb the shortage and advance youth education at the same time. Scholarship Flight Training, Inc. (SFT), a non-profit educational organization, entered its second year of teaching students age 16 to 18 how to fly and helping them earn a private pilot's license.
SFT awarded scholarships to eight students in 1999 and five in 2000 worth about $4,000 each to cover the flight-training program. Through corporate and private sponsors, SFT has garnered enough funds to lease equipment – a Cessna 152 and 172 – from Sandpoint Aviation and pay for fuel in order to make pilots out of young people.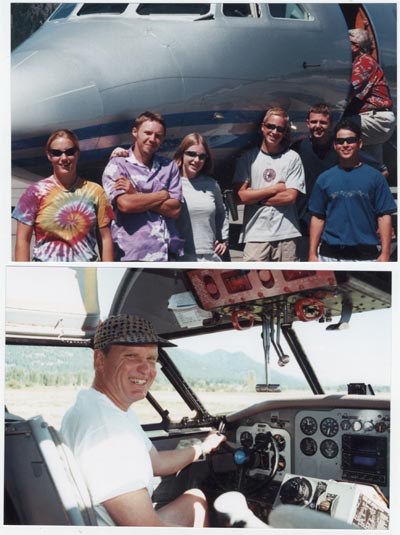 Top photo-The students learning to fly through Scholarship Flight Training in the summer of 2000 were, from left, Kristi Osmunson, Seth Francis, Jennifer Sudick, Danzel Bjerke, Bryant Jones and Jared Balch.
Lower photo- Chris Rinehart, SFT board member and the flight instructor, sits at the controls.
Jennifer Sudick, who turned 17 in the fall, passed ground school
in early August and soloed the following week. She completed the practical test with a Federal Aviation Administration instructor in October, and earned her private pilot's license with a visual flight rules (VFR) rating. "It's changed my life," Sudick said. "It's been amazing. I couldn't think of a better way to spend my summer."
The daughter of Todd Sudick, a commercial airline pilot, Jennifer says her father is excited as any parent would be, but perhaps more so because of his profession.
Besides teaching discipline and supplementing math and science curriculum, SFT helps students to become more motivated and feel confident that they can do anything.
"It was one of the best experiences of my life," said Calvin Langely, who was a '99 student. "It pushed me in more directions."
Danzel Bjerke, 16, has always wanted to fly and dreams of becoming a Coast Guard helicopter pilot. While his parents are both supportive, his mother is "terrified of small planes."
Similarly, student Bryant Jones can't get his mother or grandmother to fly with him, and yet he has aspirations to fly professionally. "It's a pretty big undertaking," he said of SFT.
Chris Rinehart is an SFT board member and the flight instructor, something he's done since age 18. He also spent 15 years "pushing tin," that is being an air traffic controller. He says the group is seeking additional sponsors to help expand the program. Current sponsors include Panhandle State Bank, Litehouse Foods, Talent Aviation, NLI, Riley Creek Lumber Co., Bill Downing, and Rich and Sue Sugden.
Their group's goal is to develop a self-sustaining foundation and to see students returning in five to 10 years to teach the program. "We work with small groups of people, but the impact is larger," Rinehart said. "The students' lives are changed."

– Billie Jean Plaster