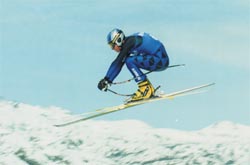 Louis Menghini, one of SARS top athletes.
They are some of the fastest people on skis at Schweitzer and some of the youngest – the 100 or so members of the Schweitzer Alpine Racing School (SARS) from as far away as Lewiston, Spokane and the Silver Valley.
Ranging from age 5 to 19, SARS athletes develop strong skiing fundamentals and train for gate racing in slalom, giant slalom, super giant slalom and downhill.
In his third year as head coach and program director, Svein Nostdahl is a native of Aspen, Colo. He's also the son of Magne Nostdahl, a member of Norway's ski team who came to the United States in the early '60s along with the legendary Stein Erikson to found the Aspen Highland Ski School. He's still a ski instructor.
After a lifelong career in ski racing and instructing, the younger Nostdahl left his position as alpine skiing director for the Aspen Valley Ski Club to move to Sandpoint with his wife, Stefanie, and their three children.
Former SARS Club President Will Menghini and his son, Louis, met him quite by chance within a half-hour of his arrival. "We are so lucky to have him in Sandpoint," Menghini said. "He is a top-notch coach, and he's done a lot for our program."
Louis, who started racing with SARS in 1994, is a 16-year-old junior in high school and one of the top athletes in the club. Will says they noticed his natural ability early on. "The whole family skis," Will said. "Louis is the one really focused on ski racing."
At Junior Olympics last March in California, Louis reached speeds up to 65 and 70 miles per hour. With the goal to make the National Team and go on to the Olympics. Louis' current focus is to excel in ski racing and still do well in school. SARS members must maintain a C average to travel. When they travel to races, time is set aside for studies. "(SARS) is worthwhile. It's fun and really competitive. …" You have to keep pushing yourself", Louis said.
Nostdahl adds, "It's reallys rewarding when you see kids come up through the age groups and you see them progress as people and skiers. We spend a lot of time teaching them how to be good people."
They also teach them how to be especially fast on snow.