Planning communities with conscience
MarketWatch: Lots of change over 10 years
By Trish Gannon

Housing developments come in all shapes and sizes, but most recently they come with more of a conscience. Better planned, well thought-out developments address impacts to the environment and wildlife, and covenants are drawn up to guide designing homes and outbuildings to ensure quality and protect neighbors' investments. The planned-community type housing developments described here fall into resort categories: golf course, waterfront and ski mountain.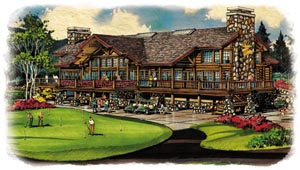 Out along scenic Highway 200, right across from where the moose feed next to the road, Hidden Lakes Golf Resort is undergoing an expansion project and owner Dick Villelli says, "Our intention is to be the No. 1 golf course in the state." It's a lofty goal, but just one look at the course and improvements says it's a goal they might very well meet.
The course is at the heart of improvements, and it's one that's already been called one of the "hidden gems" of the Pacific Northwest. Of course, Hidden Lakes has always had spectacular golf, scenery and service. The big changes out on Highway 200 will be in what surrounds the course – a spectacular new development.
On 244 acres along the Pack River delta, Villelli is building a community around the golf course. To be built in three phases, with the first nearing completion and the second beginning in May 2001, the final product will boast more than 80 homesites one-quarter to one-half acre each, paved streets and underground utilities, 16 acres of all-year lakes and a massive, 18,000-square-foot log clubhouse that will house the pro shop and a year-round restaurant and lounge.
Future phases include a lodge with an indoor pool, spa and day care, plus a marina on Lake Pend Oreille and further developments on Moose Mountain, across the highway from the course and connected via an underground tunnel. "This is the second largest development in the history of the county and could possibly even eclipse Schweitzer," Villelli said. "It will have a phenomenal (positive) impact on the community."
Villelli is an experienced and savvy businessman, and he's making sure his development will highlight and keep intact one of the greatest benefits of Hidden Lakes – its location. "We've increased habitat for the local moose, elk and waterfowl tremendously," he said. "When we're done, we'll have more trees than when we started. For example, we're requiring every lot to have a minimum of 15 trees, and a lot owner can't cut a tree over 3 inches without approval. The lawn can't exceed the size of the house." He could go on, because there are more than 30 pages of restrictive building covenants. He points out that, if everything planned is built and every homeowner built a single-level, 6,000 square foot "monster" of a house, "we'll have covered 14 acres out of 244."
It's a substantial investment but one that Villelli has every reason to believe will pay off. Of the 45 homesites in the first phase, with prices beginning at $110,000, more than 40 had sold by mid-September. "People are going to come here, not expecting much but a fun golfing experience, and they're going to be blown away by the quality and the level of services," Villelli predicted.
Schweitzer Mountain has always met the definition of a planned community, and perhaps no one has been more involved on the mountain than Charlie Parrish, owner/broker of Evergreen Realty in Sandpoint. For 16 years he's been both a developer and a real estate agent at the mountain. He's built more than 100 condos worth over $20 million and, last year, helped with the successful sale of the remodeled Selkirk Lodge. Of 41 units, only four are left.
"It's more expensive to build on Schweitzer," Parrish said. "Utility hook-ups, site-prep costs are substantially higher." But the return is worth it. The most current project on the mountain for Parrish is the Cornice Condominiums. The first phase, an eight-plex of two-bedroom, two-bath units, was completed in December '96 and sold within a year. Now in construction is phase two, an eight-plex condo listed in the $169,000 to $189,000 range.
Part of what makes Schweitzer a good investment is the money and effort being put into improvements by its new owners, Harbor Properties. "I didn't build anything (on the mountain) between '96 and this year because of the uncertainties about the mountain," Parrish