by Lou Springer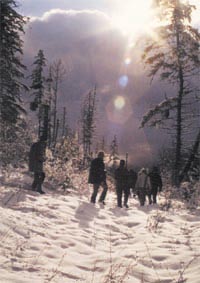 Thousands of people spread from Athol, Idaho to Trout Creek, Mont., have been introduced to the wildlife, native plants, geology, history and tribal lore of their region through the auspices of the Clark Fork Field Campus and the Community Enrichment Series presented by the University of Idaho.
The beautifully landscaped campus, located just north of Clark Fork was first developed by the Forest Service in 1910 and now provides accommodations for school field trips, retreats, field researchers and reunions as well as classrooms for the Enrichment Series.
"As a newcomer to the area," Marty Humphrey, of Noxon, Mont., said, "I was very pleasantly surprised to discover the campus and its valuable courses. I have taken four day-long classes and am impressed with the quality of instructors and course material."
Cupped by dense fir and cedar, with wide, shady lawns and a nearby splashing stream, the campus is an appropriate place to study nature. The well-maintained bunkhouse, dormitory and two houses can sleep 50. An interpretive trail and museum have been developed to interest school-aged children in forest ecology.
To receive a catalog of courses, write to the University of Idaho, Community Enrichment Program, P.O. Box 441221, Moscow, ID 83844. To reserve one of the cottages, contact Brian or Brenda Ward at (208) 266-1452.