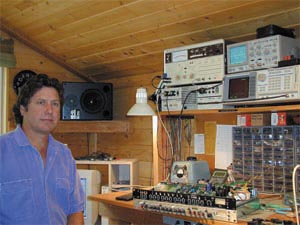 Fred Forssell has lived in Gold Creek since 1981 in a house that began life in the '40s as a sawmill. Sometime in the "hippy" era of the early '70s, someone closed in the frame of the place and, as Forssell says, someone has been remodeling ever since.
Out of this less-than-cutting-edge setting, Forssell works in the highly technical world of electronic music reproduction.
"What I design and build," he says, "is everything that goes into a recording studio or live performance except microphones, speakers or power amplifiers." The list includes mixing consoles, outboard processors, digital interfaces and microphone preamplifiers.
Forssell learned his trade as a roadie for Loggins and Messina in the '70s. After they broke up, he traveled with Kenny Loggins, then took a couple of years off to build equipment for bands like Fleetwood Mac and the Eagles. In 1979, he began a 10-year career with Jackson Browne. He became headquartered in Gold Creek when his girlfriend at the time found a place near Sandpoint to live while he was out on tour. The girlfriend didn't last the first winter, but Forssell is still here.
His goal these days is to build components that are "as sonically accurate as possible, high-end, ultra-high quality, hand-produced stuff." How high-end? Forssell has four products, and in a good year, he might produce 50 of each.
To achieve his goal, some of his products use decades-old tube technology. "Tubes sound better," he says. "Guitar players keep tubes alive. They plug into a solid-state box and say 'This sounds terrible.' " His customers are his best critics, and they reward his attention by buying from him again and again.
Forssell's business is unique, to say the least. There are other component manufacturers out there, but few of them build better boxes than Forssell Technologies, and none are based in a remodeled sawmill.

– Sandy Compton