Log Home Kits Make it Easy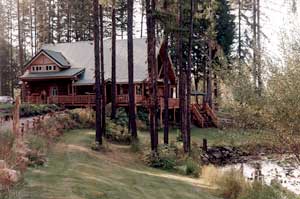 Or jump to below:
MarketWatch
by Trish Gannon
It seems to be the dream of many people who move into the Panhandle of northern Idaho. A picturesque log cabin, acres of woods, maybe a creek or a stream.
"I hear it all the time," said Mark Hall, broker/owner of Mark Hall Real Estate in Sandpoint. "The land is available; (but) usually, finding the little log cabin on it is hard."
But with the advent of kit-built log homes, the dream is still available, and affordable, for many.
Somewhat akin to Lincoln Logs, kit homes provide the logs and framing necessary to put up walls and roof trusses – called a shell – with finishing work left to the buyer.
Jim and Annette Fishback are just one couple among many who shared the dream and built their cabin in the woods. Deep in the forest off of lower Pack River, way down a road shaded by thick cedar and Douglas fir, their two-story log cabin rests on 65 acres, overlooking two ponds.
"I loved Lincoln Logs as a kid," admitted Annette, who said that retirement cleared the way for her and her husband to build their getaway in the woods.
The Fishbacks ordered their home from Clearwater Log Homes in Coeur d'Alene, and basically used a standard plan which they modified only slightly. "It was about 1,500 square feet, and I think it cost us around $25,000," she explained.
For that, they got a log shell with door and window cut-outs, and roof trusses. The logs, however, were custom cut, with the main beams measuring more than 2-foot around.
The cabin's foundation, electrical, windows, doors and finishing work were all handled by a general contractor, though the Fishback's did manage some hands-on work in the project. "My husband has built before," Annette explained. She added that the only thing they would have liked to have done differently would be installing radiant heating in the floor. "The house can get pretty cold if we're gone for a while when the temperatures are low. Because the logs absorb heat, it can take several days for it to get warm again."
Greg Flint is another who dreamed of that log cabin in the woods, only to find it available in a price range he couldn't meet. He persevered, however, and finally found that spot in the woods, complete with the shell of a kit log home.
"It was this totally big, empty shell, sitting there for 12 years," he said. "Everything was all weathered. I fell in love with it."
Rex Owens and Sean Krajeski, as co-owners of Sand Creek Log Homes, are just some of many who are turning their skills with wood into a money-making venture, catering to the people who dream of moving into a log cabin in the woods. In business since January 1999, they're finding plenty of work to keep their two-man operation busy.
"We do all the work ourselves," Owens said. "It's all hands-on and, for us, we make sure everything is done right."
By keeping their overhead low, they're able to offer log shells at $35 per square foot for the average design, or $25 per square foot for logs of seasoned pine.
"Our goal is to provide a product people can afford," said Owens. "Lots of people think log construction is very expensive, and they get scared of the prices and the time involved. Depending on the finish work, it just doesn't cost as much as they might expect."
However, it does take more time than conventional construction; a year to finish the project is common. "It's more custom, because you're dealing with logs," explained Krajeski.
"The custom aspect means it takes a lot more time," agreed Jason Hartman, of Hartman Handcrafting Custom Log Homes. "You have to find the logs, to begin with. You can't just go to the lumber store and find the stuff." Hartman uses standing dead or green wood which is then hand-peeled for his custom kits.
"They have to be willing to put in the time," pointed out Krajeski, who says constructing a log house isn't for everyone. "We live in a very instant gratification society." Owens suggests that buyers should plan on six to eight weeks of construction time for each 1,000 square feet.
Maintenance is another issue for log home owners. The logs should be oiled on a regular basis, and chinking may be necessary as the wood settles.
But for those who live in them, it's worth the extra time. "All my life, I wanted a lodge-like home in the mountains, with a cool little town not far away," said Flint. And the log shell "was neat in that there was plenty of room for me to do stuff that made it my own, without having to start right from the beginning." In the process of finishing his shell, Flint built and installed windows, doors and cabinets, laid a concrete floor, which he shaped to look like stone, over an in-floor radiant heating system in his sunken living room, and scoured his property for "curvy, twisted wood" to create balconies and railings for his stairs and porch.
Perhaps the inherent longevity of a log home is part of its appeal to the buyer. "It's like going back to the basics," explained Fishback. "There's nothing better than sitting here in the winter time with a fire going, watching the moose and the elk outside. It's just a real comfortable place."
Trish Gannon also wrote the feature on woodworkers.
---
MarketWatch
Current conditions in the area real estate market
1999 was on par with some of the best years for real estate sales and activity in Bonner County history, according to Steve Van Horne, associate broker at Coldwell Banker Resort Realty and the official spokesman for the Bonner County Association of Realtors (BCAR).
"The market started out like a house afire," he explained, although it slowed down toward the latter part of the year. The hottest sellers are houses priced under $175,000. "The $200,000-plus market has slowed significantly," Van Horne said, "but the lower-priced homes remain extremely active. Residential is still, far and away, the largest part of the market. It always has been and always will be."
BCAR statistics back up that perception. During the first half of the year, 270 residential properties closed, at an average price of $122,433. It's not a seller's market yet, however, as the average number of days on the market is still high at 203 days. In the last two weeks of July, there were 2,789 active listings in the Multiple Listing Service.
Improvements in both business and local infrastructure are having a positive effect on the market locally. "With Harbor's acquisition of the mountain and their resort experience," he said, referring to the purchase of Schweitzer by Harbor Properties in December of 1998, "we've seen some good action on the hill. But the inventory is not as high. I think the new ownership will be positive and feel it will benefit both on the mountain and down here."
Commercial sales also remain slow due to the limited properties available, with only 11 commercial properties sold in the first half of the year.
Since local real estate, overall, is leaning toward a buyer's market, sales are contingent on proper pricing, according to Van Horne. "Pricing is critical. Buyers are coming in, and if it's priced right they buy it. If the price is borderline, and they can negotiate, they buy it. But there's a more sophisticated buyer coming in, and they won't pay more than a property is worth."
In the past, he explained, prices were low enough that people would buy almost anything. "In the 70s and 80s it was such a bargain that people would jump at anything."
Recent infrastructure improvements in the area are proving to be a good selling point to interested buyers. "The library is beneficial to so many different levels of people; it's kind of an action-central for the community," explained Van Horne.
He says one of the first things he takes interested buyers to see is the construction of the new, two-story facility being built on Division. Then he heads to the hospital, recently remodeled and expanded. "Our medical center is a wonderful establishment for a town this size," he said. "These improvements satisfy both tourists and local needs, and show the citizenry is willing to support their community. We're very lucky.
"This is an area with a lot to be proud of. There are a lot of places that are very special, but they aren't any more special than Bonner County. That's why our market continues to grow."
-- Trish Gannon