Lyster an artist so fine on tiles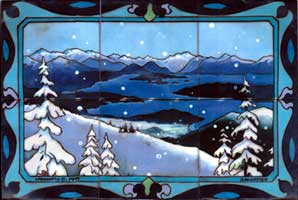 There is something fascinating and mysterious about an artist's studio. The mix of tools and materials scattered about in fits of creativity along with works in progress, can be a feast for the senses. In case you have never experienced this magic of art in action, take a trip to downtown Sandpoint and ascend the staircase at 305 1/2 First Ave. There you will find the Fine Art Tiles studio of ceramist Gail Lyster.
When Lyster bought the business in 1990, little did she realize that clients would request more than the traditional kitchen and bathroom decorative tiles.
"Whatever they dream of is what I do," Lyster said. "One client thought their pantry was too neat and organized. They handed me a jar of pickles and told me to break it and design floor tiles for their pantry that looked like a broken jar of pickles."
Along with the unusual requests she receives, Lyster also keeps busy with an assortment of address, business, commemorative and even portrait tiles. She also has a deep love of the region's native beauty which is reflected in the botanical designs in some of her work. The real magic of Lyster's ceramics comes from the meticulously applied glazes and the serendipitous results that are achieved when fired.
"When you close the kiln door at 2,000 degrees, you have to let go – anything can happen," relates Lyster.
Another passion that is reflected in her work is her photo-realistic renderings of historical scenes of the Sandpoint area. Lyster executes these highly detailed pieces with a special clay-based glaze that holds details when they are fired.
If you love art or if you are just plain curious, stop by or call 208/263-0826. As they say, seeing is believing, and Lyster's work is definitely a must see.
– Ben Silverman