Selkirk Loop: scenery worth every mile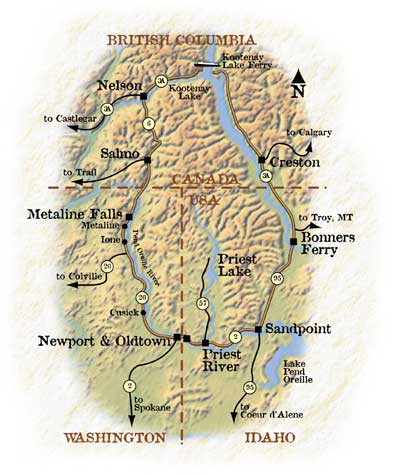 This area of the Pacific Northwest is blessed with an abundance of natural beauty in a diverse setting that includes rugged mountains, glacier-scored farmland, huge freshwater lakes and thousands of acres of dense, evergreen forest. The glaciated, 250 mile-long range of Selkirk Mountains teems with wildlife, including the protected grizzly bear and the only band of mountain caribou remaining in the nation.
Now, thanks to the efforts of a non-profit organization consisting of economic development, chamber and business leaders from Idaho, Washington and British Columbia, this spectacular scenery is even more accessible through the auspices of The International Selkirk Loop.
This 280-mile drive through the majestic Selkirks features an "abundance of scenic vistas, cultural experiences and recreation activities year-round," said Jan Griffitts, the group's marketing director. A drive along the loop will take you through two countries, two states, three Indian reservations, two national forests and over 55 lakes, including Pend Oreille, the third largest freshwater lake west of the Mississippi, and the largest lake in Idaho.
The Loop travels through Priest River, Sandpoint and Bonners Ferry in Idaho, crosses the border into Canada and winds through the British Columbian towns of Creston, Nelson and Salmo, then drops back down through Washington and the communities of Metaline Falls and Newport. At Kootenay Lake in Canada, Loop riders can enjoy a free, 6-mile ferry ride.
A brochure mapping the Loop and detailing some of the many cultural attractions along the way, as well as a calendar of events is available by calling 888/823-2626, or by visiting the website of The International Selkirk Loop at www.selkirkloop.org.
– Trish Gannon