Marty Becker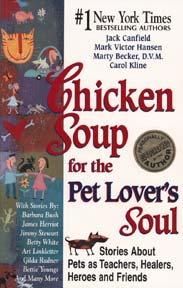 Feature interview with the co-author of
Chicken Soup for the Pet Lover's Soul
By Susan Drinkard
Marty Becker of Bonners Ferry, Idaho, may be the most famous veterinarian in the world. Given that Dr. Becker has almost entirely given up the practice of veterinary medicine, this is indeed a remarkable accomplishment.
It's easy to see why Dr. Becker has become a media personality. He is funny and has a delightful way of talking truth about "the bond," the transforming power of the "special affection connection" between a pet and its owner. He calls his work "a blend of science and soul." He appears frequently on ABC-TV's Good Morning America, and on a variety of segments for Walt Disney Television's series Petsburgh, USA. His local column, which he describes as infotainment, appears regularly in The Spokesman-Review.
Affiliation with the famous Chicken Soup books has been "mmmm mmmm good" for this Idaho native. He is a co-author of the heartwarming Chicken Soup for the Pet Lover's Soul, which was 34th in the USA Today list of top 10 best-selling books in 1998. A similar Chicken Soup collection with more upbeat stories – a Chicken Soup Lite, if you will Chicken Soup for the Cat and Dog Lover's Soul, comes out this fall. He is presently working on a book about celebrities and their pets.
Raised on a farm near Castleford, Idaho, west of Twin Falls, Dr. Becker was always surrounded by animals, including a sheep, Henry, who met him at his school bus each day. Three years ago he and his wife, their two children and the other people – their pets – moved north of Bonners Ferry, a town Marty Becker says reminds him of Mayberry. They like their ranch so well they call it "Almost Heaven."
Q. What brought you to North Idaho?
A. My wife, Teresa, is from Bonners Ferry. I met her at the University of Idaho. We figured we came up 300 times before moving here. We've always loved northern Idaho and when my dad passed on, it opened up an opportunity to move up here in the summer of 1996. Jim (Teresa's father) and I went fishing up Mission Creek once, and we pulled over for a cup of coffee and saw a very large house across a meadow. The Lord was good to us, and we were able to get it.
Q. Are you still a practicing vet?
A. It wouldn't be fair to say it because it's so part-time. I'm such a lousy veterinarian, even the relatives won't trust me with their pets! (laughs)
Q. Presumably you went into vet medicine because you loved animals.
A. I loved science, animals, and when I looked around the community, I realized the two most trusted, respected and admired individuals were the veterinarians. I thought, "Wow, I want some of that."
Q. When you talk about celebrating the bond, is it possible to characterize the bond between a human and a dog or a cat, etc. Are these bonds the same, or are there different "flavors" of bonds?
A. Yes, and it's changed. Let me give you a view of the evolution of this bond. Pets used to have a utilitarian role. A dog's job was to guard your stuff, and a cat's job was to get rid of the mice. During our generation, pets made this migration from backyard to bedroom to sleep, and from the kennel to the kitchen to eat. There used to be such a thing as a doghouse. Now a doghouse is three bedrooms and two baths, a wide-screen TV and a spa! What happened? We no longer wanted people to come over unannounced to visit. ... Now a home is not a home; it's a cocoon, a sanctuary, a decompression chamber where you don't want to interact with people. At the same time we always fall back to the timeless and tangible requirement to love and be loved, to need and be needed. Marvelously, at the same time we were pulling away from human interactions, pets came in with gifts of unconditional love, limitless affection, to-die-for loyalty, and the ability to erupt us into laughter. The strength of this bond depends on one's experiences growing up; the level of need to be touched by the magic wand of the special affection connection, and their lifestyle.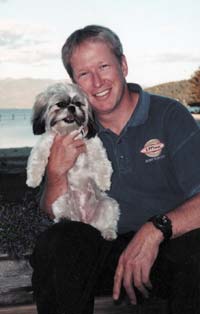 Q. It seems dogs have an intuitive sense. When we're going on a trip my dog seems to be filled with angst before we start packing. Is this projection on our part?
A. In some instances we anthropomorphize pets, but I think it's more the tendency to underestimate their intellect and gifts of intuition. I've been a lifetime pet lover and a veterinarian of 20 years, and when I started working out of my home I had intimate contact with my pets. I saw the subtleties such as the dogs gearing up for a family member's triumphant return home. You get off the hamster wheel we call work. You're fatigued; you feel like a human piñata: you're beat on, but not quite broken. You drive home; you don't have a clue who half of your neighbors are, but you do start to recognize some of the neighborhood pets. Then you get home. Now, I have a very close family, but I have yet to come home to that ranch and have Teresa bound out across the yard in super slow motion to meet me. Those kids' faces aren't pressed up to the window saying, "I think it's Dad! There's his lights!" But there are two people there: Sirloin, the black lab and Scooter, fox terrier. They are waiting at the same little spot every time. I might have been talking to some corporate group, or doing something with the book, but immediately my IQ drops to about 50 when I talk to those dogs. (His voice changes now.) "You's daddy's princess." If people heard you they'd lock you up. Once you do meet your family, the pets have drained the stress off of you, and you're in better shape because you're coming from a place of joy.
Q. Do you think you can love a dog too much?
A. Some people will say "How do you justify people spending so much money on pets when people are starving to death?" If they don't know the answer, they don't know the value of pets to individuals, families or societies. This is often a life-support system cleverly disguised as a pet. I have seen people who would sacrifice the welfare of their family for a pet, but that is an exception. Most of the time all you're doing is returning a small portion of what they so generously give to us. Have you ever wanted to go for a walk and have your dog refuse? Does the dog say, "No, Susan, not tonight. I got to hit the sack early tonight; I've got things to do." No, they don't refuse.