100 Years of Sandpoint - family roots tell the tale
By Sandy Compton
Digging into local history is like mining for jigsaw puzzle pieces. Much has happened on these shores since the year 1900, and the sheer volume of materials is daunting. Volunteers at the Bonner County Historical Society Museum are always looking for things to add to the files.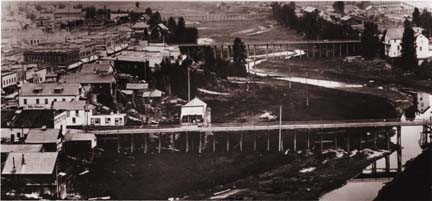 I'm looking at the turn of the century. The characters have more or less familiar names: Farmin, Hawkins, Selle, Dunn, Nagel, Ashley and even Switzer, aka Schweitzer, that old man whose name stuck to our ski area. Some are twined together, some lead one to another, all arrived before 1900, and some left a braid that will stretch into the coming century, 100-plus years of Bonner County genealogy.
The Northern Pacific crossed to the "sandy point" in 1882 on pilings that served 15 years before the current trestle was built. It wasn't Sandpoint that greeted trains but tiny Pend Oreille, spread on both sides of the tracks east of Sand Creek. A decade later, the Great Northern was built a mile and a half west of the lake, and the station was called Sand Point.
Great Northern Assistant Agent Ella Mae Farmin described the lakeside community (on the rival railroad) as a " … wild town of 100 people with 23 saloons, several houses of ill fame, two hotels, one restaurant, and the closest doctor 30 miles away."
The restaurant may have been operated by Mary Jane Hawkins, who joined her husband John George here in 1883. John George arrived in 1882 to build trestles for NP. When the railroad moved on, the Hawkins' settled at Sunnyside.
Another John George arrived in 1882, a German named Nagel who cut ties for the NP before homesteading at Clark Fork. Charles Selle came from Michigan to settle north of Sandpoint, attracted by big stands of timber. He was a relative latecomer, arriving in 1896, with his wife, Julia.
There were other families here before the stroke of midnight, Dec. 31, 1899, but these four strands in history are still pushing roots into the local soil. I met Dale Selle, a descendent of Charles Selle, John George Hawkins and William Ashley as he was researching his family history. A picture at the Clark Fork Methodist Church of John George and Annie Nagel on their wedding day led me to Jack Dunn. Bob Farmin supplied me with a piece written about his great-grandparents by Nancy (Farmin) Adams. His niece Tammy Farmin gave me her perspective on what her family did all those years ago.
Tammy is fifth generation Sandpoint. In a real sense, her great-grandparents, Ella Mae and L.D., brought Sandpoint into being. They bought squatter's rights on 160 acres along the west edge of Sand Creek, across the stream from that "wild town of 100 people," and after "proving up" on the property, platted it in 1898.
Ella Mae was the young woman of legend that Hermit Switzer became enamored of. As she rode her pony Nellie daily to the Great Northern station, Switzer would "salute" her, standing at attention with his rifle. When he showed up at the Farmin cabin one day, L.D. thought it time to call an end to the "courtship," and had the sheriff intervene. Hermit Switzer spent his last years in the state mental hospital.
The Farmins went on to establish the heart of Sandpoint, setting aside land for school and church, participating in building the core of the town, including the water system. Tammy feels their presence still. "Yesterday, I was driving down Pine and I started looking around to see which trees were largest, thinking Ella Mae may have planted them."
In the same manner as Farmins established Sandpoint, Jack Dunn's grandparents platted their homestead and sold lots that make up the city of Clark Fork. John George Nagel was a Kootenai County commissioner and postmaster at Clark Fork, as well as a partner of the Whitcomb brothers in a general store. His vision still lives in the Methodist Church, for which he donated the land. He also donated the land for the first school, which sat across the street from where the church still stands today.
Jack was born at Cabinet in 1919 to Max and Lillian Nagel Dunn, second daughter of John George and Annie. At the age of 5, Jack moved with his parents to Hope, to the place he still lives with his wife, Irene, on a hill above Denton Slough. Jack's memories include summer Indian encampments at the mouth of the Clark Fork. "They would come in the spring and stay in the meadows at Denton until the huckleberries were gone. I started visiting the camp when I was about 7." Jack thinks they stopped coming when Albeni Falls Dam raised the summer level of the lake in 1952.
Two of Dale Selle's great-grandfathers beat the 20th century to the area, and a third, John K. Ashley, came in 1902, but his father, Dale's great-great grandfather, was here by 1886 – William Ashley. His sons, William H. Jr. and John K., were both surveyors, as he was, and surveyed and recorded much of Sandpoint. Charles Selle was a logging contractor who worked for the mighty Humbird Lumber Company. John George Hawkins, after the railroad, farmed at Sunnyside-Pack River.
John George didn't make the turn of the century. He died in 1895, but his widow, Mary Jane, eventually acquired two sections of land at the east end of the Sunnyside Peninsula, Hawkins Point. The family is still here; some of them make salad dressing. Litehouse Dressing principals Doug and Ed Hawkins are also great-grandsons of John George.
The Farmin townsite was registered at the Kootenai County seat in Rathdrum in 1898, but the town did not incorporate until 1900. By then, the heart of town was already in Farmin's Plat. The NP raised the rail 10 feet after the floods of 1894, effectively building a wall through the middle of the town. Pend Oreille had the good grace to burn to the ground in November 1900, leaving only three buildings of that "wild town" standing, and Sandpoint on the west side of the creek.
Tammy, who recently began her own exploration of history, says, "I've always felt this is home, that my roots are deep here, but these stories give me a bigger sense that I need to carry on the legacy, do something positive for the community."
Studying local history can be daunting, but that does not take away from its intrigue. At least I have one corner of the jigsaw puzzle &endash; maybe a little more but it just may take another 100 years to put it together.
Sandy Compton's family roots lay just across the border in Heron, Mont., where the Comptons are also woven into history.