---
Gaming sparks new hopes for tribes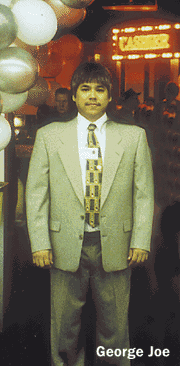 In northern Idaho, as on tribal lands around the nation, gambling is providing a new form of recreation for tourists and local people ­ and a new economic prospects for two tribes.
"It's finally given us some hope for a better and brighter future," said Velma Bahe, chairperson of the Kootenai Tribe of Idaho, which operates the Kootenai River Casino in Bonners Ferry. Likewise, Laura Stensgar, marketing director for the Coeur d'Alene Tribal Bingo/Casino, says she has seen the changes the gaming operations have made for her tribe since March 1993, when they opened their casino in Worley, 30 miles south of Coeur d'Alene.
"To see it come to life and to blossom has been a real treat for me," said Stensgar. She said after studying how other tribes had successfully developed gaming operations, the Coeur d'Alene Tribe decided to open the facility to produce jobs and generate revenue for tribal and social programs.
The result is 200 new jobs and 15 percent less unemployment on the reservation. Besides pumping $650,000 into the tribal and public schools in Worley, the gaming operations fund elder and youth programs and other social programs once administered with federal and state revenue. Money earned has also allowed the tribe to purchase lands within their 365,000-acre reservation to aim at eliminating inholdings.
The $2.9 million loan secured through the Bureau of Indian Affairs to build the casino was paid off in only three years. In June, the tribe will break ground on a 120-room hotel and entertainment plaza that will include a daycare and restaurant. In 1996, the operation paid out $46 million and netted $8 million.
Up north, gaming has also "worked wonders" for the Kootenai Tribe, according to Bahe. Gaming funds have allowed the Kootenai to establish their own employment and welfare programs, improve elder and youth programs, and make contributions to the local school district. In April, the tribe gave $93,000 to the underfunded Boundary County schools.
Gaming has made a difference for tribal members, too. "A number of them have moved back because of employment at the inn with gaming and the motel operations," Bahe said. Stensgar confirmed that tribal employees have gained new pride.
George Joe is a Coeur d'Alene Indian who had been gone from the reservation for 13 years, living and working in places like California and Alaska. Now, being home in Worley and working at the casino has allowed him to reconnect to his roots. "I'm helping out my people as well as my family and myself," said Joe. He has worked his way up to weekend manager.
"I'm really happy for this place and that they provided me with the opportunity," Joe said.
­ Billie Jean Plaster