---
A tribute to Cap Davis, photographer and tale teller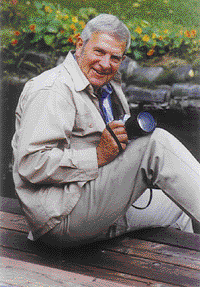 I have to tell a story on Cap Davis, the Sandpoint photographer who spent most of his life photographing the people, places and wildlife of northern Idaho.
I met Cap more than 15 years ago but it was only in the past five I got to know him, as we began to call on more and more of his work for Sandpoint Magazine. I always enjoyed talking with Cap. He was a walking local history book. Even better, he was a great story teller.
Last winter we decided to do our cover story on Cap and his work as a photographer. Faced with dozens of shots that would make a striking cover, I finally picked one of a coyote peering from behind a boulder. I remarked on the reddish-brown coloring on its head.
"Let me tell you about that coyote," he said. "Most people will tell you a coyote can't take down a healthy deer or elk or whatever. But that's not true."
It seems Cap was doing some wildlife photography in southern Idaho when he spotted a pair of coyotes teasing a healthy, full-grown bighorn ram. One would dart in front of the ram and, when he turned to charge, the second coyote would slip in to bite from behind.
Turned out it was no game. Over the course of some hours, as Cap watched and took photos, the coyotes eventually brought it down. That afternoon the coyotes made a feast of the ram. Cap left at nightfall and returned the next day. The coyotes were still about, but that big, strong bighorn ram was down to just a skeleton. Cap snapped the picture we used on our cover as a light snow began to fall.
"That coyote was just a messy eater," Cap said. "He'd been gnawing up under the rib cage. He was all smeared with blood."
He paused. "You know, that's what I like about nature photography," he added. "It makes you keep things in perspective. One day you can be the king of the mountain, but the next day you're just a coyote turd."
All those years observing the world through his camera gave Cap a pragmatic viewpoint on life and death. And most matters in between.
Cap Davis died last Nov. 23 at 69 years old. He was the salt of the earth, and Sandpoint is the poorer for his passing.
­ Chris Bessler
Cap's photography will be featured Aug. 1 to Sept. 12 at the Old Power House POAC gallery.