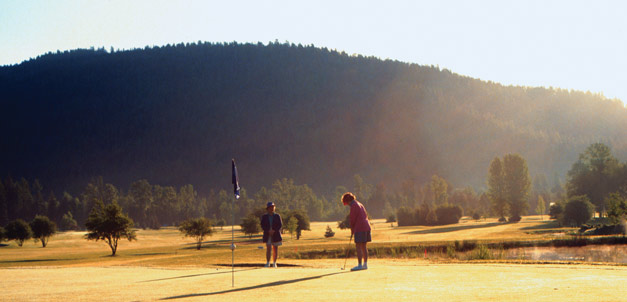 Cap Davis Photo Courtesy of The Greater Sandpoint Chamber of Commerce
Going under the blade:
Hidden Lakes closes to get a Jack Nicklaus redesign
and a new name
Opportunity ripe to explore other area courses
by Keith Kinnaird
If you haven't hit the course at Hidden Lakes Golf Resort yet, your time is running out.
The northern Panhandle's premier golf course is set to close in late May or early June, so work can begin on the comprehensive facelift that will transform Hidden Lakes into the Northwest's premier golf resort.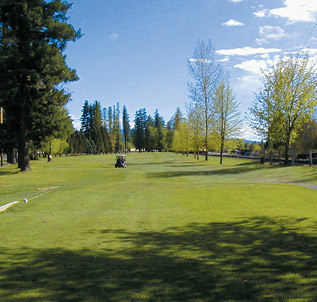 Photo by Billie Jean Plaster
There's even a new name to go with the new face – The Idaho Club.
"We thought with a new golf course, we wanted this to have a new beginning. We want to take it to the next level," said Chuck Reeves of Bonner Pend Oreille Investments, which is in the process of purchasing the resort from Dick Villelli.
Construction equipment will replace duffers as the sale closes. Developers have received approval from Bonner County to add up to 327 new dwellings. The new units, along with the 171 units the county has already approved, could bring the total number of dwellings to 498, but Reeves said the density is being scaled back to avoid muting the natural surroundings.
"We keep looking at it, trying to make it better every day, if we can," Reeves said of the evolving layout.
The club's centerpiece will be the Jack Nicklaus Signature links course. The Golden Bear's name can be found on a number of courses in the country, although only a few are signature courses which have Nicklaus' direct involvement in how it's designed and laid out. The Idaho Club will be one of those courses.
Reeves said the plan is to have nine holes ready for play by 2007 and the remaining nine holes completed by 2008.
"It's really a two-year process," said Reeves.
Hidden Lakes earned its name from founder Jim Berry, because the water hazards aren't always visible from the tees or on approach to the greens. The new name, Reeves said, signifies a new era for the development. It also pays homage to Lake Pend Oreille, which will eventually figure more prominently at the club. Developers are also purchasing the lakefront Idaho Country Resort with plans to link it to the club.
Back at the Hidden Lakes site, Reeves envisions something of a town center around the existing clubhouse. A spa, fitness center, pool and condos will help round out the core. Retail opportunities could include a sandwich shop and a fly-fishing shop.
There will also be a concerted focus on amenities and activity-oriented programs geared toward families and children, something Reeves said is sadly absent from many golf communities. Kids could take in sailing, boating or fishing lessons while mom and dad hit the links.
"Your imagination is sort of the only thing that limits what you can do," said Reeves.
Though the name of the course is changing, the prevalence of water will still be a key feature. Hidden Lakes is already flush with water obstacles, thanks to a tangle of creeks and a constellation of ponds and lakes that dot the resort. Villelli said there could be more water hazards after the dust settles from the redesign.
"The water will still be a huge element, but it will come into play in different, more refined ways where – with a good golf shot – you're not going to get in trouble," he said.
The course could stretch to 7,300 yards, although Villelli anticipates the forward tees will be a bit more ­forgiving. Villelli describes the new layout as a rewinding of the current flow. No. 9 will become the starting hole, but the existing green will be the tee. Nos. 8 and 7 will also be played in reverse.
"Then there's the new hole," Villelli said, referring to the vicinity of No. 12, a par 3 that currently features the glassy pond on the right and the waterfalls on the left. "That's changing dramatically. You're actually going to play over that entire pond and shoot up toward where the tee box is on 13. Then you go under the tunnel and play seven holes on the other side (of Highway 200)."
Several of the entirely new holes on the other side of the highway work in an earthy element that doesn't come into play on the existing 18 holes – granite. Villelli said there is an idea to route the holes through a reclaimed rock quarry, adding another facet to the resort.
The traditional links format means there will be no front nine and no back nine, although Villelli said there will be a halfway house with refreshments and restrooms.
The resort's driving range will also be redone into what Villelli calls a "learning center." Along with the standard firing line, and practice chipping and putting areas, Villelli expects there will be a videotaping setup where people can scrutinize the nuances and mechanics of their swing.
"You can watch yourself swing, learn from it, progress and get better, as opposed to just standing there hitting ball after ball," he said.
From what Villelli knows about Nicklaus, he operates on the fine wine theory: It will open only when it's ready and when it's world-class.
"The intention is to create the finest golf course in the Pacific Northwest and the finest destination golf resort. It just takes a little bit longer to do it the best," Villelli said.
Time to explore other courses
There is a bright side to Hidden Lakes' hibernation. Golfers now have a perfect excuse to hit up the five other golf courses in Bonner and Boundary counties. Each of the courses has their unique challenges and personality.
For those looking for a true 18 with panoramic vistas, they can fix their gaze toward StoneRidge, A Golf and Recreational Community, or the Priest Lake Golf Club – both in western Bonner County.
StoneRidge, located off Highway 41 in Blanchard, underwent its own renovation in 2001 and reopened for play in 2002. The realigned course offers sweeping views of the Blanchard and Hoodoo valleys.
Aaron Lynn, StoneRidge's director of golf, expects to see an uptick in visitors because of construction at Hidden Lakes, but adds that the golf resort community is already seeing a spike in play anyway.
"We've increased our play by between 10 and 20 percent every year since we've remodeled," he said. "I honestly don't think there's a better value in the Pacific Northwest."
Lynn said players will now have to do less guesswork on club selection. Distance yardage is being put on sprinkler heads, and now that range finders are permissible in competition, flag sticks have been fitted with reflectors, so golfers will know how much distance is between their golf ball and the cup.
Lynn said range finders can be rented at the pro shop if you don't have one of your own.
Although StoneRidge is about 45 minutes southwest of Sandpoint, it's well worth the drive. Set in a prairie hemmed by tree-studded hills, there is no shortage of challenging but fun golf holes.
StoneRidge is composed mostly of par 4 holes. There are five par 5s and as many par 3s. The resort also has a 19th hole called "The Gambler," which invites golfers to test their end-of-the-round luck and nerve.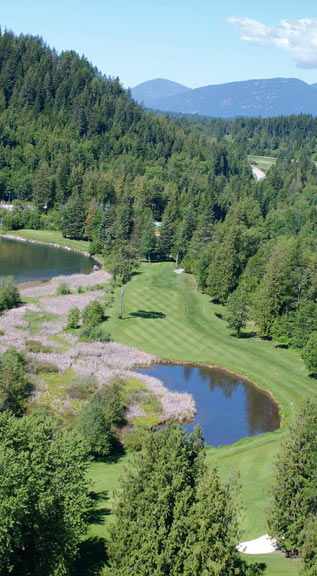 Photo by Joann Doast
The Priest Lake Golf Club, located north of Priest River on Highway 57, expanded to a true 18 in 2002. The new front nine winds around wetlands and through rock outcroppings, resulting in a par 72 course.
No. 2 is the course's toughest hole, thanks to a trifecta of hazards – a pond and sand trap guarding the front of the green and a jail of trees to the back. Much like Hidden Lakes, moose and deer can be seen ambling down fairways amid the 6,500-yard layout.
The Mirror Lake Golf Course on the southern side of Bonners Ferry on U.S. Highway 95 is, at its core, a nine-hole affair, but has staggered tee boxes to create an 18-hole track. The bluegrass fairways are lined with trees, but there is still plenty of room to drop your shots. Water hazards in the form of springs come into play on four of the holes and the bent-grass greens are typically large, undulating and swift.
Situated in the Kootenai River Valley, Mirror Lake boasts views of serene pasture land, the Selkirk Mountains and attendant foothills.
For those looking for something a little more laid back, the Sandpoint Elks Golf Course in Ponderay and the Ranch Club in Priest River are good options. Both have nine greens and 18 tee boxes to create a front-and-back feel.
Compared to the other courses in the tip of the Panhandle, they are smaller. But that doesn't mean they're lacking in challenge. Consider the Elks' No. 6, which has a meaty fairway but is flanked by railroad tracks on the right and a parking lot on the left. This 392-yard par 4 rewards those who can shoot straight. Hook it and hope the ball doesn't tag a vehicle or the golf cart sheds. A slice off the tee can land a ball on the tracks, where it typically leaps out of one's possession for good.
The Ranch Club's No. 6 also requires straight shooting. Dense woods line the fairway and there is a high-tension power line that's very much in play. Although U.S. Golf Association rules demand replaying the ball if it clangs off the tower or power line, the local rule gives people the choice of replaying.
The Elks' course is located next to Lake Pend Oreille on Highway 200, although foliage obscures the view in the summer. However, there are great views of the Selkirks. The Ranch Club's scenery is dominated by the Pend Oreille River Valley.
Becoming a different type of attraction
Even though there is limited golf at Hidden Lakes this season, Villelli said the resort is still attracting potential visitors interested in seeing how a Nicklaus Design course takes shape.
"We actually had a bunch of people make reservations, and they just want to come out and see what it's like to maybe watch the No. 1 course in the Northwest come together," said Villelli.
Villelli acknowledges the redesign has inspired some grumbling from course regulars, but he remembers when people were down on him when he had the course redesigned a few years back.
Back then, critics argued the course couldn't be perfected, but Villelli said that some of those same people later admitted he had managed to do just that.
"That's what we're trying to do. If everybody'll be patient, they're going to be rewarded tenfold," he said.
Villelli says he is proud of what he accomplished at Hidden Lakes and is glad to see people coming on board who are committed to conscientious development.
"I think I'm going to get to play the last round. Even though I don't golf, I think I'll sneak out after everybody's gone and hit one more just to say, 'I was the last guy,' " he said.
_______________________________________________________________________________