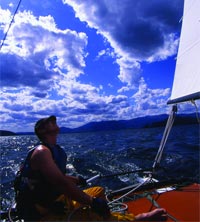 Photo by Woods Wheatcroft
A Wilderness of Water

Lake Pend Oreille
"The wilderness of water has a spiritual vastness that's almost greater than any wilderness of land."
- Russell Keene, Sandpoint, Idaho

Russell Keene, 84 in 1993, amassed 4,000 miles canoeing upon the waters of Lake Pend Oreille. In a story that appeared in Sandpoint Magazine that summer, Keene exclaimed, "I have great respect for this lake. I know it can kill me. (But) you got to live with the wilderness of water … there's a certain thrill in pitting yourself against a wild thing like this lake, and believe me, when it gets rough, it's wild – terrifying!"
Gouged by ice and cataclysmic flooding, Lake Pend Oreille is a remnant of Glacial Lake Missoula. The Clark Fork River, flowing from Montana's northern Rockies, supplies 90 percent of its water. The highest point in Bonner County, Idaho, looms over the Clark Fork delta – Scotchman Peak at 7,009 feet.
Indigenous tribes prospered here, and they still treasure sacred places on Lake Pend Oreille. The fur trading era brought great change when David Thompson, an early explorer, built the first trading post in the Inland Northwest on Hope Peninsula in 1809.

Much of Pend Oreille's shoreline remains accessible only by boat, so wildlife is abundant. Waterfowl flock to these waters. Eagles and osprey soar overhead and deer drink quietly in morning mists. Moose wade in its shallows and beaver ply its backwaters. From the mountain goats on Bernard Peak to the fish swimming its depths, the lake is vibrant with life in all its wondrous forms.
Today, Lake Pend Oreille is still Russell Keene's wild and terrifying "wilderness of water." Yet, the lake, for all its wildness, can be a place of serenity as well. Keene said he was never lonely on the lake, and those times when no one was out there but him, he relished the peace. "It's a feeling that you are alone with the Creator, and you listen to the deep calm of it," he said.
You are invited to experience Lake Pend Oreille for yourself, its wildness and its deep calm. Its spiritual vastness awaits you.
Lake Pend Oreille Vitals
Location: Bonner and Kootenai counties, Idaho
Area: 148 square miles (94,600 acres to Albeni Falls Dam), 26th largest freshwater lake in the world
Length: 43 miles
Maximum Width: 6.5 miles
Shoreline: 111.4 miles
Depth: 1,158 feet (5th deepest lake in America)
Full Pool Elevation: 2,062.5 feet
Receation on The Lake
The water, the wildlife and all that goes with water is magnified by the immensity of Lake Pend Oreille. Getting in and on the lake is easy with 30 public access sites. This guide gives a head start on where to go for a variety of activities. Refer to the map for access site locations on page 36-37.
Swimming
Beaches abound around the lake, some with soothing sand, others with fine gravel and cobble-sized stones and still others with mud. Among the best swimming areas are: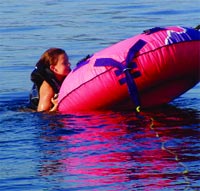 photo by Trish Gannon
Sandpoint City Beach – sandy beach, lifeguards, all the amenities of being close to town
Trestle Creek Recreation Area – muddy and rocky beach, dock, picnic tables, vault toilet
Green Monarchs (Long Beach) – boat access only, rocky and sandy beaches, primitive camping, vault toilets
Green Bay – dirt road access, rocky beach, picnic tables, primitive camping, pit toilet
Dog Beach – asandy beach accessible by the path at the north end of the Long Bridge or by boat
Paddling
In the 1970s Skip Pucci and a group of Boy Scouts circumnavigated the lake in six days in canoes. You might not have a whole week, but there are plenty of opportunities for spending an hour or a day paddling upon its waters. Here are three: put-in sites:

Pack River - inconspicuous launch site on Highway 200 near milepost 52, limited parking, short portage, high likelihood of seeing a variety of wildlife and waterfowl.
Johnson Creek - boat ramp access to the Clark Fork Delta, primitive campsites, picnic tables, vault toilet, lots of wildlife and waterfowl.
Sailing

Bayview at the south end of the lake, next to Farragut State Park, is the center of sailing on Pend Oreille. A mixed fleet races here in the summer; sailing gear is available for purchase and the lake's only sailmaker is based at MacDonald's Hudson Bay Resort. At Bitter End Marina is the home of the Lake Pend Oreille Yacht Club, a group of sailors who come from far and wide to sail on weekends.
Hope, on the north end of the lake, is a great lunch-and-swim spot, crowded and active in summer and utterly deserted at other times of the year.
Sandpoint harbors the Windbag Marina at City Beach and is home to the Sandpoint Sailing Association with its weekly regattas.

Motor boating
More than two dozen public and private boat ramps provide boat and trailer access to the lake. Waterskiing is popular, but be sure to watch for logs and other debris, especially near the Clark Fork and Pack River deltas. Several good points to put in the lake include:

photo by Doug Marshall

Sandpoint City Beach - on the edge of downtown Sandpoint; the park has swimming, concessions and restrooms; the paved parking lot is spacious; access to the northwest corner of the lake and the Pend Oreille River.
Hope Boat Basin - paved launch, two docks, plenty of parking; at north end of the lake. Boat ramp is beneath the curving overpass just west of Hope.
Farragut State Park - a premier state park with swimming, hiking, biking, camping and other activities; paved boat ramp provides access to the south end of the lake. Fee area.
Picnicking

Maybe you want a place to simply look out over the lake while enjoying a relaxing picnic with family and friends. Here are several locations that capture the awesome aura of the lake.

Trestle Creek Recreation Area - shade trees, picnic tables, grassy lawn, swimming, vault toilet. To get there: take Highway 200 about 12 miles east of Sandpoint and turn south at Idaho Country Resorts, then follow the signs to the picnic area.
Whiskey Rock has remote camping, picnic tables scattered among trees and rocky terrain.
Garfield Bay is a sheltered bay with terrific views across the lake, relaxed atmosphere, picnic tables and grassy lawn.

photo by Chris Bessler
Hiking
For those who like vistas of the lake from the surrounding mountains, there are numerous hiking trails that grant panoramic views and visit sites of historical significance. A sample of them follow.

Sam Owen Trail No. 4 just opposite Sam Owen Campground, is an easy trail less than a mile in length to the gravesite of Sam and Nina Owen, who donated land to be developed into a recreation site. There are views of the lake, but better yet is the spring wildflower display and the wild whitetailed deer that behave as if they are tame.
Mickinnick Trail, a new Forest Service trail, explores a ridge between Syringa Creek and Little Sand Creek with extraordinary views of the lake and Sandpoint. The first phase, 3.5 miles, is now open. Trailhead is on Woodland Drive in Sandpoint one-half mile from Schweitzer Mountain Road.
Trail Nos. 68 and 69 run along Green Monarch Ridge to Schafer Peak (5,210 feet), with spectacular views of the northeast portion of the lake, 4.5 miles one-way on this difficult trail. To get to the trailhead: Turn south off Highway 200 in downtown Clark Fork by the Conoco station onto Stevens and follow it across the tracks and over the river, then bear right and head for Johnson Creek. Continue on Road No. 278 to Johnson Saddle and the trailhead.
Mineral Point Trail No. 82, also known as Jake's Trail, was named after Brent K. "Jake" Jacobson, a Forest Service law enforcement officer who gave his life in the line of duty. Subsequently, his friends and community honored his memory by developing this trail. A memorial plaque is located at the north end of the trail on a bluff overlooking the lake, Scotchman Peak and Jake's Mountain. 2.5 miles one-way, connects Mineral Point to Green Bay. To get to the trailhead: Turn east off Highway 95, 6 miles south of Sandpoint onto Sagle Road. Go about 8 miles to Garfield Bay and follow the signs to Green Bay and the south end of the trail or continue to a spur road that connects to the north trailhead.

Biking and driving tours
There's nothing like being on the lake riding its tranquil – or stormy – waters, but people who like to drive and pedal their way around can enjoy the lake as well from their car or bike. Here is a route for each:

Bottle Bay-Sagle Road Loop Tour: Bicycle 6 miles south of Sandpoint, turn east off Highway 95 onto Sagle Road. Ride hilly countryside to Bottle Bay Road; follow the lakeshore back to Highway 95 a half-mile south of the Long Bridge. 26.5-mile loop. Alternate route: Take Gold Mountain Road No. 2642 from Sagle Road to the summit and then descend Trail No. 3, a single-track, hair-raising dirt path 1,600 feet down to Bottle Bay Road.
Pend Oreille Scenic Byway Driving Tour: Begin at Sandpoint and follow Highway 200 33 miles to the Montana border, often right alongside the lake. Stop for the interpretive signs along the way. A visit to Clark Fork and back to Sandpoint is 50 miles round trip; or continue into Montana to Highway 56, which traverses one of the most beautiful valleys in western Montana. Turn north and at the junction with Highway 2, turn west and go to Bonners Ferry then go south on Highway 2/95 back to Sandpoint. 150-mile loop.

Fishing

Lake Pend Oreille is a big lake and it harbors big fish. The largest ever taken was a mackinaw (also called lake trout) in 1994 that weighed over 43 pounds. The world record kamloop, or Gerrard rainbow trout, came from its waters in 1947 and pushed the scales over 37 pounds. But not all the fish in Pend Oreille require deep sea gear to catch. From yellow perch to cutthroat trout, there are 16 species of native and non-native game fish in the lake. Remember, bull trout (no black spots) is protected under the Endangered Species Act, and kokanee fishing is closed.

Wildlife viewing
Animals of all sorts are practically everywhere in northern Idaho, but for unparalleled opportunities to see the menagerie of waterfowl on Lake Pend Oreille here is one suggestion:

| | |
| --- | --- |
| Denton Slough - Once a meadow utilized by Native Americans as a gathering site, it was flooded with the construction of Albeni Falls Dam and became a magnet for countless species of waterfowl. This site between Hope and Clark Fork along Highway 200 is a premier spot for bird-watchers. | |
A Lake Reader
– A sampler of writings
Pend Oreille Paddler

–James R. McLeod, Mysterious Lake Pend Oreille and its Monster, 1984