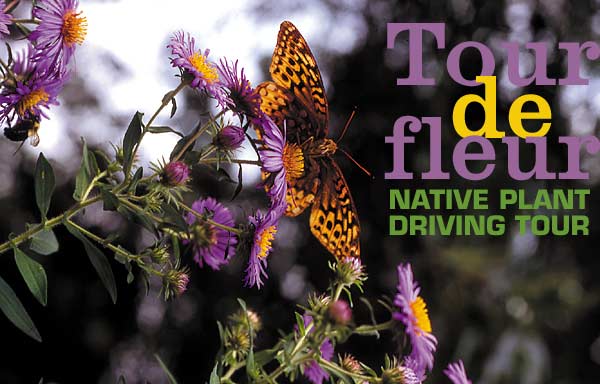 A fritillary butterfly rests on aster.
Story and photos by Barbara Pressler
If you can't bike or hike, but you would like to see wildflowers all from the comfort of your car, consider these three driving tours for summer day trips – perfect for folks with handicaps or, in my case, just lazy. The scenery is fabulous, of course, but the main attraction is wildflowers galore. To keep it that way, refrain from picking or transplanting native plants. So fill up your tank, get a forest map, pack a picnic lunch and hit the road.
Tour No. 1: Trestle Creek to Ross Creek
The world and its conflicts begin to fade as I drive into the cool, dark forest, offering aromatherapy in pervading scents of cedar, pine and damp earth. A few early bloomers, red and white trillium, quilt the hillside on my left, integrated with heart-shaped leaves of wild ginger. On my right is the lilliputian prize of the forest in deep, mossy shade, our lovely and rare calypso orchid or fairy slipper – 2 to 4 inches tall. Autobahn drivers will miss this flower. With my head hanging out the window like the family dog, I pass banks of sego, or mariposa, lilies, spring beauties and clintonia.
Right about the 6-mile marker, my car explodes into sunlight, and I pause to look at the Olympian of the forest, the orange-red honeysuckle vine reaching, at times, 30 feet, complete with hummingbirds. A few hundred yards farther in a patch of woods, draped languidly over a log is a blue clematis whose flowers look like nodding lanterns. Nine-mile is bursting with bloom; a variety of lilac, pink and blue penstemons are hanging off boulders. Yellow sedums and pussytoes are elbowing each other for space right on the roadside. No marriage counselor needed here.
At 11-mile, your breath will be taken away by an odiferous, outrageous meadow of beargrass, which bloom on 4-foot stems every three to 10 years. Blooming begins in June at around 3,000 feet and goes to August at higher altitudes, true for almost all flowers. If you missed it a month ago, you can find a repeat performance the higher you go. But don't stop here: A dazzling display of fireweed awaits you at the top. Crossing the pass and entering Montana, head toward Highway 56 and the way to the Ross Creek Cedars, our answer to the redwoods.
From left, trillium, fairy slipper, beargrass and fireweed
Tour No. 2: Kootenai National Wildlife Refuge to Roman Nose
Beginning at the Kootenai National Wildlife Refuge in Bonners Ferry at the foot of the Selkirk Mountains, you can see resident bald eagles nesting, 230 other bird species, a plethora of seasonal wildflowers, and wildlife such as moose and bear.
Next stop is Roman Nose for the most panoramic scenery to behold. High in the Selkirk Mountains, a mere 20-plus miles from the Refuge, are hillsides and ditches filled with brilliant primary colors of Indian paintbrush, monkey flower and monkshood, looking like blue-hooded clergy, a poisonous plant once used to bait wolf traps. Savor the heady aroma of Idaho's state flower, syringa. In August and September, deserted cars will be along the road, their occupants moving about the hillsides in huckleberry patches. Avariciously guarded, the patches evoke pleasure in hoarding. At Roman Nose Lake, a boardwalk around the lake with a restroom rates this magical subalpine area an A+.
Tour No. 3: The Highdrive
Ah yes, the Clark Fork Highdrive: What you see is what Nature has selected in her own divine order. She gets The Golden Trowel Award for this one! Mountain meadows of white daisies, purple lupines and shocking pink fireweed are reminiscent of the hills in the "Sound of Music." A short detour at milepost 4 will wind you through carpeted banks of riparian wildflowers to a mystical vista of Lake Pend Oreille. Returning to the main road, you will later encounter a choice to take the low road or the high road. Personally, I like the high road.
So what will it be, panoramas of Lake Pend Oreille, wildflowers or huckleberries? It's all here, the best of the best, on these driving tours.
Directions
Tour No. 1: Trestle Creek to Ross Creek
Approximately 12 miles east of Sandpoint on Highway 200, turn on Trestle Creek Road 275. Stay right at the Quartz Creek junction. Turn south on Road 419; take it to Road 473 and on to Rattle/Keeler Creek. Follow Road 473 all the way to Highway 2 and turn right to Highway 56 (Bull River Road) past Bull Lake; turn right on Road 398 to Ross Creek Cedars. Upon exiting turn right on Highway 56, back to Highway 200 and west to Sandpoint.
Tour No. 2: Kootenai National Wildlife Refuge to Roman Nose
Take Highway 95 to Bonners Ferry and turn left on Riverside Road along the south bank of the Kootenai River. Drive west for 5 miles to the entrance. To reach Roman Nose Lakes, go past the refuge south approximately 2 miles on Road 13 and take a sharp right on Snow Creek Road 402. Follow the signs to Roman Nose approximately 20 miles. When you return to Road 13, go right until you reach Road 2. Follow it either way back to Highway 95.
Tour No. 3: The Highdrive
Go east on Highway 200 to Clark Fork and turn right on Stevens Road at the Conoco station. Cross a one-lane bridge over Clark Fork River and take a sharp right on Road 278. Optional side trip at mile 4: Take Road 2710 to Johnson Point and back for a view of Lake Pend Oreille. Follow Road 278 to the tee, where you can continue on Road 278, the "low road" to Whiskey Rock camp and picnic area. Or turn south on Road 1066 to Road 332, the "high road" that follows the ridge; continue to where it meets up with Road 278. At the end of Road 278, turn right onto Bunco Road 209 to Highway 95.

For forest maps and free information, contact: Sandpoint Ranger District, (208) 263-5111; Libby Ranger District, (406) 293-6211; Kootenai Wildlife Refuge, (208) 267-3888.