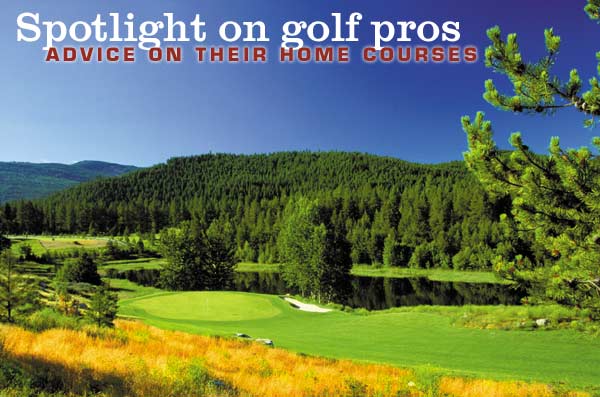 The view of hole No. 1 at StoneRidge. Photo by John R. Johnson, golfphotos.com
By Marianne Love
You're teeing off on No. 14 at Hidden Lakes Golf Course off Highway 200 near the Pack River delta eight miles east of Sandpoint. A moose check indicates the fairway is all clear.
"Play your drive over to the right side of the fairway," says head PGA pro Mike Deprez. "For good players, this avoids the OB left and gives a larger landing area on the green. If you're an average player, play to the right off the tee and play to the front of the green to avoid the water on the right. You should take one-half club short for your approach."
The 18-year-old course, teeming with natural beauty and abundant water obstacles, lends itself to right-handed golfers. Instructor Jamie Packer, a left-handed swinger, suggests using irons to keep the ball in play.
"Off the tee, have a definite idea of distance," he suggests. "This allows for more conservative play."
Course manager and PGA Master professional Ken Parker advises that most problems at Hidden Lakes occur on the left side of the hole or fairway. Therefore, the ability to hit the ball a bit to the right and get away with it makes for easier play.
Meanwhile, over at Sandpoint Elks Course, a mile north of Sandpoint on Highway 200, veteran course manager and instructor Tom Tharp says the key to success on the nine holes near Lake Pend Oreille's northwest shore is to "keep it in the fairway." Challenging play comes on No. 7.
"Tee off with an iron to keep it in the fairway," Tharp says. "Then you should be able to get the next shot close for an easy chip and a birdie, or, at worst, a par."
While playing the 19 holes at recently redesigned StoneRidge, 30 miles southwest of Sandpoint near Blanchard, head pro Dave Estes says, "Don't let the views steal your attention from your game. Our greens are very large, and if you hit it to the wrong side of the green, a 3-putt can happen pretty easy."
At newly expanded Priest Lake Golf Course, 28 miles north of Priest River alongside Highway 57, course manager/pro Chris Runyan calls holes 12, 13 and 14 the "amen corner."
"If you can get through those three, you're scot-free," he says. With its new look, he describes the course as a "cross between Hidden Lakes and Prairie Falls in Post Falls."
These pros will share their expertise with links lovers striving to improve their game while playing the courses. Each brings his unique teaching style and experience to northern Idaho resorts.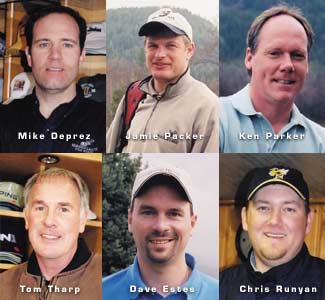 Photos by Marianne Love
Hidden Lakes Golf Resort:
For lessons, call (208) 263-1642. For complete information, look up
www.hiddenlakesgolf.com
.
Ken Parker: 42-year-old San Antonio native, one of two professionals nationwide with both PGA Master professional status and Certified Club Manager (CCM). Refines methodology through coaching summits, reading. $60 for 45-minute lesson. Follows Zen approach of "feel and touch" rather than analytical. "People love their golf pros. ... I'm the ringmaster of their fun. That's what I enjoy most."
Mike Deprez: 42-year-old White Plains, N.Y., native, Class A-1 PGA Pro since 1990, certified in USGA and PGA in rules. Available 7 days weekly; $40 for 35-to-40-minute private lesson. Attends national teaching and coaching summits. "Teaching is very important to me. [I try] to always listen and improve my own abilities. I plan to push video when the new learning center gets built."
Jamie Packer: Hidden Lakes director of recreation, born in Masefield, England, in 1971. Grew up in northern Alberta. Golf pro for 13 years. In 2004 will have PGA Class A rating. $40 for 30-to-45-minute lesson, any day but Wednesday. "I love working with golfers on the lesson tee. ... Everyone is different – a little detective work goes on, and I get a great deal of satisfaction finding the solution."
Ryan Burke and Paul Hefner: Golf apprentices, available for private and group lessons with beginners and juniors.
Sandpoint Elks Golf Course: For lessons and complete information, call (208) 263-4321.
Tom Tharp: 59-year-old Spokane native. Class A member of Golf Course Superintendents of America. Associated with Sandpoint Elks since 1986. Coached high school girls golf teams and helped start city recreation league junior golf program. $25 per lesson. "Our mission is genuine, friendly people presenting a well-maintained course for a fun golf experience."
Priest Lake Golf Course and Nordic Center: For lessons, call (208) 443-2525. For complete information, look up www.priestlakegolfclub.com.
Chris Runyan: 31-year-old Spokane native. Will graduate from Golf Professional Training Program in 2004. Experience includes pro shop at Downriver Golf Course and Indian Canyon. Charges $40 for half-hour lesson or series of six for $200. Once caddied Ben Hogan tour in Tri Cities, Wash. "We caddied with Paul Goydos and Ted Tryba and were golfing behind Dave Duvall ... the most educational part of the game I've ever had ... watching their swing techniques, training aids and picking their brains."
StoneRidge Golf: For lessons, call (208) 437 4653. For complete information, look up www.stoneridgeidaho.com/golf.
Dave Estes: 34-year-old Coeur d'Alene native. PGA of America member; 200-plus pro tournaments. Continuing education through PGA. Pilfering range balls as a youngster led to golf career. At StoneRidge for 10 years. $39 for weekend lessons; $32 for weekdays (includes golf, power card and range balls). Gave San Francisco 49ers quarterback Steve Young a lesson. "One of the many things great about golf is that unlike team sports, your success is relative." Apprentice Jeremy Wallis, a Priest River native, also teaches at StoneRidge.