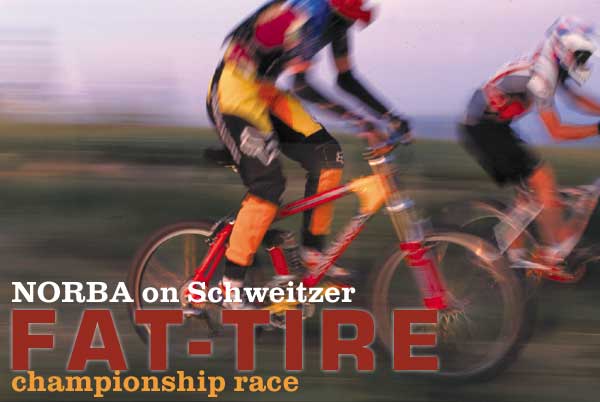 Photos courtesy of Schweitzer
By Kyle Brookings
NORBA, the National Off-Road Bicycle Association, will put Sandpoint on the map in the world of competitive mountain biking when one of its national championship bike races is held here this summer. Schweitzer Mountain Resort, in conjunction with Round & Round Productions, has been selected to host the fourth in a series of five national championship races on July 24-27, expected to attract 1,800 competitors and up to 15,000 spectators. Professional athletes will vie for the $42,000 purse in four events – cross-country, downhill, mountain cross and short track.
"This is a big deal for the entire Inland Northwest and is yet another national sporting event that will be hosted in our region," said Tom Fortune, Schweitzer's general manager. "The economic impact to the community as a whole will be very beneficial, and the Outdoor Life Network coverage of the event will expose the great Northwest region to the rest of the country."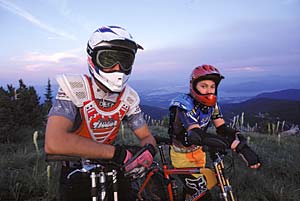 Juline Berning, right, is at the top of Schweitzer Peak, geared up and ready to ride downhill along with a friend.

Spectators and media representatives will flock to Sandpoint from all around to watch this huge event. Big-name racers from around the nation will be here, as well as some of our own local riders. Team Sports Plus has a couple of formidable athletes to show in Greg Smith and Jamey Yanick.

"It's kind of funny, Jamey and Greg are two of the top riders in the region, and they have always been with me. I've had other guys that have come and gone, but those two have been with me from the beginning," said Bruce Trejos, Team Sports Plus manager.

Trejos does a lot of mountain biking himself. "The reason I've had a (mountain biking) team for nine years is because I do it," he said. Team Sports Plus has an excellent history throughout the region and will definitely be participating in this major event. "We've pretty much dominated the Washington-Idaho-Montana circuit," said Trejos.

The NORBA Nationals is expected to infuse $1 million to $1.5 million into the community. "Hosting this event will be a joint effort of Schweitzer and the town, not just Schweitzer," said Patrick Werry, events and summer programming manager for Schweitzer. "Pros from all over the world show up for this, and it's always fun to watch the best." All events except the Short Track are open to amateur athletes as well.

According to Trejos, the elevation of Schweitzer could really affect the racers. "The elevation is a really big thing, at around 6,000 feet people who aren't used to it really start to feel it, and on the first day, the locals can ride with the pros."

The spectators will be allowed to spread out over the courses and settle wherever they decide affords them the best view or most comfort. The most spectator-friendly event, the Short Track, goes right through the village; as for the others, Trejos offers some suggestions. "Stream crossings are always good places to hang out. A puddle might be shallow to begin with, but then you get a hundred guys going through the same narrow spot, and all of a sudden you have a really deep puddle, and you have guys doing endos all over the place."

In preparation for the upcoming races, Schweitzer will be building a new downhill course between the Quad and Chair 1 that will be open to the public after the races.

Although Schweitzer has hosted NORBA regional, state and national collegiate championships over the past eight years, this is its first NORBA National Championship Series race. "We have a history of working with the staff at Schweitzer producing mountain bike races, and this partnership will result in a phenomenal outcome for the athletes, spectators, sponsors and media attending this national event," said Wendy Zupan, co-owner of Round & Round.

To learn more, look up schweitzer.com or www.roundandround.com.