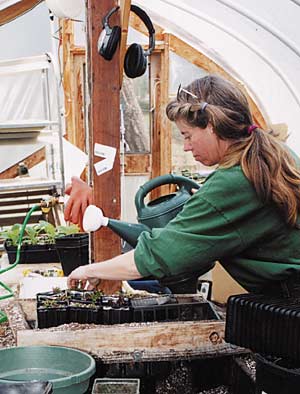 Photo by Susan Drinkard
Gardener has yen for far-flung foliage
Judith Miller refuses to grow petunias, and you will never see a marigold in her garden. Her taste in flowers and plants runs to the exotic: peach-colored violets, night-blooming iris and pine-scented roses.
Tucked away in Paradise Valley near Bonners Ferry is Paradise Gardens Rare Plant Nursery, a catalog company for the wondrously different rock, cutting or veggie garden. It is not open to the public, but it is here where Miller tests and keeps records on the likes of columbine from the former Soviet Georgia and clematis from Mongolia. She must know "how they behave" before she can recommend a plant online or at a local farmer's market.
"Gardening in technicolor" is how she terms her vegetables that include black, violet and orange carrots; purple cauliflower from Sicily; solid pink celery; chou de breme, a non-heading cabbage from England; and radishes in hues of gold and violet. These gourmet vegetable starts are available from 8 a.m. to 1 p.m. Saturdays at the Bonners Ferry Farmer's Market in the city parking lot.
Other plants you'll find for sale on her website, www.rareplantnursery.net, and at the market include clove-scented columbines; native Idaho violets; lime thyme with chartreuse foliage; bumblebee-loving valerian; and the turquoise blossoms of "Sharon," a penstemon the hummingbirds dote on. There's even the exclusive sweet rose catnip named "Cookie" after Miller's long-time feline companion. Her plants are also for sale at the Sandpoint Farmer's Market from 3 p.m. to 5:30 p.m. each Wednesday.

– Susan Drinkard