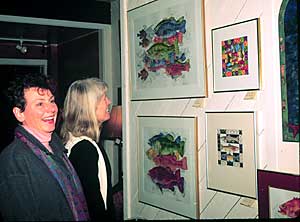 Photo courtesy the Greater Sandpoint Chamber of Commerce
18th annual ArtWalk struts local art
One walk, two shows over 12 weeks in 20 locations, all in one summer. It must be the 18th annual ArtWalk, a collaboration between the Pend Oreille Arts Council (POAC) and Sandpoint businesses and galleries. The first show, ArtWalk I, runs from Friday, June 13 through Wednesday, July 23; the second opens Friday, July 25 and ends Friday, Sept. 5.
Walkers can view paintings, photographs, sculpture, fiber work, ceramics and other works by local and regional artists on a self-guided tour that takes them through retail stores, banks and coffee shops as well as art galleries.
Veteran ArtWalkers will note two changes this year. ArtWalk will be a genuine walking tour, with all the sites close together, instead of a walk/drive spread around town, says POAC Executive Director Lizzy Hughes. And all the receptions will be given simultaneously on the opening night of each show – June 13 and July 25 – and are open to the public. Artists often attend the receptions held at each exhibition site to mingle with guests; hosts typically provide refreshments and hors d'oeuvres.
Maps for the self-guided tour are available at galleries and businesses around town. First on the tour is the POAC gallery in the Old Power House building, 120 E. Lake St. Hughes, who assumed the executive director duties in January, says the first show will include water-themed paintings and woodwork with a nautical air, reflecting the Antique & Classic Boat Festival that will take place in July. A watercolor show is planned for the second half of the summer.

– Laurel Wagers