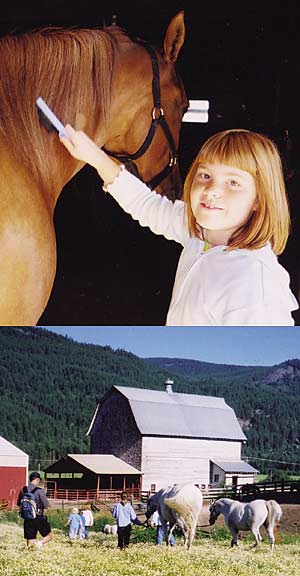 Top, Katya Lund, 9, grooms April at Tibbs Arabians. Above, six Davis cousins gather for summer riding lessons; students of Barbara and Laurie Tibbs even learn how to catch their mounts in the pasture. Photos by Verna Mae Davis
Tibbs sisters carry on horse legacy
Mention "Tibbs" in northern Idaho, and most locals think "horse." In 1948, Harold Tibbs won several championships at the first-ever National Appaloosa Show. His wife, Virginia, started the first 4-H horse club here. Daughters Barbara and Laurie have continued the legacy by amassing nearly 80 years of horse experience through 4-H, dressage instruction, trail riding, training, competing and teaching.
At Tibbs Arabians, 8 miles north of Sandpoint on Highway 95, the sisters share their equine knowledge with clients ranging from 4-year-olds to senior citizens. Lessons from these two nationally award-winning horsewomen can span from grooming to safety and feeding to advanced skills in Western and English disciplines, including basic dressage, saddleseat and hunter pleasure or equitation.
"We don't just teach riding but care and knowledge of horses and relationship of horse and rider," says Barbara . The Tibbs Arabian website, www.geocities.com/ Yosemite/ Forest/6538, illustrates emphasis on continued education. Besides viewing pages featuring ranch "stars," site visitors can partake in interactive equine activities.
While spreading the word, clients keep returning to glean more knowledge from these two who continually advance their own learning through Olympic-level dressage instructors and nationally known clinicians.
Take, for example, Sandpoint's Eric Davis. His first lesson was two years ago. Soon, Eric's two Bethesda, Md., cousins Natalie and Vanessa joined in. Then came cousins Katya and Mataya from Utah. Finally, Eric's little brother Chris decided he wanted to join in. All six cousins have learned how to catch, groom and saddle horses and ride all three gaits. They've taken trail rides.
"The best part is 'everything,' " says Chris.
After watching her sons and four nieces, 49-year-old Jayne Davis started lessons with the Tibbs sisters. "They have such an insight," she says. "They're friendly and fun. It's a kick to go out there. We've enjoyed everything from the brushing to the riding to the shoveling."
For more information on lessons, phone (208) 265-4084.

– Marianne Love