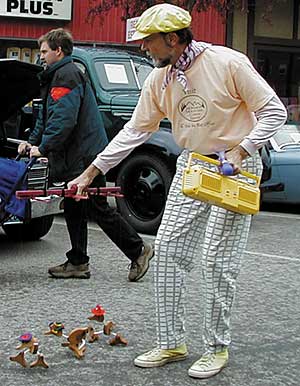 Jerry Luther performs as the Sandpoint Duckman at the Lost in the '50s car show.
Hooeyman takes it to the Streets
Many locals know him as the Hooeyman, but Jerry Luther is much more than a renowned street performer. The 6-foot-6-inch man is a full-time research analyst and knowledgebase manager for the Sandpoint publishing firm MultiLingual Computing as well as a public speaker on grief. Born in 1943, Luther was raised in North Hollywood, Calif., around the film industry. After a tour in the Army, he started a career in the business communications industry.
Swept up in the "back-to-the-land" movement of the 1970s, Luther moved to Spokane, Wash., in 1973 where he first transformed his talents in woodworking and street performing. His first character, T. Hooeyman, was fashioned after the 1700s-era medicine show pitchman and worked with his sidekick, Bruce the Duck. The Hooeyman was a vaudeville comic, orator, marionette puppeteer and promotional artist who pitched and peddled hooey sticks to the crowd. Hooey sticks go back 400 years to early Appalachian history as a toy known as the gee haw whimmydiddle, according to Luther.
"What's amazing is how much energy and love and enjoyment and fun can be developed by such a simple toy," he said.
After a time, Luther felt stuck in the Hooeyman character and retired him, then introduced the Sandpoint Duckman, a character that dresses outrageously, carries a boom box and dances to loud rock and roll with a troupe of four marionette ducks. Together with his wife, Becky, and her son, Travis, they toured the Northwest, selling their toys and performing for kids.
In the early 1990s, Luther returned to his former career, but decided about two years ago to start entertaining children again. He and Becky launched the "Little Kids Medicine Show," featuring Bruce the Duck, the dancing duck review and the Hooeyman, who get kids from the audience to help him in a three-ring circus of stuffed toys and amazing stunts.
Look for him this season at some of Sandpoint's major events, and see if you can detect the secret of making the hooey stick's propeller stop and change direction on command, a "slight of hand trick that's all in the fingers," Luther said.

– Billie Jean Plaster